Asheville has not seen a year like 2020 in a hundred years — literally.
 On March 11, the World Health Organization declared a global pandemic due to the coronavirus (COVID-19) outbreak. Not since the Spanish flu pandemic of 1918-1919 has the world — including our corner of it — experienced this kind of public health challenge.
Working with Buncombe County health officials, City of Asheville employees rolled up their sleeves, crafted creative solutions and showed up to serve this community.
The year was also marked by national and local social unrest
following the death of George Floyd during an arrest in Minneapolis. 
But that's not all that happened. The City made strides in solar energy, social and environmental justice and completed a massive dam improvement project.
Voters elected an all-woman City Council. 
Here's a look back at your City government in 2020.
City's response to COVID pandemic
The City of Asheville has been continuously responding to the COVID-19 public health crisis since March, starting with the closure of city buildings on March 17 while continuing all essential services.  Over the next few months the City made adjustments in processes and procedures to increase the safety and security of staff and our community, as well as attempt to lessen the economic impact of COVID-19.
Here are some of the ways the City responded to the pandemic:
Suspending on-street and garage parking fees
Suspending water cut offs
Contribution to the One Buncombe Fund

Providing hand washing stations
Easing restrictions on food trucks and signage
Opening a shelter at Harrah's Cherokee Center
Along with these initial steps, City staff began to think creatively about programs that could be launched in order to best support our community during difficult times.  This included:
Public space usage during COVID-19: Supporting Asheville's recovery
Asheville Parks & Recreation rolls out innovative 2020 summer programming
Asheville Parks & Recreation announces new virtual summer programs
Asheville Parks & Recreation announces new AVLPARKS eSports league
While needing to be physically separate during a public health crisis was difficult, the City partnered with Buncombe County and community organizations on offering ways to safely celebrate:
City of Asheville, Buncombe County virtual Memorial Day Ceremony
Asheville Downtown Association host virtual Fourth of July Celebration
Virtual Veterans Day Ceremony
Election of all-woman City Council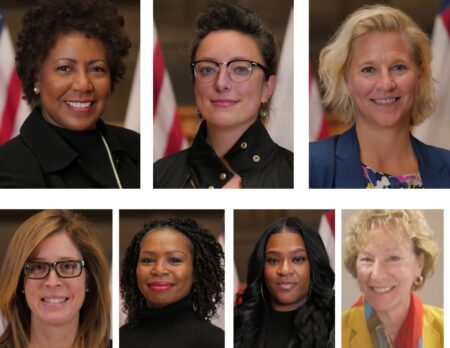 On Nov. 3, Asheville voters elected three women to serve on a City Council already rounded out with other women. Led by Mayor Esther Manheimer, new Council members Sandra Kilgore, Kim Roney and Sage Turner took their seats in (a virtual) Council Chamber Dec. 8, joining Councilwomen Gwen Wisler and Antanette Mosley and Sheneika Smith. 
This is an historic first all-woman City Council in North Carolina. Three of the Council members are Black.
"We know from research that when governments look like the people they serve, it benefits communities," said Leisha DeHart-Davis, professor at the N.C. School of Government. "And the racial diversity on this Council is a real positive."
At the December meeting, Councilwoman Smith was elected as Vice Mayor. Read more here.
Civil unrest followed by social change
As the nation exploded in outrage following George Floyd death's during an arrest by Minneapolis Police on May 25,  a series of coordinated protests began nightly in Asheville, resulting in downtown property damage. Following several nights of unrest and destruction of property, Mayor Esther Manheimer declared a city-wide State of Emergency and issued a curfew on June 2.
Following the cooperative efforts of community and demonstration leaders, instances of property damage diminished, allowing subsequent protests within the City to be conducted peacefully. Mayor Manheimer lifted the curfew on June 6.
The protest movement sparked several developments in local government, including:
Launch of Virtual Engagement Hub
With the pandemic, the City had to look for ways to hold meetings and engage the public virtually. Thus, the City launched an all-new Virtual Engagement Hub.
With the assistance of IT Services (shout out to Rick Barley), the City delivered its first virtual public meeting for the May 12 City Council meeting. In addition to the virtual online format, the meeting was broadcast on cable, and residents were able to call in and leave public comments.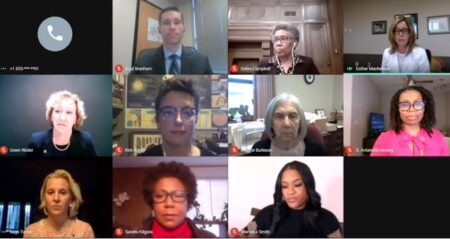 After a successful City Council meeting, the Communications and Public Engagement Department (CAPE) worked with the City Clerk's office to begin live streaming boards and commission meetings. On June 15, the first one, the Urban Forestry Committee meeting, took place online. 
In an effort to engage the public regarding the potential removal, repurposing or rededication of the Vance Monument, the public had the ability to text in their comments to the Vance Monument Task Force. For the public meetings, the City received 66 responses via text messaging. These meeting participants responding by text answered the same question as their online and in-meeting peers.
The ability to receive public comments via text helps make our engagement more accessible. SMS doesn't require a new phone or the latest update. SMS works as long as you have a mobile phone and it is able to receive messages and SMS is the same across all platforms. Additionally, the texting option presents an opportunity to communicate with community members in a way that fits into the flow of their daily lives, according to research, consumers' overwhelming preference for all communication to occur on their mobile device.
With the successful rollout of texting, residents can anticipate the City will use this feature more in the new year.
Installation of first solar panels on City building
On Oct. 1, the City of Asheville "flipped the switch" on the photovoltaic array, commonly known as solar panels, at the recently renovated ART Transit Station on Coxe Avenue. This is the first City facility to include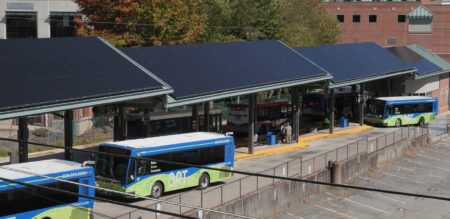 renewable energy production in a renovation or new construction project. You can follow energy production data here. 
Installation of the solar panels supports Council's strategic goal of A Clean and Healthy Environment and the 100% Renewable Energy Initiative.
Improvements for ART riders at the Transit Center include functional changes with renovations to the ticketing area, reconfigured restrooms, new digital displays, adding public WiFi access, and an updated look and feel to the space with a refreshed paint scheme, modern furniture, new light fixtures, and updated finishes. Additional site repairs and improvements were completed to the pavement in the north travel lane, stormwater infrastructure, and accessibility around the station. Public art and additional digital signage will be installed in late 2020 or early 2021.
Nork Fork Dam Improvement Project completed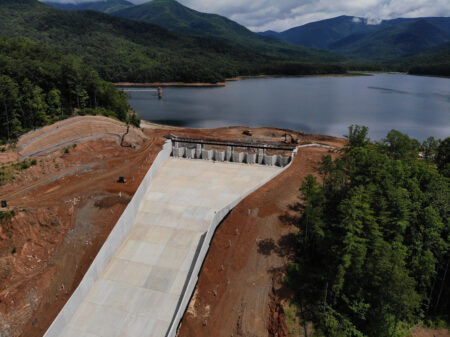 The greater Asheville community now has a safer Nork Fork Dam with more capacity to hold water from the reservoir and one that is better enforced against potential seismic activity. The North Fork Reservoir and Water Treatment Plant serve as the City's primary drinking water source, providing 70% of Asheville's water. With so many people, businesses and industries dependent upon this critical natural resource, special care and proactive measures needed to be taken to ensure our water source and infrastructure are protected.
Begun in 2017, the massive Nork Fork Dam Improvement Project was completed in fall 2020 and is now fully operational. The dam will now be able to better withstand inflow from severe storm events, as well as add capacity to the reservoir. The massive project raised the dam by 4 feet and involved adding earth buttressing to reinforce the main dam and saddle dam for seismic stability. Find out more at this link.
 Charlotte Street road diet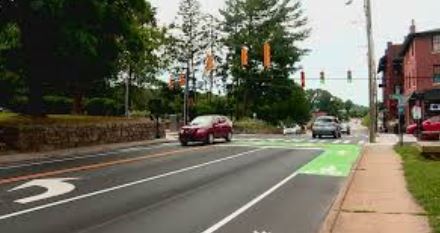 City Council allocated $1.25 million for the design and construction of the Charlotte Street road diet, which was completed in 2020. This Capital Improvement Project  included milling and repaving Charlotte Street as well as a 4-to-3 lane conversion from approximately Chestnut Street to Edwin Place. Other components of the project included bike access improvements and spot sidewalk safety improvements. Work is now complete.
Completion of Haywood Streetscape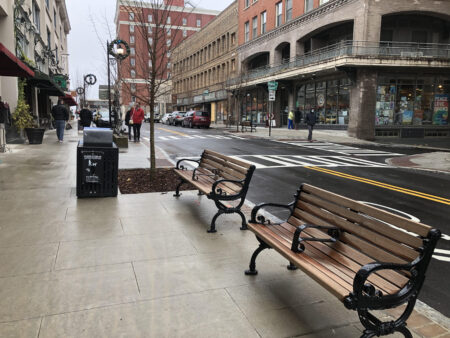 After 10 months of construction, the Haywood Streetscape and Infrastructure Improvement project was completed in November. Haywood Street now features expanded public sidewalk space and improved pedestrian access and amenities. The project, which took 10 months of construction, included sewer and water line upgrades in the Haywood Street vicinity (including College Street, Walnut Street and Rankin Avenue) and the reconstruction of deteriorated sidewalks, resulting in a brand new look for Haywood Street. Only a few final touches remain, including installation of parking meter-heads, planting of a few remaining trees, installation of tree guards, installation of trash/recycling bins and finishing details as-needed.
Tree Ordinance update
City staff presented an updated ordinance focused on the preservation, enhancement and expansion of the City's tree canopy as it relates to private land development activity. The proposed changes will ask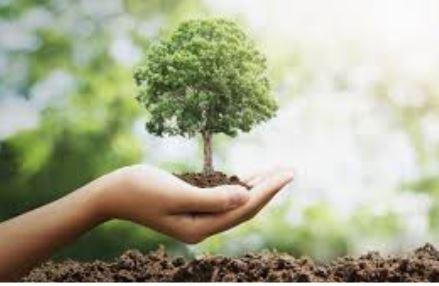 developers to consider the tree canopy and require that they keep a portion of the trees in place, plant new trees or pay a fee in lieu of keeping the trees.  
Staff engaged several committees and interested groups and referenced Living Asheville comprehensive plan, the Urban Tree Canopy Study and the NASA DEVELOP Urban Heat Island Study to develop new requirements for tree canopy preservation and enhancements.
Staff presented the update to City Council on August 25 and they unanimously adopted it on Sept. 8.
Vance Monument Joint Task Force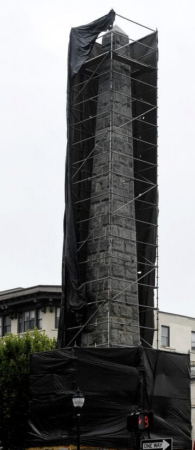 After three months of meetings and public engagement, on Nov. 19 a joint Asheville-Buncombe County Vance Monument Task Force voted to recommend removal of the downtown Asheville obelisk. Through the process, more than 600 public comments were received, including those of Noel Nickle. The direct descendant of the Vance family spoke in support of removal and said: "Removing the monument does not erase my family's legacy, but it does represent a small step toward repairing the harm my family legacy imposed upon this community, which I call home and I deeply love. On behalf of my family, I thank you for your work." 
Both Asheville City Council and the Buncombe County Board of Commissioners accepted the recommendation and directed the City and County Managers to collaborate on the next steps.
Advancing Racial Equity in Asheville
In December, City Manager Debra Campbell announced the transition of the 30/60/90 Day Plan to a sustained effort, Advancing Racial Equity in Asheville. There will be a purposeful focus on service delivery and investments that advance racial equity as the City develops its 2021-2022 budget, for example.
Through Advancing Racial Equity in Asheville, the City is applying a social, economic and environmental justice lens to all that we do in service to our community. That includes work by an Asheville Fire Department team in developing goals and objectives focusing on community indicators such as hiring, promotions, community engagement, culture and, contract and purchasing.  
The City is also hiring a new Neighborhood Services Specialist who will build and strengthen relationships with neighborhoods while serving as a community and neighborhood information resource. Intentional emphasis will be placed on co-building leadership capacity in historically disenfranchised neighborhoods.
These are but three examples of how Advancing Racial Equity in Asheville will be woven into all of our efforts to serve the community.
RELATED: Asheville Police Department looks back at 2020