In a coordinated effort, the City of Asheville, Buncombe County, Homeward Bound and numerous community partners organized a resource for individuals without homes at Harrah's Cherokee Center Asheville. 
The coronavirus outbreak represents a significant health risk for people experiencing homelessness. People living unsheltered are also far more likely to have chronic health conditions, one of the most significant risk factors with coronavirus. In response to the current public health emergency, providing safe options for those in need of housing is a top priority.  
The shelter will not operate as an open shelter, but will house the most vulnerable population, including those previously identified as highly at-risk. Occupants will have access to outside for fresh air, but as a safety precaution, will not be allowed to leave the premises and re-enter the shelter.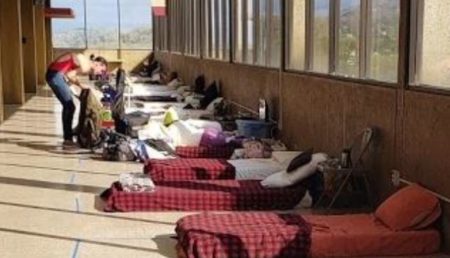 Over the past several weeks, local government representatives and community partners have evaluated existing assets in the community to help assist vulnerable individuals in our community from this public health emergency. The shelter operations meet or exceed all CDC recommendations for homeless shelters, and has been approved by health inspectors and the fire marshal for this temporary use.  
Run by Homeward Bound staff, the emergency homeless shelter began the intake process April 8. Applicants were screened by volunteer health professionals before being admitted. 
The center allows for staff to be able to provide food, shelter and other basic needs for individuals. Use of onsite showers is available, mattresses and bedding are provided, along with laundry services. Occupants will also have access to WiFi and TV. Staff have a planned process for any individuals who may become sick, and have options for medical care.  
Homeward Bound has already been contacted by community members offering donations for the shelter. Anyone wishing to donate should not drop off anything at the shelter. Drop off donations can be accepted at 205 Elk Park Drive, Woodfin. This process allows for donations to be safely collected and sanitized before being distributed. For information on what items are specifically needed, contact ashley@homewardboundwnc.org or 828-777-1886.
The creation of a temporary homeless shelter during this emergency took an unprecedented amount of teamwork and collaboration from many people and organizations across the community. Along with staff from City of Asheville and Buncombe County, community partners, including the following, have contributed to making this possible:
Homeward Bound, lead agency, staffing, project management and coordination

Asheville Poverty Initiative / 12 Baskets (coordination of meals for shelter and outreach, meal provision)

Haywood Street Congregation (meals)

UNC-Asheville (mattresses)

BeLoved (outreach support)

Appalachian Mountain Community Health Center / Dale Fell (volunteer health care professionals for admission pre-screening)

VA Medical Center (outreach support)
COVID-19 resources
COVID-19 Guidance for Homeless Service Providers gives information on how homeless services providers can connect people experiencing homelessness with available testing, isolation, and quarantine resources are available
For resources on prevention best practices and news updates, visit Buncombe Ready. Additional County guidance is posted on the Buncombe County Health & Human Services website. Information regarding the steps that the State is taking to address the spread of COVID-19 may be found on the North Carolina Department of Health and Human Services website.
For information on how to sign up for City and County government alerts, visit this link.