---
The Public Works Department provides essential core services that include construction and maintenance of City streets, sidewalks, and stormwater infrastructure as well as solid waste management to Asheville citizens and visitors in a prompt, professional, efficient, and safe manner. The dedicated employees of the Public Works Department strive to provide these services equitably to all neighborhoods in a manner that reflects our emphasis on quality customer service, environmental stewardship, fiscal responsibility, and transparency. The department is led and directed by the Administration division and internally supported by the Fleet Management and Asset Management (GIS) divisions.
Have an Issue?
Report an issue through The Asheville App or call 828-251-1122.
Division specific issues:
Sanitation: Missed collection (trash/brush) ♦ roll cart issue ♦ Illegal dumping/littering ♦ Overgrown lot
Stormwater: Drainage issue ♦ Flooding
Streets: Potholes ♦ Graffiti ♦ Sidewalk hazard ♦ Trees in the right-of-way/street ♦ Snow removal
Sanitation Division
 
Sanitation Ordinance Enforcement
Visit the Sanitation Division page for more information.
---
Stormwater Division

Install and maintain storm drain infrastructure
Ditches and trenches to help control the flow of rain water down public streets
Street sweeping
Working with the Development Services Department to issue permits for grading/erosion control/flood control and stormwater ordinance enforcement
Visit the Stormwater Division page for more information.
---
Streets Division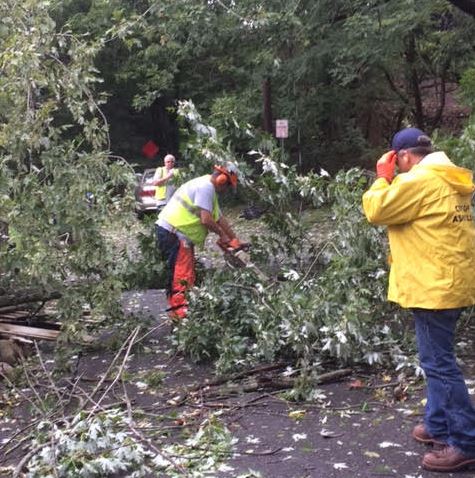 Installation, maintenance, repair, and revitalization of:

streets
bridges
sidewalks
walls
guardrails

Street & sidewalk closures
Tree trimming
Mowing in the right-of-way
Street sweeping in the Central Business District after normal working hours
Graffiti
Snow removal
Utility cut permits
SnowMapper
MapAsheville
Visit the Streets Division page for more information.