2020 has been a difficult year for our world, our country, our City. As we look to the new year, the Asheville Police Department would like to thank partner organizations and community members for supporting APD and contributing to what makes Asheville a wonderful place to live, work, and visit.
Here's a look back at APD initiatives and happenings in the past year.
Asheville Police Chief hired
David Zack was appointed to Chief of Police for the Asheville Police Department on Feb. 4, 2020. He began his career in law enforcement in 1984 where he worked as a New York State Corrections Officer at both Sing Sing and Attica Correctional Facilities. In 1987, he joined the Cheektowaga Police Department and rose through the ranks serving in a number of different roles, including patrol supervisor and Detective Bureau Commander, before being named Chief in 2011. During his career in Cheektowaga he also served as the President of the Erie County Chiefs of Police Association, President of the New York State Association of Chiefs of Police, and was a member of the Board of Governors of the International Association of Chiefs of Police.
During Chief Zack's first year in Asheville he has faced unprecedented challenges including a global pandemic, nationwide civil unrest, and extensive department turnover. Despite these challenges, Chief Zack has continued to move the department forward and develop community partnerships to better serve Asheville. Under his leadership the department has restructured, increased police transparency by making data more easily accessible, created a Community Engagement Division to address quality of life issues impacting our residents, and implemented a tool to provide the opportunity for anonymous crime tips.
Asheville Police Department remains committed
to addressing the rise in gun violence
Gun violence is a serious public health crisis and one the Asheville Police Department (APD) takes very seriously. In calendar year 2020, the number of Calls for Service (CFS) regarding gun discharges and individuals who have been shot in Asheville have surpassed a five-year high. It is imperative that we work with our community members, federal partners, the Buncombe County District Attorney's Office, and the Buncombe County Sheriff's office to develop and implement a successful gun violence reduction strategy.
APD restructuring leads to development
of Community Engagement Division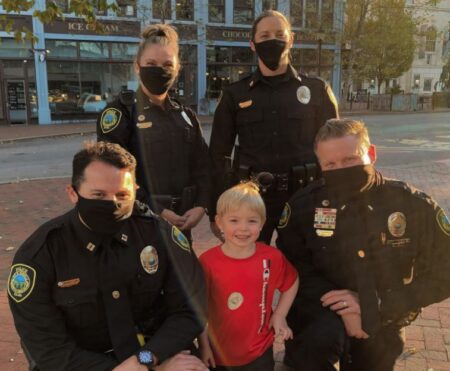 The Asheville Police Department is making it easier than ever for residents to make officers aware of issues impacting their neighborhoods. In October, the APD created the Community Engagement Division (CED), after a department-wide restructuring. The goal of the division is to quickly and efficiently respond to neighborhood quality of life concerns.
The Community Engagement Division works alongside community partners to address more complex societal issues such as homelessness, substance misuse, and mental health issues. The division also works with businesses, schools, and neighborhoods to create more efficient lines of communication and to provide a non-traditional, problem solving approach to crime and related issues. Through this work, the division develops positive relationships which helps co-develop public safety in Asheville.
APD announces rollout of new anonymous crime tip tool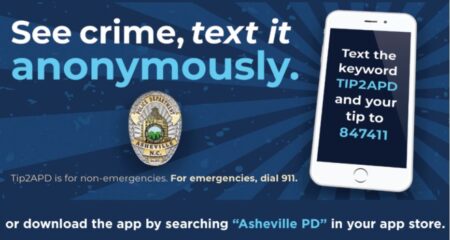 The Asheville Police Department (APD) is putting a new crime-fighting tool into the hands of community members. This new tool, TIP2APD, allows the public to share anonymous tips with police officers and lets officers respond back to create an anonymous two-way conversation. The tool also allows the community to find information on incidents APD is currently asking for help with, and to receive alerts about crime activity in their city.
The application is available for free download for both iPhone and Android users via the iTunes App Store or Google Play Store by searching "AshevillePD."
Individuals without a smartphone can share information with police by sending an anonymous text tip via their cell phone by texting keyword TIP2APD and their message/tip to 847411.
The TIP2APD tool is only for non-emergencies and is not a replacement for 9-1-1. In the event of an emergency please dial 9-1-1 immediately.
Promotions
The following APD officers were promoted within the department in 2020:
Sean Warren, Telecommunications Shift Supervisor
Nicholas Jones, Senior Police Officer
Brittany Vick, Senior Police Officer
Suzanne Skeeters, Senior Police Officer
John Oldenbergh, Senior Police Officer
Mackenzie Galyean, Senior Police Officer
Andrew Ensley, Senior Police Officer
Robert Crume, Senior Police Officer
John Climer, Senior Police Officer
Adam Cabe, Sergeant
Jonathan Morgan, Sergeant
Justin Booth, Sergeant,
Charles Fry Jr., Sergeant
Diana Loveland, Lieutenant
Ann Fowler, Lieutenant
Janice Hawkins, Captain
Michael Lamb, Captain
William Yelton, Deputy Chief
Retirees
The following APD officers announced their retirement in 2020:
Sergeant Scott Pruett, 28 years at APD
Captain Gary Gudac, 15 years at APD
RELATED: Asheville 2020 in review: Response to pandemic, protests and more