Renovations to the Transit Center on Coxe Avenue are nearly complete and the City of Asheville invites the community to a virtual ribbon cutting and tour of the improved facilities.
The virtual video tour of the Transit Center was held noon Nov. 17. The video tour is now available on the City's YouTube channel.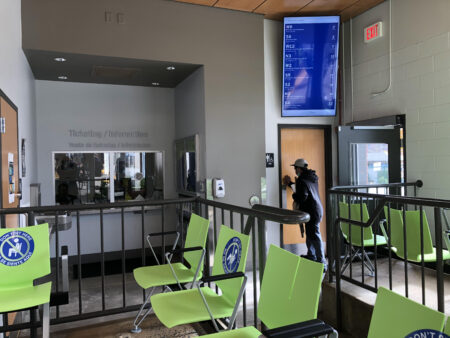 Improvements for ART riders include functional changes with renovations to the ticketing area, reconfigured restrooms, new digital displays, adding public WiFi access, and an updated look and feel to the space with a refreshed paint scheme, modern furniture, new light fixtures, and updated finishes. Additional site repairs and improvements were completed to the pavement in the north travel lane, stormwater infrastructure, and accessibility around the station. Public art and additional digital signage will be installed at the station later this year.
The Transit Center features the City's first onsite solar energy system, supporting the City's 100% renewable energy goal. Improved building performance features include energy efficient mechanical equipment and compliance with current energy code standards.
For more information about ART, visit ridetheart.com. For more information about the City's solar energy initiatives, visit this page.
RELATED
Artist chosen for public art installation at renovated ART Transit Center
City of Asheville shares energy data from first solar installation