Park District: East Central
Census Tract: 7 / 8
Neighborhoods: East End/Valley Street and Oakhurst
---
Happening Now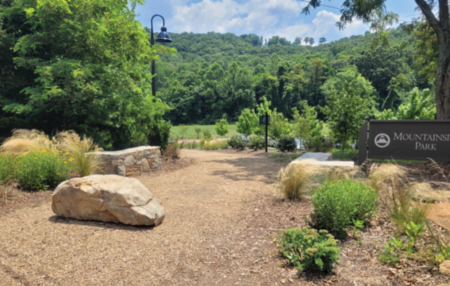 Memorial Stadium and Mountainside Park are closed for construction, but Oakhurst Park remains open.
Demolition of buildings in Memorial Stadium are complete. Turf and stadium light removal, stormwater excavations, and walking trail realignment are in process.
---
As it approaches its centennial anniversary, a $1.2 million major bond-funded investment in Memorial Stadium including safety enhancements, the replacement of artificial turf, improved drainage, new stormwater infrastructure, installation of sidewalks along field ends, and ramp access to bleachers in compliance with the Americans with Disabilities Act has been completed. Known as one of the best atmospheres available in a publicly-owned sports park, this investment means the venue continues to stay true to its long-standing intended use, accommodating multiple sports and providing public wellness opportunities for all Ashevillians.
Improvements at the stadium complement recent work at two adjacent neighborhood parks, Oakhurst Park and Mountainside Park. 
A community request for open green space off of Buchanan Place led to the creation of Oakhurst Park, completing part of the original vision of the Oakhurst neighborhood's 1924 master plan. The small park includes benches, natural landscaping, native plants, and the chance to connect with nature just a few steps away from Biltmore Avenue.
To the northeast of the stadium, Mountainside Park received improvements including a monument sign, benches, walking paths, interpretive signage, lighting, entry modifications, landscaping, and drainage improvements that were completed in 2020. This park is also scheduled to receive playground updates such as rubberized surfacing, new swings, benches, and trees to provide natural shade.
Second phase improvements include a hard-surface walking trail, trike track, playground updates, scoreboard improvements, and replacement of the restroom and storage buildings. This phase also features the return of a walking, jogging, and running track that was removed during a previous renovation in the mid-2000s.
One of the original amenities of Memorial Stadium was a track surrounding its football field, remnants of which can still be seen around the southern end zone. The new track will have six lanes of synthetic surface and be available to the community during regular park hours for walking, jogging, and running. Unique to public parks in our region, this exciting addition celebrates the history of Memorial Stadium and allows community members of all ages to maximize low-cost exercise activities, minimize risk of injuries, and build healthy habits. The facility's accessibility upgrades, playground updates, and new restrooms ensure a truly multi-generational space for all to enjoy.
In addition to jogging, walking, and running, the stadium will remain a multipurpose sport facility able to accommodate soccer, football, flag football, lacrosse, ultimate frisbee, and more. The proposed lines of the soccer field will measure 190.5′ (63.5 yards) wide and 360′ (120 yards) in length, within the FIFA (Fédération Internationale de Football Association) standard regulation soccer field size when the track is complete.
---
Background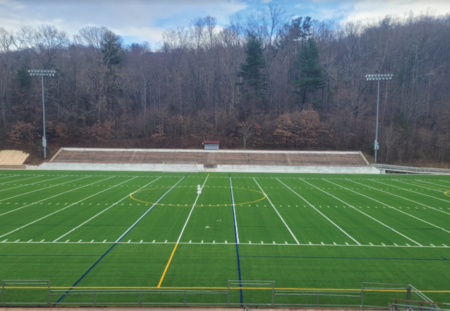 Nestled into the side of Beaucatcher Mountain, Memorial Stadium opened as an athletic and special events facility in 1927. McCormick Field, a baseball stadium that borders the stadium on its western boundary, opened a year earlier. The arched entrance to the stadium was built as a memorial to western North Carolina's 63 military members lost in World War I.
As Memorial Stadium was completed during Asheville's boom period of the 1920s, nearby neighborhoods such as Oakhurst and East End/Valley Street were also seeing a surge in activity that would define the personality of the community during that time. The northwestern view from the stadium included Stephens-Lee High School and the original Battery Park Hotel – a landscape that would change dramatically as more than 30 new buildings were erected downtown before the stock market crash on October 24, 1929.
The most significant upgrades to Memorial Stadium during the next seven decades took place in 1949 and include a memorial wall dedicated to military lost during World War II. Growth was slow as the City of Asheville maintained its commitment to pay off its pre-Depression debts, which officially took place on July 1, 1976. However, in the years leading up to that proud moment, much of the East End/Valley Street neighborhood that bordered Memorial Stadium was demolished and residents displaced through urban renewal projects, redlining, and the construction of South Charlotte Street.
The stadium for years was the home of both Stephens-Lee High School Bears and Lee Edwards/Asheville High School Cougars. Memorial Stadium originally housed a cinder track used by the schools that was converted to artificial surface as technology changed. By the late-1970s, the track became a community recreation amenity as the stadium was no longer in use for competitive running. Portions remain near the southern end zone.
Following many years of modest renovations and the possibility of selling Memorial Stadium, renewed community interest led to the formation of the Memorial Stadium Taskforce. That group recommended resurfacing of the field and removal of the track in 2003 to accommodate several sports teams, as well as occasional festivals, concerts, and other special events. The turf was primarily paid for through donations, grants, and the Asheville Splash, a now-defunct minor league women's soccer franchise. After Asheville voters approved a $17 million bond referendum in 2016 to improve parks and recreation facilities, Asheville Parks & Recreation began planning for the redevelopment of Memorial Stadium and Mountainside Park.
Through multiple neighborhood meetings and listening sessions, the scope of improvements expanded to include the development of Oakhurst Park and additional amenities at Memorial Stadium and Mountainside Park.
---
Community Engagement
2016
Asheville voters approve bond referendum
2017
September: East End/Valley Street and Oakhurst Neighborhood Associations input meetings
November: Input meeting with established user groups
December: Oakhurst Neighborhood Association input meeting
2018
June: Oakhurst Neighborhood Association input meeting
August: East End/Valley Street Neighborhood Association input meeting
2019
April: Presentation to East End/Valley Street and Oakhurst Neighborhood Associations
May: Presentation to Buncombe County Tourism Development Authority and Asheville-Buncombe Regional Sports Commission
July: Presentation to East End/Valley Street Neighborhood Association

August 1: Community-wide open public meeting at Stephens-Lee Community Center

August-September: Online open town hall

September: Presentation to Recreation Advisory Board
November: Presentation to meeting of established user groups
2020
Project information available online
2021
May 11: City Council unanimously approves scope of work by public roll call vote following discussion
2022
March 10: Presentation at East End/Valley Street Neighborhood Association meeting (view slides)
March 22: Presentation to City Council covering recommendations for Phase 2 of project (view slides)
March 22: City Council unanimously approves resolution regarding alterations to Memorial Stadium and Mountainside Park
April 26: City Council approves resolution authorizing the City Manager to amend the professional services contract associated with Memorial Stadium Phase 2 improvements 
July 16: Community update and neighborhood social at Stephens-Lee Community Center and Recreation Complex
July 19: Community update at Memorial Stadium
August 23: City Council update (view slides)
August 26: East End/Valley Street Heritage Festival
---
Current Project Timeline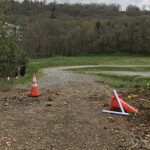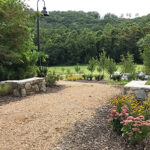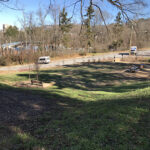 2020
Mountainside Park playground, lighting, entry modifications, landscaping, and drainage improvements completed

Oakhurst Park landscaping improvements and installation of new sign and benches completed
2021
Memorial Field turf and drainage Replacement project competitively bid 

May 11: City Council

approves contract

Summer-Winter: Turf and drainage replacement begins
2022
Spring: Memorial Field turf and drainage replacement complete and stadium reopens to users

Fall: Construction drawings for addition of six-lane track and playground improvements
2023
Winter-Spring: Request for bids for addition of six-lane track and playground improvements
Spring: Contract approval for addition of six-lane track and playground improvements
Summer: Stadium closes as construction begins on addition of six-lane track and playground improvements
---
Supporting Documents
---
Contact Information
Rebecca Cipriano, Capital Projects, 828-424-5596
---