Picnic shelters at Asheville city parks are popular gathering places to host a party, reunion or company picnic. They are also a fun and affordable way to spend time outdoors. The Asheville Parks and Recreation department has 13 shelters that can be reserved.
To check availability, use WebTrac to search shelter rentals and make online reservations.
See Shelter Brochure for more information.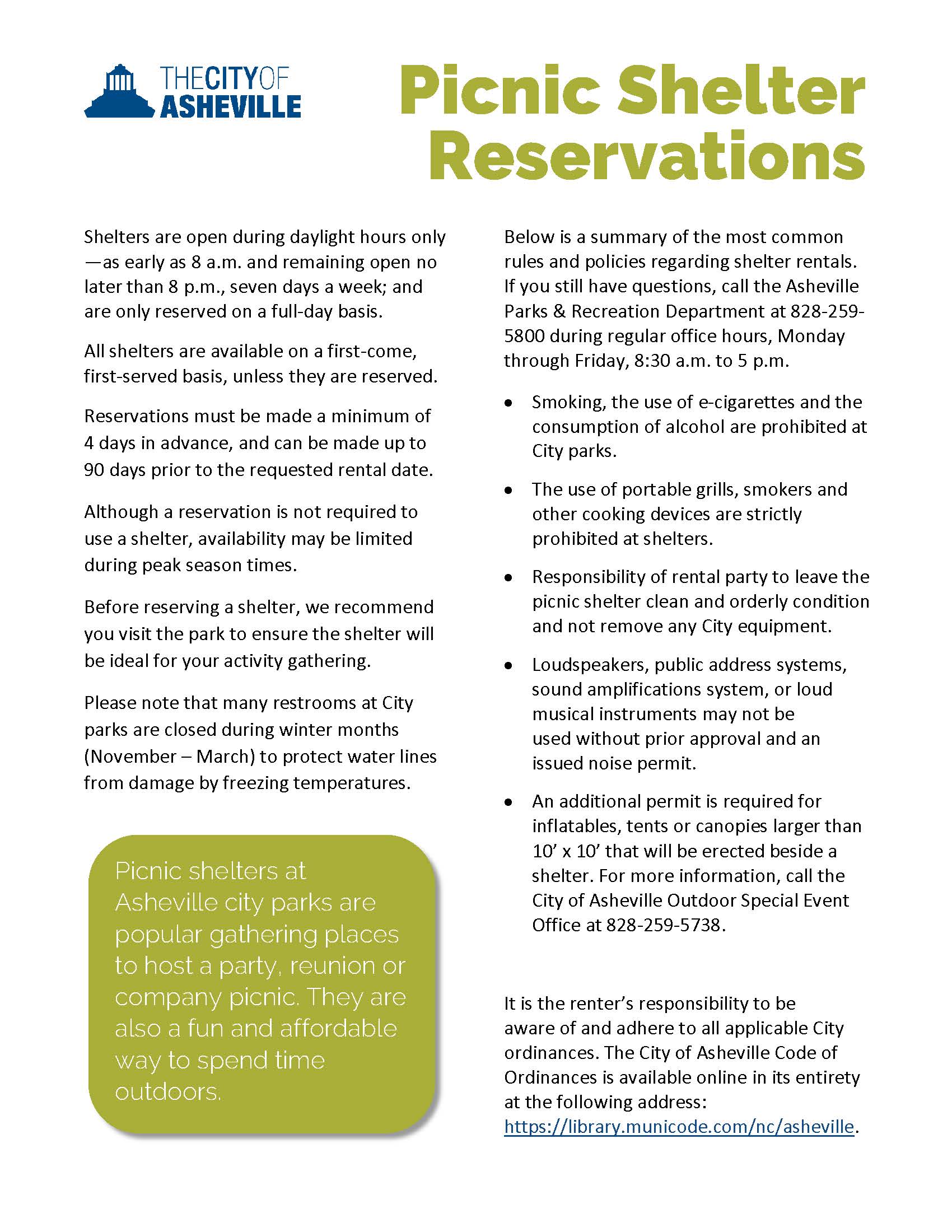 Shelters are open during daylight hours only — seven days a week; and are only reserved on a full-day basis.
All shelters are available on a first-come, first-served basis, unless they are reserved.
Reservations must be made a minimum of 4 days in advance, and can be made up to 90 days prior to the requested rental date.
Although a reservation is not required to use a shelter, availability may be limited during peak season times.
Before reserving a shelter, we recommend you visit the park to ensure the shelter will be ideal for your activity gathering.
Please note that many restrooms at City parks are closed during winter months (November – March) to protect water lines from damage by freezing temperatures.
Shelter Fees
Shelters at the following parks can be reserved for $40: Azalea Park, French Broad River Park (Gazebo), Haw Creek Park, Jake Rusher, Malvern Hills Park, Murphy-Oakley Park, Recreation Park (Gazebo), Richmond Hill, Walton Street Park, Weaver Park and West Asheville Park. The shelter at Carrier Park can be reserved for $150.
Accessibility & Endorsement
City of Asheville staff is authorized to have access to any activity at any time to determine it is lawful and in compliance with the regulations of these policies. The City of Asheville does not discriminate on the basis of race, sex, color, age, national origin, sexual orientation, religion or disability in its employment opportunities, programs, services and activities. Granting the use of City facilities does not constitute an endorsement of the individual's or group's beliefs, viewpoints, policies, or affiliations by the City of Asheville.
For more information on general park use or picnic shelter rentals contact us at parks@ashevillenc.gov or 828-259-5800.
---
Need More?
Sometimes a picnic shelter just isn't big enough, you need more. General park use is acceptable, but to schedule ongoing use, add elements to the park (tents, inflatables) or have a special event, special permits may be required. For park use for an Outdoor Special Event, contact Jon Fillman, jfillman@ashevillenc.gov or 828-259-5738.
---
Updated 08/26/2021
---