Happening Now
10/11/2021
The City of Asheville is pleased to host a groundbreaking event for a new public safety station at 316 Broadway Street in north Asheville at 10 a.m. October 18. This facility will be home to Fire Station 13, a Police Substation, the relocated Emergency Operations Center, and a small community conference room.
Brief comments will be made by Mayor Esther Manheimer, City Manager Debra Campbell, Fire Chief Scott Burnette and Police Chief David Zack.
On-street parking is available on Monte Clare and Magnolia Avenues and is a short walk to the building site.
8/16/2021
The contractor has been selected – Gleeson Builders
Groundbreaking is scheduled for early October 2021 – check back for updates on the exact date
Completion of the project is predicted for December 2022.
5/19/2021
Contractor Selection
Bid opening for the construction contract will occur on Thursday, May 20 at 3:00 p.m.
The selected construction contract will go to City Council for approval on June 22.
Construction Ground Breaking: end of August 2021 (depending on availability of contractor).
View most recent animation video of Broadway Public Safety Building – Fire Station 13 below:
Animation and image at top of the page from ADW Architects.
2/2/2021 –
Construction Document Schedule
Out to Bid: April 10, 2021 – Find bid information here.
Construction Contract: May 31, 2021
Construction Ground Breaking: end of June 2021
9/17/2020 – Despite COVID-19, we have made substantial progress over the past several months.
If you are wondering what the station might look like, here is a proposed elevation drawing. Here is a drive-by video.
Board of Adjustment Request
If you are located within 200 feet of the project site, you will receive a notice in mid-September from the City's Board of Adjustment about a request for a front setback variance. The front setback is the distance from the edge of the right of way of the street to the nearest building structure. For the zoning district of the project site, a front setback of 15 feet is required. The City is requesting a 25-50 foot front setback to allow for greater sightlines for the trucks as they pull out of the bays. This will be a virtual public meeting on September 28 at 2 p.m. and you can find information on how to participate here.
What will be in the station?
There will be 3 drive-thru apparatus bays and living quarters that will support the firefighters stationed there. The first floor will be home to a police sub-station, administrative offices and the requested small conference room available to the community. The relocated Emergency Operations Center (EOC) will be on the 3rd floor.
The project will be striving for green building certification of LEED Silver. There will be a photovoltaic solar system that will reduce the building's energy use. 
The goats are coming!
Kudzu vine is plentiful on the site and we are welcoming an eco-friendly [and cute!] method of weed control. The goats will be back on site the first week of October! They will be in a fenced-in area for about two weeks. Check out their 'goat-scaping' later in the month.
Traffic and pedestrian access
Traffic and pedestrian connectivity were concerns we have heard at neighborhood meetings about the project. We are pleased to report several updates:
There will be an emergency light to stop traffic on Broadway as vehicles leave the station.

There will be a crosswalk at Magnolia Street that will link to the Reed Creek Greenway. We will be providing a high visibility crosswalk and pedestrian signals, similar to the ones recently installed on Charlotte Street.
Start of Construction
Construction is tentatively scheduled to begin in June 2021. We will hold a community meeting in the Spring with additional information.
---
11/13/19 – At their Nov. 12 meeting, Asheville City Council authorized a $407,567 contract for expansion of design services of Fire Station 13 by Charlotte-based ADW Architects. The funding was already included in the City's Capital Improvement Program budget for this fiscal year.
The facility will include three fire truck apparatus bays, an Emergency Operations Center, an administration space to be used by public safety operations, and a community room. It will also serve the joint use of the Fire and Police Departments and will help to improve the service response in the Five Points, Montford, UNC-Asheville, and Richmond Hill communities.
Building plans for the construction of Fire Station 13 are progressing. Construction may begin in about a year and is expected to take about a year to complete.
Construction of this new station will be an asset to the City and increase safety response times to the nearby neighborhoods. This project is in keeping with City Council's stated strategic priorities of a clean and healthy environment and a financially resilient City.
11/11/19 – Design is moving forward for Fire Station 13 located at 316 Broadway Street.  On November 12, 2019, City Council will meet to discuss approving a contract expansion of design services by Charlotte-based ADW Architects. If approved, the building will include 3 fire truck bays, a police substation, an emergency operations center and a community conference room.  These additional funds are already included in the City's Capital Improvement Program budget for this fiscal year. If approved, the design should begin late summer of 2020!
6/24/19 – Here are answer's to FAQs
6/10/2019 – A second community meeting is planned for 6:30 p.m. Wednesday, June 26 at Greater Works Church, 25 Forsythe Street. Results of the visual preference survey will be shared along with updates on the project.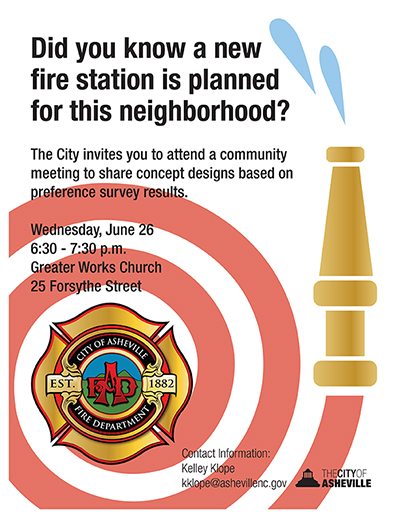 4/15/2019 – The City of Asheville has launched a visual preference survey on a planned Fire Station 13. In this survey on Open City Hall Asheville, participants will be asked to select up to three images that illustrate their preferred design styles.
The City of Asheville held a community meeting on March 11, 2019, to share information about a new fire station project planned for a property on Broadway Street near Mount Clare Avenue.
The purpose of this survey is to identify the design style preferences of the Asheville community for this new station. The information compiled from this survey will be used as the architect team moves forward with the exterior architectural features of the new station, as budget allows.
3/13/2019 – A community meeting was held on March 11 with great attendance. Roughly 25 residents attended to hear information shared by the Fire Chief, the Architect and the City Planning Department. Concerns were expressed about noise, lights, traffic and pedestrian safety.  These concerns are being heard and addressed and will be discussed at the next community meeting to be held later in May.
2/27/2019 – A community meeting is planned for 6:30 p.m. on Monday, March 11 at Greater Works Church, 25 Forsythe Street. The community is invited to learn more about the project and meet the architect as the project begins the design phase.
Can't attend the meeting? Leave your comments here.
11/20/18 – The goats have completed their duties on Broadway Street and have made a huge difference with the Kudzu mountain! With the weather dropping, Mountain Goatscapes will be moving the goats out and will begin taking down the fence.
The city may decide to do another "goat treatment" of the area but not until spring or early summer when everything is actively growing.
11/19/18 – A contract securing an architect is in its final stages.
11/8/18 – The property for Station 13 is receiving some land management assistance from Mountain Goatscapes. Several goats will spend the next few weeks clearing and managing invasive vegetation in an environmentally conscious way to help clear the land for assessment.
---
Background
AFD identified the need for an additional fire station north of downtown to meet our goals for the standard of coverage. AFD's performance objective is to reach all emergencies in 5 minutes 12 seconds or less, 90% of the time. The City of Asheville purchased the property on Broadway Street in 2010 and funds have been approved by council to begin design and construction of Fire Station 13.
---
Supporting Documents
Visual Preference Survey Results
---
Contact Information
Kelley Klope, Public Information Officer
Asheville Fire Department
828-251-4011
---