Happening Now
The City of Asheville is in the midst of a large project to update the City's Greenway Plan (G), ADA Transition Plan* (A), and Pedestrian Plan (P) (*By ADA transition we are specifically looking at accessibility improvements within the rights-of-way on our street network).
The planning process, known as the Close the GAP, will identify a network of the pedestrian, greenway, and accessibility networks for our community as well as programs and policies to support it. We combined these plans because the pedestrian network will be a stronger one if the three aspects:  greenways, ADA transitions, and pedestrian networks are planned at the same time.
Draft Plan Available for Review
The draft plan is available at this link or by clicking the cover image below.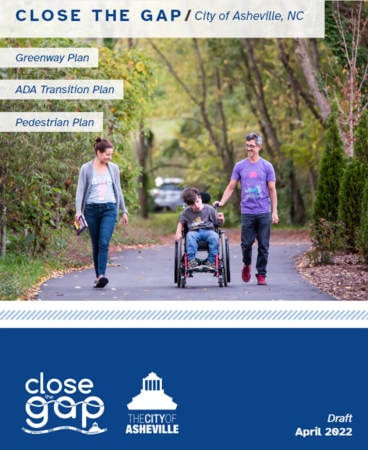 ---
Why Does Close the Gap Matter?
Most Recent Public Engagement Meetings
March 24, 2021 Community Update Presentation
---
Timeline

Public Engagement – January 2022
Final Draft of the plan – January/February 2022
Present to Boards and Commissions – March/April 2022
Present to Council for adoption – May 2022
---
Background
The first round of public engagement was conducted from mid-November to mid-January via an online survey.
Here is a 
video
 with a summation of our findings so far.
Currently, our consultants are developing a preliminary plan with the information we received and we will start the second round of public engagement for comments once it is ready.
If you are interested in talking to us about the plan or would like us to come to your virtual meetings to provide updates and to answer questions, please contact Lucy Crown at lcrown@ashevillenc.gov.
---
Supporting Information
RiverLink's Wilma Dykeman Riverway Plan
Proposed Access for Pedestrian Facilities in Public Right-of Way
Storymap: What is Close the GAP?
Storymap: What is Asheville Unpaved?
Glossary of Transportation Terms
---
Contact Information
Lucy Crown, Greenway Coordinator
828-259-5805
---
Updated 3/22/2022
---