Happening Now
The City has begun implementation of its recently adopted GAP Plan. The implementation phase of this project includes:
Coordinating with City departments to identify which action items in

Chapter 10

can be addressed in the near term.

Developing an annual report that updates City staff and City Council on the ADA Transition Plan progress made over the previous fiscal year.

Utilizing the ADA & Pedestrian Prioritization Lists to assist staff in future project development and budgeting.
---
Background
In October 2022, City Council adopted the GAP Plan which was produced through the Close the GAP Planning Process. This plan provides updates to the City's Greenway Master Plan (G), ADA Transition Plan (A)*, and Pedestrian Master Plan (P) in one comprehensive document. These plans were combined because Asheville's overall pedestrian network will be a stronger one if the three aspects – greenways, ADA accessibility, and pedestrian networks are considered and planned at the same time. The GAP Plan identifies greenway, accessibility, and pedestrian networks for our community as well as programs and policies to support the expansion of these networks.
*The Americans with Disabilities Act of 1990 is a civil rights law that prohibits discrimination based on someone's disability. Title II of the Act requires cities and towns to have a plan to make accommodations for everyone. The overall goal of the ADA Transition Plan within the Close the GAP Plan is to remove barriers in Asheville's public rights-of-way so that pedestrians with disabilities can fully participate in programs, services and activities that the City has to offer. Examples of public rights-of-way include public streets, sidewalks, road crossings and pedestrian signals, greenways, bus stops, and on-street parking.
Highlights of the GAP Plan include:
---
View the GAP Plan
The final draft of the GAP Plan is available at this link or by clicking the cover image below.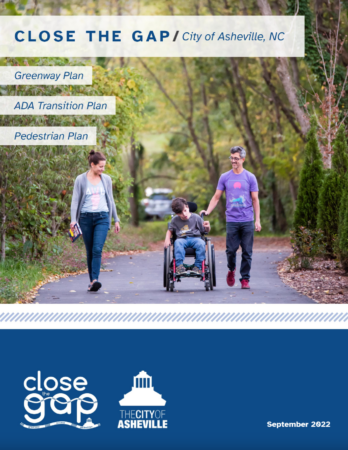 Links to each individual chapter, the full appendices, and accompanying Plan documents are organized below:
Chapter 2 – Where We Are Today
Chapter 6 – ADA Transition Plan Summary
Chapter 8 – Project Development 
Alternatives to Sidewalks Guidebook
Pedestrian Accommodations in Work Zones Design Guidance and Checklist
ADA Self-Evaluation and Transition Plan
---
Additional Supporting Documents
RiverLink's Wilma Dykeman Riverway Plan
Proposed Access for Pedestrian Facilities in Public Right-of Way
Storymap: What is Close the GAP?
Storymap: What is Asheville Unpaved?
Glossary of Transportation Terms
---
Timeline

October 2022: GAP Plan adopted by City Council 
December 2022 – July 2023: Development of implementation schedule and capital project programming through interdepartmental coordination
July 2023: Begin implementing identified Action Plan items
December 2023: Develop FY23 ADA Transition Plan annual report
January 2024 (anticipated): Presentation of ADA Transition Plan annual report to City Council
---
Contact Information
Lucy Crown, AICP – Transportation Planning Manager
Anna Sexton, AICP – Urban Planner II
Hayley Burton, MURP – Urban Planner II