Happening Now
The City of Asheville is wrapping up a multi-year process to update the City's Greenway Plan (G), ADA Transition Plan* (A), and Pedestrian Plan (P). *By ADA transition we are specifically looking at accessibility improvements within the rights-of-way on our street network.
This process, known as Close the GAP, has identified greenway, accessibility, and pedestrian networks for our community as well as programs and policies to support the expansion of these networks. We combined these plans because the community's overall pedestrian network will be a stronger one if the three aspects – greenways, ADA accessibility, and pedestrian networks are planned at the same time.
Draft Plan Available for Review
The final draft of the GAP Plan is available at this link or by clicking the cover image below.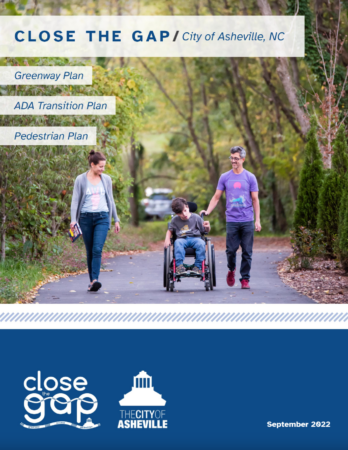 ---
Why Does Close the Gap Matter?
Most Recent Public Engagement Meetings
---
Timeline

Final Round of Public Engagement – January 2022
Present to Boards and Commissions – February – April 2022
Final Draft of the Plan – September 2022
Present to Council for adoption – October 2022
---
Supporting Information
RiverLink's Wilma Dykeman Riverway Plan
Proposed Access for Pedestrian Facilities in Public Right-of Way
Storymap: What is Close the GAP?
Storymap: What is Asheville Unpaved?
Glossary of Transportation Terms
---
Contact Information
Lucy Crown, Greenway Coordinator
828-259-5805
---