Happening Now
The Greenway Connectors are on-road improvements in two project areas for bike and pedestrian safety and way-finding. The objective of this project is to connect greenways in the project area and provide safe passage for pedestrians and bicyclists from one greenway trailhead to another. We will aim to provide these improvements by working within the right-of-way of the streets. In addition, a way-finding system will need to be developed for the connectors. This project is really two construction projects on each side of the (future) Nasty Branch Greenway located in the Southside neighborhood. The two project areas are the following: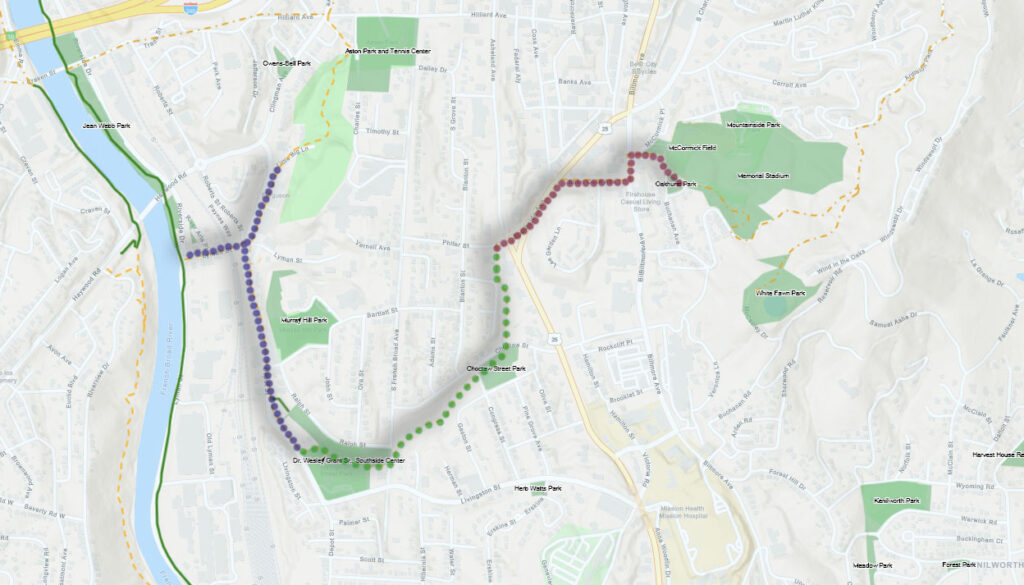 From the eastern trailhead of the Nasty Branch Greenway on the corner of Phiffer Street and McDowell Avenue through Southside Avenue, Short Coxe Avenue, Biltmore Avenue, and Buchanan Avenue, ending at the parking lot of Memorial Stadium. The connector will remain within the right-of-way of the street.
From the western trailhead of Nasty Branch Greenway on Depot Street just south of the Dr. Wesley Grant Center to the southern trailhead of the Bacoate Branch Greenway on Clingman Extension. The connector should remain within the right-of-way of the street unless infeasible.  An extension of the connector way-finding system will be applied from Depot Street to Riverside Drive on Lyman Street.
This video provides a more detailed explanation of the greenway connector project.
We want to hear from you! Please provide feedback on the proposed greenway connectors here.
---
Background
Funding
The City of Asheville received grants from the FHWA via the French Broad River Metropolitan Planning Organization (MPO) that are administered by the NCDOT.  The funding for the projects is:
$120,000 for the design and engineering
$1,200,000 for construction 
Related Projects
Nasty Branch Greenway
Livingston Street Complete Street Projects
---
Timeline
June 2023 – Design and easement acquisition complete
August 2023 – Bidding for Construction
July 2024 – Construction completion 
---
Contact Information
Lucy Crown, Transportation
Dustin Clemens, Capital Projects
---