Happening Now
Your input is needed for the AVL Unpaved Public Survey
The first phase of the AVL Unpaved trails are moving forward, and we are seeking community  input to design trail kiosks and signs that will best support trail users. Take the AVL Unpaved Public Survey at this link to contribute. The survey will be open from September 11th – November 11th.
---
Background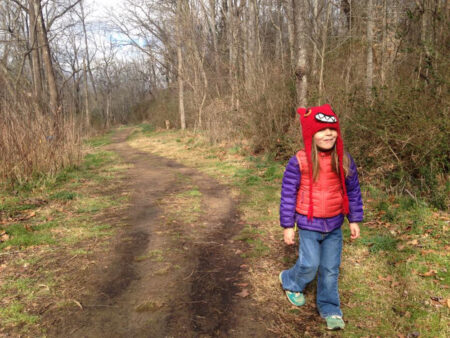 Asheville Unpaved is a community-supported initiative, led by Asheville on Bikes, Pisgah Area SORBA, and Connect Buncombe, dedicated to building a network of multi-use natural surface trails that will help Asheville-area residents and visitors connect with one another, their natural environment, and their city. Users can access this unpaved trail system via greenway, sidewalks, bike lanes, and trailheads, providing "front door" access to trails. 
Additionally, these trails will connect to the city's existing transportation network, helping people increase mobility and move away from car dependency. The trails system's greatest feature will be the quick and easy connectivity it provides users to neighborhoods and commerce (imagine biking from your home to your favorite coffee shops, restaurants, and breweries).
AVL Unpaved is one of the many projects planned through the Close the GAP Plan which was adopted at the October 25, 2022 City Council meeting. 
Asheville Unpaved will provide residents and visitors with the following benefits:
In-town Trails: 

Residents can enjoy the trail experience within the city limits!  The Asheville Greenway vision is natural surface trails throughout the city, in every neighborhood so no one needs to cross county lines to get immersed in nature. 

Equitable access:

These trails provide easy access to nature for everyone. Trails will be developed in Asheville's natural lands and parks, campuses, and urban areas, and spread equitably across the city.

More trail miles for fewer dollars:

Natural surface trails can be one of the cheapest public investments for the greatest returns.  Trails are 35 times cheaper to build than greenways. They can serve as precursors to greenways being built, or utilize lands where greenways would be too costly to build.

Minimal climate footprint:

Natural surface trails can connect neighborhoods, greenways, and urban centers without creating the climate footprint associated with paved trails.

Sustainably designed and built:

Asheville Unpaved's trails will be sustainably designed and built for minimal environmental impact and maximum use.

Improved health and wellness:

Trails can play a critical role in physical and mental health.

Increased sense of community and equity:

Asheville Unpaved will be community-supported. With this comes collaboration, community service, and socialization. This system will provide opportunities for chance encounters, new friendships, and programmed activities. Users of these trails will include community members who have little access to the popular trail opportunities on the outskirts of Asheville, including urban school children who don't have trail access, those with disabilities that are given adaptive equipment to ride trails, and neighborhoods that are currently unsafe for walking. Asheville Unpaved will prioritize opportunities that provide the greatest benefit for equity, including opportunities to partner with neighborhoods that lack basic walking and biking infrastructure.

Positive economic impact:

Trails are proven to have a huge return on investment (ROI) seeing huge economic returns per the low cost of infrastructure, spurred business growth, and health savings cost. Two case studies of Southern communities that have seen a tremendous ROI from trails can be read about in

National Context

further below.
Projects
In 2020, five pilot projects were identified as the first trails the Asheville Unpaved Alliance would fund and build.  The five pilot projects will be broken down into two phases. The first phase will include the French Broad River West, the Bacoate Branch, and the Azalea Park Trails. The Alliance was awarded  $188,355 in funding from the Buncombe County Tourism Development Authority to construct Phase 1 of unpaved trails. 
More information regarding the background of AVL Unpaved can be found here. 
---
Timeline
Summer 2022 – AVL Unpaved Alliance established and Letter of Intent entered with the City of Asheville. 
Summer & Fall 2022 – Community engagement meetings
Winter & Spring 2023 – Public engagement and preparation for alliance led projects
Summer and Fall 2023 – Phase 1 trails construction
Winter 2023 – Anticipated Phase 1 trails completion date
Past Updates
March – May  2023 – The City of Asheville hosted community meetings with residents and businesses whose properties are adjacent to project areas to share information and receive feedback. 
March 24, 2023 – Potential trail hike with East End Valley Street and Oakhurst Representatives 
January 2023 – Trail designed to flag trails in Phase 1 to make any design adjustments needed for the typography of the trails. 
October 26, 2022 – The AVL Unpaved Alliance received $188,355 in funding from the Buncombe County Tourism Development Authority to construct Phase 1 of unpaved trails. The trails in Phase 1 include: Bacoate Branch, French Broad River West, and Azalea Park/Highland Brewing.
October 12, 2022 – Neighborhood meetings with East End Valley Street, Oakhurst, and Kenilworth
August 11, 2022 – Neighborhood meetings with East End Valley Street, Oakhurst, and Kenilworth
August 2, 2022 – Neighborhood meeting with Oakhurst
June 22, 2022 – Neighborhood meeting with Oakhurst
June 2, 2022 – Neighborhood meeting with WECAN
June 8, 2022 – Neighborhood meeting with East End Valley Street
May 12, 2022 – Neighborhood meeting with East End Valley Street
March 10, 2022 – Neighborhood meeting with East End Valley Street
---
Supporting Documents
Map of French Broad River West
---
Contact Information
Lucy Crown, Transportation Planning Manager
---