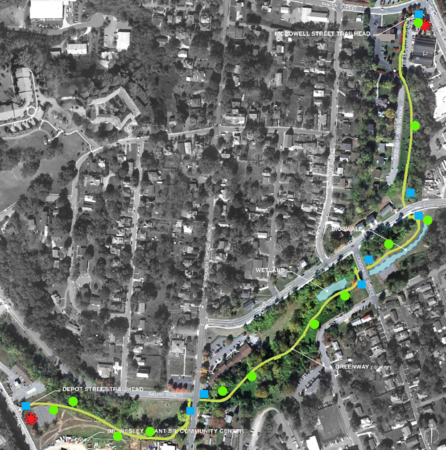 Happening Now
The Nasty Branch Greenway is a planned ¾-mile-long greenway that starts at the Grant Southside Center on Depot Street and Livingston Street and terminates at Phifer Street near the McDowell and Southside intersection. This greenway lies on flat terrain along the banks of the creek called Nasty Branch. This is an important East/West connection in the overall greenway network. Design of the greenway itself is finalized. Construction is anticipated to begin in Summer 2024.
Draft Signage – Public Feedback Opportunity
This greenway will feature a series of interpretive signs about the devastating impact of the razing of the Southside Community, a historically African-American community, due to urban renewal in the late 60s and early 70s.  The City of Asheville is currently seeking first-hand information and feedback from the Southside residents to finalize the signs. The interpretive signs aim to tell the history of the Southside neighborhood before Urban Renewal. These signs will also give more detail to the significance of the name Nasty Branch. These draft signs were created with input from longtime Southside residents to explore the subjects and the stories for the panels along the Greenway. They are not final: Your input will influence and expand the information presented on the signs.
View the draft signs here

Note: Current pictures are placeholders and would not be used on final drafts without permission and photo credit to the source
Draft signs can also be viewed at the Grant Center (285 Livingston St) through April 3rd

A survey to share memories of growing up in Southside was available from February 28 through April 3rd. You can view a summary of feedback received here. 
When viewing the signs please consider the following questions: 
Are there any other stories that you would like to see on these panels, instead of what is shown here? What is missing from the story? A Person? A Business? An Idea?
We have two panels reserved for photos of actual houses and actual people from Nasty Branch. Do you know a special person or special house (or business) that you would like see on the "Do You Remember?" panels? Please nominate a person or place that was special to you.
Do you have any other comments or ideas you would like to see included on these panels?
To provide additional feedback on the draft signs, please email Hayley Burton at hburton@ashevillenc.gov by April 3, 2023. As feedback is received, the design team will incorporate feedback into a final draft of the signs. An opportunity to view the final draft will be available in late summer 2023.
---
Contact Information
For information on the Nasty Branch Greenway design and construction, please contact:
Lucy Crown, Transportation Department, Transportation Planning Manager, lcrown@ashevillenc.gov
---