Happening Now
The City of Asheville received grant funding from the French Broad River Metropolitan Organization (FBRMPO) to conduct a $50,000 feasibility study for the remaining sections of the Reed Creek Greenway. There are two undeveloped sections:  The northern section from the intersection of WT Weaver Blvd and Broadway St to the intersection of Broadway St and Riverside Dr.; and the southern section starting at Elizabeth St. and terminating at the Bacoate Branch Greenway trailhead near the intersection of Clingman Ave and Hilliard (Merritt St.)
The feasibility study has the following objectives: 
Investigate the alternative alignments that can complete the Reed Creek Greenway

Select the preferred alignments to advance for capital project development

Engage with property owners and stakeholders including City of Asheville departments; the Montford Neighborhood Association; the NCDOT; UNC-Asheville, the Asheville Botanical Garden Board; Isaac Dickson School; and private property owners

Procure cost estimates to begin capital project planning.
The completion of the Reed Creek Greenway Corridor is an important part of the larger greenway network. It will strengthen transportation connectivity from downtown to North Asheville, UNCA, and the River Arts District. 
The City is seeking community input on the proposed extension of the Reed Creek Greenway. Share your ideas about how you would use the trail by taking the survey at: https://publicinput.com/reedcreekgreenway. The survey will be open through October 1, 2023.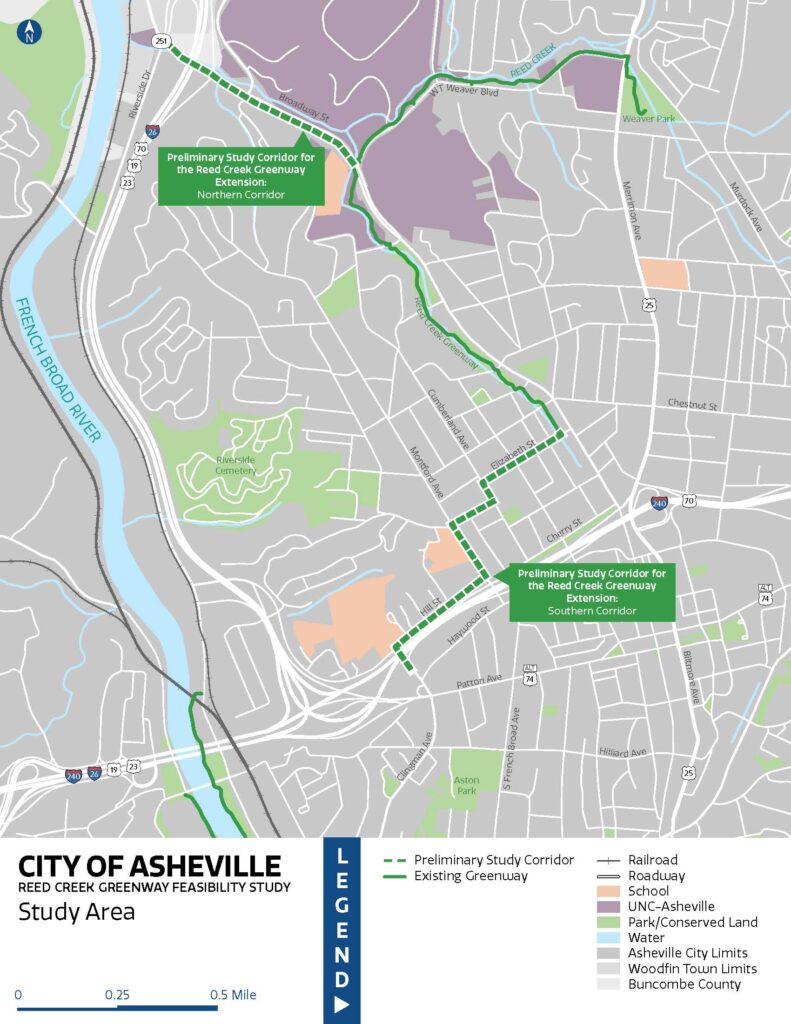 ---
Background
The French Broad River Metropolitan Planning Organization (FBRMPO) is a partnership between local and state government that makes decisions about transportation planning in urbanized areas. The FBRMPO is responsible for a Unified Planning Work Program (UPWP), which acts as a budget and guide for the upcoming fiscal year planning activities. The FBRMPO UPWP includes special studies scheduled to take place during the fiscal year. The Reed Creek Greenway Feasibility Study is one such study planned for funding in Fiscal Year 2023 through the UPWP. The City released a Request for Qualifications (RFQ) in December 2022 for submittals from qualified firms to complete the study. A firm was selected in May 2023, and the studied is anticipated to take 6-9 months.
---
Timeline
January 2021 – UPWP Grant Application Resolution
November 2021 – FBRMP/City Grant Agreement
Spring 2023 – Consultant selected to conduct the study
Summer 2023 – Public Engagement
Fall/Winter 2023 – Estimated Study Completion
---
Supporting Information
Council Approval of McAdams Contract
Request for Qualifications (RFQ)
Reed Creek Greenway Connection Map
Storymap: What is Close the GAP?
Glossary of Transportation Terms
---
Contact Information
Hayley Burton, Transportation Planner II 
---