Neighborhoods: East West Asheville, Pisgah View
---
Happening Now
Carrier Park's playground is often cited as one of the best in town, but its age requires frequent repairs to maintain its safety. Asheville Parks & Recreation (APR) is in the early stages of replacing the current play equipment as part of an exciting community investment project in the current fiscal year's budget. Staff are researching market rates on play equipment that will modernize and enhance this space for $500,000 in one of the city's most popular parks.
---
Background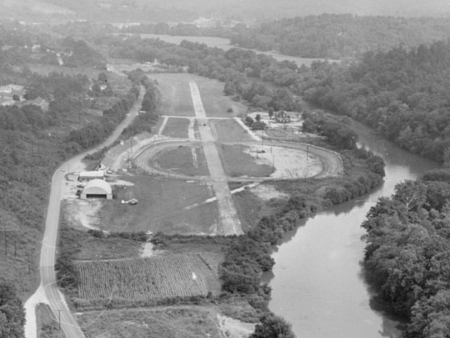 As owner of Sulphur Springs Hotel (later changed to Carrier Springs and The Belmont), Edwin Carrier built a hydroelectric plant on Hominy Creek that provided the first reliable electric lights in Asheville and built a 250 foot steel bridge spanning the French Broad at its junction with the Swannanoa River in 1889, near today's Amboy Road Bridge. 
Among his many projects was the creation of a horse racing track in early 1892 along French Broad River bottom for the entertainment of his hotel guests and locals. The large tract of land also served as fair grounds and was used for baseball games, bicycle races, tournaments of the Field of Gold, and many other community activities. It soon became known as Carrier's Field.
In 1930, planes began performing air shows using a landing strip that ran the length of the park. The horse track became Asheville Motor Speedway in 1960 and local enthusiasts enjoyed auto racing for nearly 40 years until the speedway's 50 acres were sold to environmental nonprofit RiverLink in 1998. APR transformed the land into Carrier Park, turning the track itself into a velodrome that remains as a key feature.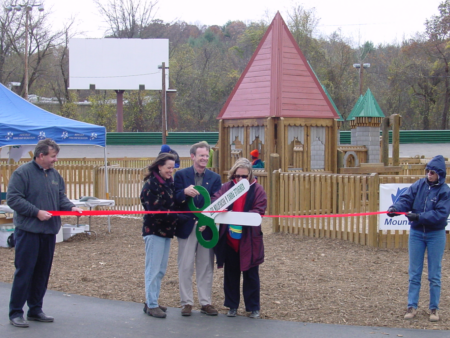 In the first phase of the park's development, a community-built playground opened through the efforts of hundreds of volunteers, APR team members, businesses, and nonprofits in 2001. Frequently voted the Best Playground in Mountain Xpress' annual Best of WNC poll, the playground is widely visited by families from surrounding neighborhoods, as well as from throughout the city and region.
Over the years, APR closed parts of the current wooden playground to address safety considerations and maintenance issues. A complete replacement of all play equipment was approved in the City of Asheville's current budget and staff are in early stages of planning for the project.
When it is replaced, it will be APR's ninth complete playground replacement since 2019. Others include:
Tempie Avery Montford Community Center (2019)

Herb Watts Park (2019, with additional upgrades in 2023)

Leah Chiles Park (2020)

Augusta Barnett Park (2020)

Linwood Crump Shiloh Community Center (2021)

Magnolia Park (2023)

Walton Street Park (2023)

Burton Street Community Center (in progress)

Murphy-Oakley Park (in progress)
Several other playgrounds that have not been completely replaced have received new equipment and accessibility features.
---
Timeline
2023
May: Slide removed and additional safety repairs

October-December: Planning
2024
Summer: Project completion
---
Contact Information
Rebecca Cipriano, Capital Projects, 828-424-5596
---