Park District: South Central
Census Tract: 9
Neighborhood: Southside United
---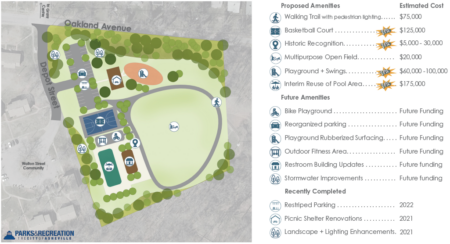 Happening Now
Based on neighborhood prioritization, proposed amenities and enhancements include resurfacing the basketball court, modernizing the playground, highlighting historic recognition, determining interim reuse of the pool area, converting the ballfield to an open area that can be used for multiple sports and activities, and installing a lighted paved walk and roll loop.
View results of a recent survey to determine style preferences.
Following a public hearing and presentation, Asheville City Council unanimously adopted an ordinance designating Walton Street Park and Pool as a local historic landmark during its regular meeting on October 25, 2022.
Asheville Parks & Recreation (APR) has allocated $500,000 for redevelopment of Walton Street Park. Currently, this 4.8-acre neighborhood park opened in 1939 features a ballfield, basketball court, off street paved parking, a picnic shelter, and a playground. Recently, park benches, grills, and the park sign were replaced and improved lighting was installed.
Throughout the spring and summer of 2022, APR and local nonprofit Southside Rising gathered input from neighborhood residents on their vision for this vibrant space that has hosted many community events, birthday parties, family celebrations, and more over the decades. Feedback was gathered through printed and digital surveys and outreach opportunities include block parties, neighborhood meetings, and discussions to determine priorities regarding investments in recreation features, additions, and enhancements.
Simultaneously, multiple City of Asheville departments and commissions worked closely with neighborhood elders and community organizations to discuss the area of historic consideration and the most appropriate way to honor its significance and personality. For more on that process, visit its project page.
---
Background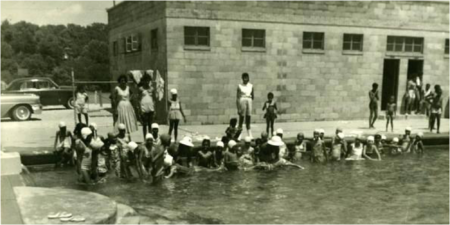 For a detailed look at the history of Walton Street Park, check out this Park Views article.
Walton Street Park was constructed in 1938-1939 with Works Progress Administration funds and opened to the public in June 1939. The pool and pool house opened in June 1948.
From government-sponsored segregation policies to the rise of private members-only swim clubs, limiting access to swimming pools and other recreational spaces by people of color was prevalent in the twentieth century. A visible legacy of these actions is in Asheville's Southside neighborhood. The pool at Walton Street Park existed for many years as the only public pool for the city's Black families and community members. 
Following multiple consecutive years of significant repairs, a professional assessment of Walton Street Pool in 2016 found the infrastructure deficient with major leaks and failing underground pipes. The investigation concluded repairs and renovations will no longer extend the useful life of the facility. Additionally, the pool has a very small shallow area and drops quickly to a depth of 12 feet, leaving little swimmable space for young pool users.
Balancing the historical significance of Walton Street Pool and the neighborhood's need for a modern, safe swimming pool and other high-quality recreational spaces, a redevelopment of Walton Street Park that honors its legacy while constructing a new aquatics facility at Grant Southside Center meets the vision of feedback presented by the community in 2017. Located roughly two-tenths of a mile from the current pool, the Grant Southside Center acts as a vibrant neighborhood hub with ample space for a pool with expanded amenities that can accommodate swimmers of different ages and abilities, increased program offerings, and greater security and safety features available at a staffed full-complex recreation center.
---
Community Engagement
2017
January-August: Community input meetings and outreach yield information about Walton Street Park during planning for Grant Southside Center Phase 2 (Recreation Phase) expansion project
2021
Summer: Movies in the Park at Walton Street Park

November-December: Stakeholder meetings with Asheville Housing Authority and Grant Southside Center Advisory Board
2022
January-present: formation of community-led group focused on engagement around the recreation

features, additions, and enhancements with monthly meetings and regular reports to APR

Second Saturday of each month from 9-11 a.m. (January 8-present): Southside Pancakes socials at Grant Southside Center
Thursdays from 9-11 a.m. (March 3-present): Coffee & Conversation drop-in open office hours at Grant Southside Center
March 19: Inflatable Funday at Walton Street Park
March 25: Cookout at Walton Street Park
March 26: Southside Community Cleanup
April 29: Block Party at Walton Street Park
May 7: Bike Track Popup at Walton Street Park
July 8, 13, 18, and 27 and August 3, 8, and 20: Walton Street Water Fun Days
April 28-August 1: Survey (print and online) available for Southside community members with an oversized postcard mailed directly to every household in the neighborhood over Memorial Day weekend
August 8-September 11: Survey (print and online) available for the larger Asheville community
November 2-21: Style and preference survey available online and at Grant Southside Center
November 12: Flapjacks & Feedback at Grant Southside Center
---
Timeline
2017
January-August: Community input meetings and outreach for Grant Southside Center Phase II (Recreation Phase) expansion project include requests to redevelop Walton Street Park.
2019
September: Asheville City Council authorizes an amendment to the design contract for the Grant Southside Center expansion to include a new outdoor pool with more areas that can be enjoyed by community members of all ages.
2020
November: Replacement of park benches and grills
2021
Spring: Installation of new park sign and improved lighting
2022
January-present: APR, Southside Rising, and community members host outreach opportunities to determine priorities regarding

recreation

features.

January-present: Members from multiple City departments work with neighborhood voices to determine ways to honor the area of historic consideration.
October 25: City Council unanimously adopts ordinance naming Walton Street Park and Pool as Buncombe County's 50th Local Historic Landmark
---
Supporting Documents
---
Contact Information
Jessica Johnston, Parks & Recreation, 828-259-5483
Alex Cole, Historic Preservation, 828-259-5638
---