The City of Asheville is making updates to its outdoor dining program as applied to use of public space (streets and sidewalks). Goals of the program updates include: 
---
Happening Now
The City has an interdepartmental team working on updates to the City's Outdoor Dining Program (on public streets and sidewalks) based on lessons learned during the temporary AVL Shares Space initiatives launched during COVID-19 as well as established and emerging best practices. 
Public engagement to get feedback on the proposed policy, standards and fee changes will take place between March 2023 and August 2023. 
Proposed changes include:
An updated outdoor dining ordinance that includes "streeteries" (use of public on-street parking spaces on city-managed streets)
 New fee structure that supports:

Better alignment with the market value of commercial space
Maximizing multiple public benefits when possible (i.e. charging per square foot and encouraging the space to be public after-hours)
Improved operational management of the program

An outdoor dining guide that features standards and best practices along with clear guidance on the application and review process
Recent Engagement
Upcoming Review
Please contact us to schedule a one-on-one meeting or focus group session. 
---
Background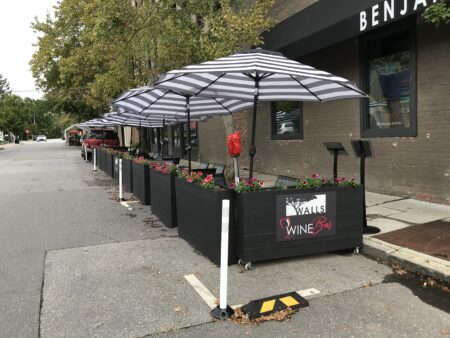 The COVID-19 pandemic made the City and Community think differently about how public spaces – like streets, sidewalks and parking spaces – can be utilized to support the health, safety and welfare of the public in addition to fostering economic activity.
Through collaboration, communication and flexibility across sectors of government, business and community, the temporary AVL Shares Space initiatives launched in the spring and summer of 2020 enabled the testing of ideas. 
Public feedback on the temporary programs indicated support for continuing many aspects longer term. One of those components is enabling outdoor dining to take place in public on-street parking spaces. Staff is moving forward on the development of a long-term "Streetery" program to accommodate this use. 
---
Program Update Timeline
---
More Information and Background
AVL Shares Space Temporary Initiatives
---
Contact
Dana Frankel
Downtown Planning Manager
dfrankel@ashevillenc.gov 
---