Happening Now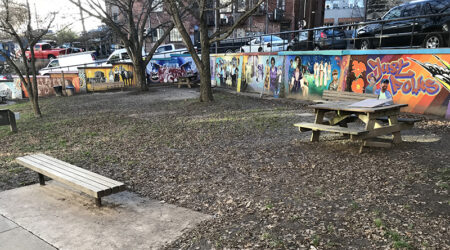 8/25/21: Project is complete, fencing has been removed and park is open for public use.
The City of Asheville Parks & Recreation Department is making improvements to Triangle Park in downtown.  The project includes re-sodding grassed areas, installation of an irrigation system throughout the sod areas, mulching under trees and other areas where grass isn't feasible, limbing and pruning trees for better visibility and replacing the park furnishings such as trash/recycling cans, benches and picnic tables. 
While improvements are being made, the park will be closed to the public and constructions vehicles will stage on south market street directly in front of the park.
---
Background
Triangle Park is located at 58 S. Market Street downtown and features a mural depicting significant people and moments in Asheville's African-American history.  The Parks & Recreation Department and Just Folks, a community organization based in the Eagle/Market neighborhood, are joined in a community benefit agreement to maintain and care for the park.
---
Timeline
The project is scheduled to begin Monday, May 24 and is expected to be completed by late summer.
---
Supporting Documents
---
Contact Information
828-259-5800
---