Park District: South Central
Census Tract: 9
---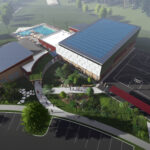 Happening Now
Additional outreach has been conducted and the City is bidding the project for construction.  The contract will be taken to City Council for approval in early 2022 and construction is estimated to begin in Spring 2022.
If you are wondering what the project might look like, these images are a visual rendering of the proposed project.
---
Background

Development of the Dr. Wesley Grant, Sr. Southside Center was the number one priority in the 2009 Asheville Parks & Recreation Master Plan and the City has made recreational investments in the Southside community a focus.  When the Grant Center opened in 2010, it was only the second recreation center ever built by the City designed exclusively for recreational programming since 1974 when the Tempie Avery Montford Center opened.  The original Grant Center structure and new additions represent about $8 million dollars of Parks & Recreation investment in the Southside community. 
In a citizen-led process, close to 150 community members participated in a Southside Town Hall Meeting on January 31, 2017. Facilitated by Tyrone Greenlee, Director of Christians for a United Community, participants discussed recreational opportunities for the Southside neighborhood including the location of a new pool for the Southside community, a more attractive Walton Street Park and the next phase for the Grant Southside Center.
On February 28, 2017 the City of Asheville held the first in a series of community meetings where residents participated in a hands-on design exercise to help develop options for the design for Walton Street Park & Pool and Phase 2 of the Grant Southside Center.  Additional community design meetings were held on March 7, 9, 18, 21, and 23, 2017.  The results were compiled and are being used to guide the development and designs for both properties.
The City has contracted with a local architectural design firm to create options for Phase 2 construction of the Dr. Wesley Grant, Sr. Southside Center.  The consultant has taken the input from the community design meetings held in 2017 and additional focused community input to develop the current design.  The design services contract was originally approved by City Council on September 24, 2019 and a revised scope was submitted for approval on October 27, 2020.  Plans include the addition of a gymnasium, outdoor basketball court and an outdoor swimming pool.
---
Timeline
2017
Winter – Fall:  Development of facility and park design alternatives by the community.
Ongoing outreach to residents 18 and under for input.  Consolidation of all proposed design information.  Exploration of options available at both Walton Street and Grant Southside Center properties.
2018
Winter:  RFQ issued for design consultant, submittals received
Spring:  Consultant selected
Summer/Fall:  Consultant develops multiple concepts for both properties.  Community input on concepts opens.
2019
Fall:  Contract for design services submitted to City Council for approval September 24.
Winter:  Design firm begins developing options based on input received and available budget.  
2020
Spring:  Additional meetings with Southside community focus groups and input from community youth.
Spring:  Design options reviewed with cost estimates.
Fall:  Revised design services contract to include addition of a swimming pool submitted to City Council for approval.
2021
Spring:  Construction bids posted.
Summer: Bids not approved by Council.
Winter: Re-bid Construction
2022
January 11: Construction Contract to Council for approval
Spring: Construction groundbreaking
2023
Construction Complete
---
Supporting Documents
Grant Center Illustrative Rendering
Walton Street Pool Assessment Report
Comments from January 31, 2017 Town Hall meeting
Southside Recreational Design Process Steps:  January – Fall, 2017 
---
Contact Information
Pete Wall, 828-450-7294
---