Park District: South Central
Census Tract: 9
Neighborhood: Southside United
---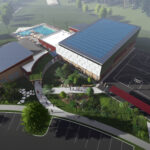 Happening Now
Known as the Recreation Phase, this $8.3 million investment adds exciting indoor amenities including a multi-purpose gym and additional community meeting rooms. Outdoor enhancements include more parking spaces, new sidewalks, solar panels, basketball court, rain garden, landscape improvements, lighting, picnic tables, and neighborhood swimming pool with toddler play zone, lounge deck, picnic area, restrooms, and changing rooms to ensure a truly multi-generational space to be enjoyed by all.
These images are a visual rendering of the proposed project and what it may look like.
---
Background

In the early-2000s, Asheville Parks & Recreation and residents of the Livingston and Erskine-Walton neighborhoods began discussions about the future of Livingston Park and the W.C. Reid Center. Located at the center of the two neighborhoods, the park included a ballfield, concession stand, tennis courts, and restrooms. The Reid Center had recently refocused its programming on classes and events for performing, cultural, and visual arts.
The results were the opening of the Dr. Wesley Grant, Sr. Southside Community Center in 2010 on the site of the former park and a transfer to the Asheville Housing Authority of the Reid Center, which was renovated and renamed the Arthur R. Edington Education and Career Center. The decision of the Edington Center to prioritize education and career training brings it full circle as it was originally the Livingston Street School for the neighborhoods' Black students prior to integration of Asheville City Schools.
The first phase of the Grant Southside Center was designated as the Cultural Phase and resulted in the current structure: an auditorium, three classrooms, office space, parking, storage, and flexible outdoor space. When it opened, it was only the second community center ever built by the City designed exclusively for recreational and cultural programming following the 1974 opening of Tempie Avery Montford Community Center. It was also the first facility constructed by the City to be LEED-certified for features including a green roof with active vegetation, geo-thermal heating and cooling, stormwater runoff management, and natural interior lighting. During construction, more than 75% of all construction waste was diverted from the landfill and recycled.
As the Edington Center predominantly focuses on career services for public housing residents, neighborhood voices prioritized an indoor gymnasium, flexible meeting space, and outdoor areas emphasizing wellness, active living, and exercise in the Grant Southside Center's next phase, the Recreation Phase.
Addition of New Neighborhood Pool
Located less than a quarter-mile walk away (but on a sometimes-busy road), Walton Street Park includes a pool that opened in 1947 (about 10 years after the park debuted) as the only swimming pool for Black residents of the area. It operated as the center of many Southside neighborhood celebrations for over 65 summers. True to the style of the time, it has a very short shallow area and drops quickly to a depth of 9 feet, leaving little room for youngsters to play and only the concrete edge for some swimmers to hold onto as they tread water.
Following multiple consecutive years of significant repairs, a 2016 professional assessment of the nearby pool found its infrastructure deficient with major leaks and failing underground pipes. The investigation concluded repairs and renovations will no longer extend the useful life of the facility. The pool has not reopened. For more information on Walton Street Park enhancements, visit its project page.
Asheville Parks & Recreation has rented space at the YWCA of Asheville to offer free swimming in the neighborhood since that time. The department also provides free transportation via ART buses to other city pools for neighborhood residents. However, neighborhood kids and families have requested a modern swimming pool with a larger deck area to accommodate more programming and fun activities with increased visibility at the heart of the neighborhood next to the Grant Southside Center.
In 2019, Asheville City Council authorized an amendment to the design contract to include a new outdoor pool at the Grant Southside Center. Careful consideration was given to ensure the pool remains a space for residents of all ages from the surrounding neighborhoods.
During its meeting on January 11, 2022, Asheville City Council unanimously approved a contract with Harper Corp. General Contractors for the Grant Southside Community Center Recreation Phase expansion project.
---
Community Engagement
2017
January 31: Town Hall meeting at the Eddington Center

February 28: Kick off for community members to provide wish list for final design at the Grant Center

Drop in meetings for neighborhood residents to provide feedback on comments from kick off meeting

March 7, 9, 21, and 23 at different times of the day at the Eddington Center

March 18 at the Grant Center

March-August: Meetings with neighborhood residents ages 18 and under (including those enrolled in afterschool programs, summer camps, and summer swim camp at Walton Pool) for input on design
2018
Spring: Following the results of design exercises and neighborhood input, additional methods of outreach included open office hours at the Grant Center.

Project information available online
2020 
Project information available online

Project renderings available at the Grant Center
2021
June-Present: Regular meetings with neighborhood residents and Grant Southside Center visitors

July 23, August 27, and October 22: Neighborhood Block Parties at the Grant Southside Center
---
Timeline
2017
January-August: Community input meetings and outreach.

September: Results of design exercises tabulated and provided to a consultant for next steps in design.
2018
Spring: Additional community outreach including regular open office hours.

August: Consultant develops multiple design concepts for community input.
2019
2020
Spring: Design options reviewed with cost estimates followed by additional meetings with Southside community focus groups.

August 31: Revised design presented to the Planning & Design Review Committee of the Asheville Area Riverfront Redevelopment Commission

Fall:

Revised design approved by City Council.
2021
January 28: Design approved by the Asheville Area Riverfront Redevelopment Commission

Spring: Bids accepted from general contractors.

June 8: City Council updated on bid status.

June 22: Staff planned to present to City Council the recommendation for award to lowest bidder, but due to an expressed concern from Council regarding certain project elements and community engagement, the recommendation was not presented and the bids expired.

Fall: Additional community and Council engagement resulted in confirmation that the previous project scope was appropriate and had sufficient neighborhood buy-in.

December 9: Project rebid to the same general contractors.
2022
January 11: City Council unanimously approves contract by roll call vote.

Spring: Construction expected to begin, but due to the uncertainty in delivery and procurement for steel products on this project, the contractor will be provided an initial notice to proceed with steel shop drawing production. Once dates are established for delivery of steel, the contractor will be provided with a notice to proceed for the remaining construction, which will include a 420 calendar day construction duration.
---
Supporting Documents
Grant Southside Center Illustrative Rendering
Grant Southside Center Fact Sheet
Grant Southside Center Site Plan
Grant Southside Center Phase 2 (Recreation Phase)
Providing Recreational Opportunities for the Southside Community
Enhancing Recreational Opportunities for the Southside Community
Walton Street Pool Assessment Report
Comments from January 31, 2017 Town Hall meeting
Southside Recreational Design Process Steps:  January – Fall, 2017 
---
Contact Information
Jessica Johnston, Parks & Recreation, 828-259-5483
---