Happening Now
At the August 22, 2023 City Council meeting, City staff presented the final project design plan  for bike lane infrastructure improvements along Patton Avenue and College Street. Input from the public engagement efforts listed below was taken into consideration and incorporated to the extent possible in the design plan. As part of the engagement, a survey was widely promoted. The survey closed on June 3, 2023 and a report of the results is available here. 

City Staff will provide a project update for the College/Patton Bike Lane Project at the September 22, 2023 Downtown Commission meeting. 

On October 10, 2023, the City Council will be asked to consider a resolution reaffirming its commitment to multimodal transportation and specifically confirming support for staff to proceed with the College/Patton Bike Lane Project. There will be opportunity for community members to provide public comment under this agenda item at the October 10, 2023 City Council meeting.
---
Project Background
Asheville consistently ranks as one of the top cities in North Carolina for bicycle and pedestrian fatalities. Building dedicated facilities for these vulnerable users is one of the most effective ways to reduce fatalities. This project proposes to make improvements to College Street and Patton Avenue in the core of Downtown with the goal of improving safety, accessibility, and equity for all users of the transportation system by adding the following to the corridors: 
Buffered bike lanes on College Street between Spruce Street and Pritchard Park and on Patton Avenue between Pritchard Park and Biltmore Avenue that will provide dedicated space for bicyclists and a critical east-west connection in the City's bicycle network

High-visibility crosswalks to enhance pedestrian safety

Additional dedicated space for delivery vehicles which is expected to reduce the need for delivery trucks to double-park in the street, improving safety for all and mitigating congestion
The addition of bicycle facilities in Asheville's urban core is consistent with adopted City plans and policies to improve multimodal transportation, particularly in Downtown. Plan alignment includes the 2009 Downtown Master Plan, the 2012 Complete Streets Policy, the 2016 Asheville in Motion Mobility Plan and the 2018 Living Asheville Comprehensive Plan.
This project also aligns with City Council's 2036 Vision for transportation and accessibility: "Whether you drive a car, take the bus, ride a bike or walk, getting around Asheville is easy. Public transportation is widespread, frequent, and reliable. Sidewalks, greenways, and bike facilities get us where we want to go safely and keep us active and healthy. It is easy to live in Asheville without a car and still enjoy economic, academic, and social success."
Several other factors and existing conditions align with the addition of buffered bike lanes on College Street and Patton Avenue:
Increasing bike use supports City climate, resilience, community health, and affordability goals. 

Transportation costs are typically the 2nd largest household expense behind housing costs (rent/mortgage, utilities, etc.). Improving affordability in Asheville is therefore more than just providing more affordable housing but also working to decrease transportation costs by providing alternatives to vehicle ownership.

There has been an increase in bike and pedestrian activity during/since COVID-19.

COVID-19 helped us reimagine use of public space (shared streets, parklets).

Electric bike use is growing (as well as other e-mobility devices).

A better connected bicycle network would better facilitate a potential future City bike share program.

College and Patton are the main east-west streets through downtown and connect to east and west Asheville. 

These bike lanes would connect to existing bike lanes and future bike lanes in downtown and beyond.

A better connected bicycle network increases options for downtown workers and visitors.

Providing other options to get downtown will help reduce parking demand.
---
Project Design
College and Patton are one-way streets in the core of Downtown, the City and its project team analyzed whether a bike lane should be installed on the left side of the street or the right side of the street. This analysis revealed that a bike lane on the left side of the street would result in a lower number of potential conflicts between a bicycle user and other vehicles using the roadway including cars, transit, and delivery trucks. Left-side bike lanes also tend to present fewer conflicts with right-turning vehicles than traditional right-side bike lanes.
The renderings below show what left-side bike lanes on College Street and Patton Avenue in Downtown would generally look like.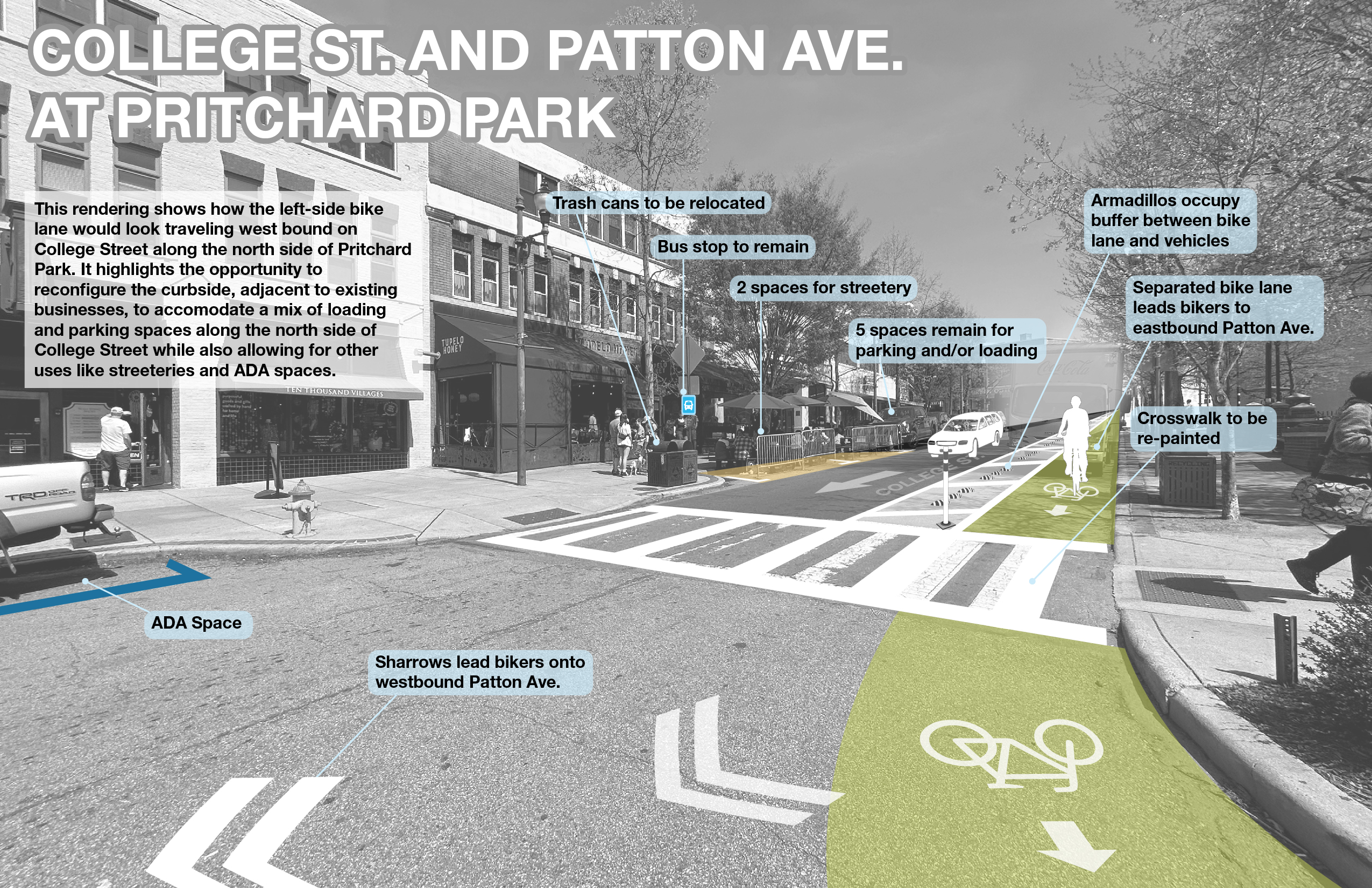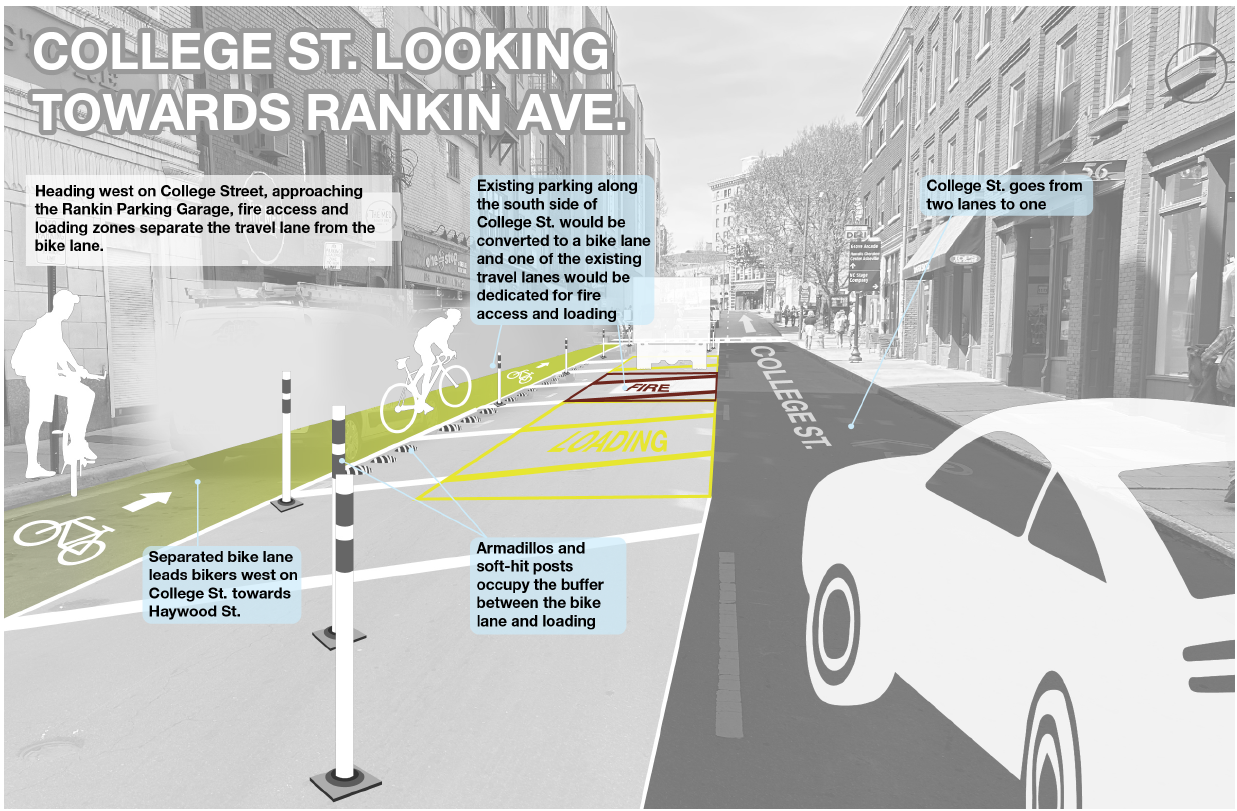 ---
Project Opportunities and Concerns
Concern
Response

 Not enough loading areas, delivery trucks block lanes

Approximately 130' of new loading area is proposed to be added with the project

No loading zones are being removed

 Parking loss, parking is unavailable

17 metered parking spaces are proposed to be

removed

9 of these will be converted to loading zone area

No ADA parking spaces are being removed

Rankin, Harrah's, and Coxe Ave. parking garages are all within 0.1 miles

 Traffic congestion will increase

Existing volumes average 4,000 – 6,000 vehicles per day.

These daily volumes are well within thresholds for single lane streets.

Comparisons to volumes on other single-lane roadways:

Haywood Rd. volumes are approx. 2 x greater

Biltmore Ave. volumes are approx. 2 x greater

Charlotte St. volumes are approx. 2-3 x greater

Merrimon Ave. volumes are approx. 3-4 x greater

 Fire and Police won't be able to get through

Asheville Fire Dept. has indicated that they do not have concerns with the project.

The bike lane is wide enough that emergency vehicles can use it if the regular traffic lane is blocked. 

The delineators are designed for emergency vehicles to run over.

 Adding a bike lane here is unsafe for riders, pedestrians and vehicles

Providing bicycle facilities can mitigate or prevent interactions, conflicts, and crashes between bicyclists and motor vehicles, and create a network of safer road ways for bicycling.

 Businesses will lose money

Many studies find that businesses adjacent to bike facilities benefit financially.

 The "bicycle advocates" are the only ones pushing this project

The City has long-standing policies supporting additional bike infrastructure.

The City's Multimodal Commission has voted in favor of the project.
Through the City's project outreach, the City has heard concerns over the project's design related to loading zone space, traffic congestion, emergency response, and impacts to corridor businesses. 
Staff is currently working to determine how best to optimize curb space to add more loading zones, particularly around Pritchard Park, to reflect input received from nearby businesses. Additional loading zone space will create more space for delivery vehicles and is expected to reduce the need for delivery trucks to double-park in the street. 
The Asheville Police Department and Asheville Fire Department have been consulted on the project design, including lane widths and configurations, to ensure that emergency vehicle access is not negatively impacted. The "curb to curb" distance is not being changed, and therefore, the same amount of space will be available for emergency access. 
While additional congestion may be experienced briefly during peak periods, the project balances the safety and mobility needs of all users by enhancing access to multimodal transportation options and providing dedicated and separated space for bicyclists and vehicles.  
Business owners have also raised concerns about the bicycle facilities potentially impacting their business operations and revenue potential. Numerous studies have shown that adding bicycle facilities has no negative, and in many cases, a positive impact, on businesses. A sample of these are linked below.
---
Timeline of Public Outreach Completed Thus Far
2022 Engagement 
February 16

–

Letters

sent to property owners in the corridor with engagement opportunities info and link to project website

February 24 & 25 – Flyers delivered to businesses 
March 2

– Two Virtual stakeholder meetings – Morning and Evening

March 11

–

Press Release

by City of Asheville

March 11

–

Email

sent to stakeholders notifying them of public engagement opportunities

March 11 – Downtown Commission meeting, presentation and concept design
March 17

– Afternoon in-person walking tour with stakeholders

March 19

– Sat. in-person walking tour with stakeholders

March 23 – Multimodal Transportation Commission meeting, presentation and concept design review
March 24 –

Two Virtual stakeholder meetings – Morning and Evening

June 10 – Downtown Commission meeting, discuss public input
June 22 – Multimodal Transportation Commission meeting, discuss public input
September 13 – Manager's Report to City Council –

During this presentation, staff was asked to conduct additional engagement to ensure the broader community was aware of the project and had an opportunity to provide feedback prior to design finalization. 

October – November

– additional meetings with direct stakeholders

November 16

– Public Space Management Committee meeting

December 9 – Downtown Commission meeting
2023 Engagement 
January 24 –

Mayor and staff met with business owners, agreed to hold one more public meeting

April 19 –

Public Open House and meeting with direct stakeholders at the Collider

April 19 – June 5

–

Public online survey

– 642 participants

May 3

 – Email invitation to participate in survey sent to Organizations and people who identify as BIPOC, Youth, Seniors, Interested in Transportation, and LGBTQ+

May 17

– "What's Up, AVL" radio interview at WRES (

Youtube

)

May 27/28

– Grindfest – table with surveys and flyers

June 9

– Emailed survey results to stakeholders and posted to project website

July 18

– Loading Zone Walking Tour with businesses to discuss revisions made based on feedback received from business owners 
---
Project Timeline
Pending City Council approval of the resolution at the October 10, 2023 City Council meeting, staff will then prepare and issue the solicitation to select a contractor to perform the work. The City Council will then be asked to consider approval of the contract prior to the work being performed. If the project is recommended to move forward, staff estimates the contract will be ready for Council consideration in early calendar year 2024. 
---
Cost and Budget
Non-profit partners, Asheville on Bikes and Connect Buncombe, funded the initial designs through local donations. The initial designs were completed by a local consulting firm, Traffic Planning and Design, in cooperation with the City of Asheville and were refined based on public feedback the City received.
$100,000 in the City budget is already programmed in the City of Asheville's Capital Improvement Plan (CIP) for implementation, including costs for:
Pavement markings

Vertical delineators

Signage

Traffic control during installation
---
Supporting Documents
Examples of Left-Side Bike Lanes in Other Cities
Living Asheville: A Comprehensive Plan For Our Future (2018) 
Asheville in Motion Mobility Plan (2017) 
City of Asheville Complete Streets Policy (2012) 
City of Asheville Comprehensive Bicycle Plan (2008 – superseded by Asheville in Motion Plan)
---
Contact Information
Jessica Morriss, Assistant Director of Transportation
Anna Sexton, Urban Planner II