After years of neighborhood input, planning, and construction, Asheville's Southside neighborhood has a brand new gymnasium, outdoor swimming pool, more community rooms for meetings and classes, outdoor basketball court, and spacious open areas to study and socialize at Dr. Wesley Grant Sr. Southside Community Center, located on 285 Livingston Street.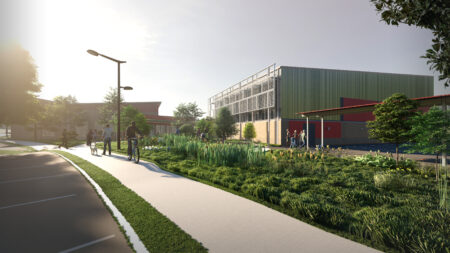 Southside families and community members are invited to celebrate this $8.3 million neighborhood investment at a block party and ribbon cutting hosted by Asheville Parks & Recreation (APR) on Friday, August 4, from 5:30-8 p.m. The schedule features music, food, tours, games, remarks from community leaders, and more.
"Even though the groundbreaking for this expansion took place just over 15 months ago, bringing a new gym and swimming pool to Southside has been a years-long journey," according to D. Tyrell McGirt, APR Director. "Everyone who lives in this neighborhood knows its rich history of parks and recreation including Walton Street Park, home to the first park and pool for Asheville's Black families during an era of government-sanctioned segregation. Asheville Parks & Recreation is very happy to partner with Southside residents to build on that legacy with the expansion of Grant Southside Center – a smart investment that builds on the center's original plan to bring valuable resources while building equity in this vibrant neighborhood."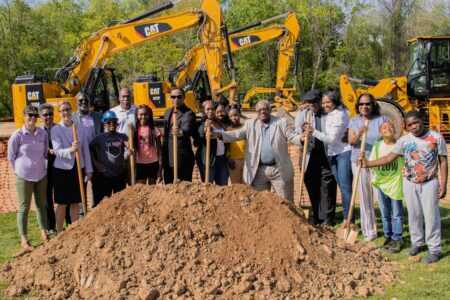 Grant Southside Center opened in 2010 on the former site of Livingston Street Park, though APR had for more than 30 years operated and programmed a community center in the former Livingston Street School just up the street. Known at the time as W.C. Reid Center (now Arthur R. Edington Education and Career Center), requests to renovate the gymnasium and auditorium resulted in a decision to build a new community center. The first phase of Grant Southside Center featured an auditorium, three classrooms, and flexible outdoor space.
Since that time, the community center has hosted thousands of meetings, activities, and events. However, recreational offerings – including its busy afterschool program for neighborhood kids and teens – were limited by the lack of gymnasium. The new gym, pool, and outdoor areas mean community members can expect expanded programs such as community basketball, water aerobics, and fitness classes. Southside neighbors are invited to stop by the center to share their ideas to fill the center's weekly schedule.
Grant Southside Center's expansive enhancements are a major piece of APR's investments in Southside's legacy of community recreation. Herb Watts Park's playground has been completely rebuilt and additional picnic tables and seating areas added. Historic Walton Street Park is also in the midst of a significant revitalization with neighborhood requests including a new playground, basketball courts, lighted and paved walking loop, and multipurpose recreation field. Walton Street Park's playground is APR's eighth complete playground replacement since 2019.
Expanding on this work, Asheville City Council designated Walton Street Park and Pool as a local historic landmark in 2022. Multiple City of Asheville departments and commissions continue to work closely with longtime Southside residents on ways to honor the legacy of the pool and preserve the space through adaptive reuse. Nasty Branch Greenway aims to be a museum without walls, relating the heritage of Southside prior to urban renewal projects through first-hand history along the banks of the creek that borders Grant Southside Center and flows through Choctaw Street Park to Southside Avenue.
Asheville Parks & Recreation
With its oldest parks dating to the 1890s, Asheville Parks & Recreation manages a unique collection of more than 65 public parks, playgrounds, and open spaces throughout the city in a system that also includes full-complex recreation centers, swimming pools, Riverside Cemetery, sports fields and courts, and community centers that offer a variety of wellness-, education-, and culture-related programs for Ashevillians of all ages. With 10 miles of paved greenways and numerous natural surface trails, its complete portfolio acts as the foundation of a vibrant hub for the people of Asheville to connect with their neighbors and explore the natural beauty of a livable and walkable city.
Driven by the promise that Asheville is a better and safer place when everyone from infants to retirees has the opportunity to be supported, healthy, and successful, Asheville Parks & Recreation was the first nationally-accredited municipal recreation department in the United States. For latest updates, sign up for Asheville Parks & Recreation's monthly newsletter, follow the department on Facebook @aprca and Instagram @ashevilleparksandrecreation, or visit  www.ashevillenc.gov/parks.