COVID continued to leave its mark on our society in 2021, including the workings of City government. But the year brought with it some wins too, including the completion of the River Arts District Transportation Improvement Project. The Reparations Initiative got its start. 
And a City employee earned a national hero award.
It wasn't all easy. Governing is hard work and never ending as we constantly strive to improve our delivery of service and equity to all residents.
Here's a look at some of the major initiatives of your City of Asheville government in 2021.
City continues its response to COVID-19
As COVID-19 slogged on into 2021, the City of Asheville continued to align with and support Buncombe County public health regarding the pandemic that has claimed the lives of 800,000 of our countrymen, including more than 19,000 in North Carolina, 452 in Buncombe County.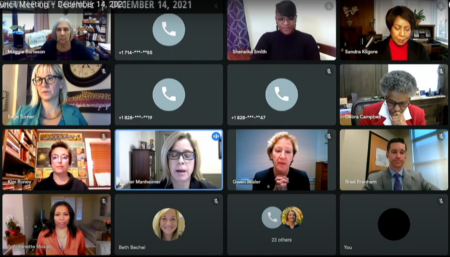 The impact was felt throughout all City departments and services, including in remote meeting format for our City Council and boards and commission meetings, with the exception of three Council meetings in June and July and some boards and commissions meetings during that time as well. Then came the Delta variant and we were back to mask mandates and remote meeting formats.
In September, the City aligned with federal guidance of having employees vaccinated or tested weekly.
Reparation Initiative gets under way with Speaker Series, funding 
The Information Sharing and Truth Telling Speaker Series was the first phase of the City of Asheville's process to deliver community reparations for Black Asheville. Held in June, the series included local and national speakers who shared information about past policies, present trends and disparities, and future initiatives. The community also had opportunities to participate.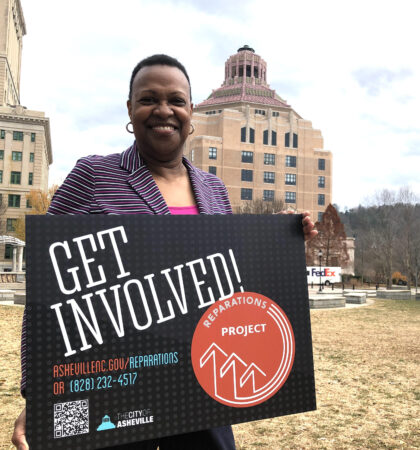 In June Asheville City Council made an initial $2.1 million in reparations funding appropriation.
In September, City Council voted to hire TeQuity to provide project management services as Reparations Process Project Manager. 
In November, the City opened the applications and nominations for the Community Reparations Commission. After hearing from the community and City Council, the deadline for application was extended to Jan. 15.
The Community Reparations Commission is charged with developing recommendations to be presented to the City Council and County Commission to repair the harm done by decades of racial discrimination and systemic oppression against Black Asheville residents. The reparations process in Asheville will focus on five impact areas which include housing, economic development, health, education, and criminal justice. 
To get involved or keep up with the Reparations Initiative, visit https://www.ashevillenc.gov/reparations.
City employee earns national heroism award
Even though he was on the job, Anthony "Buzz" Brown couldn't just drive by when he saw a man about to jump off of a bridge on Sand Hill Road onto I-40 in March 2021.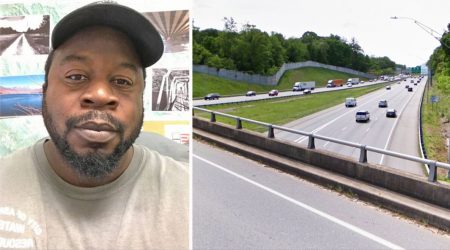 The longtime Leak Detection Technician for Asheville Water Resources stopped, turned his truck around, and engaged the man in a dialogue, eventually talking him off of that bridge and saving him from suicide.
He didn't do it for recognition — he did it because suicide has touched his life and he wants to prevent it from happening to anyone else.
Many people have thanked Brown for his action, including the man's parents.
The City of Asheville gave him its Quality of Service Award, which carries with it a $1,500 bonus. In December, he received a national award, the American Water Works Association 2021 Heroism Award.
Read more about his story here.
Vance Monument removal begins, appeal filed
On March 23, Asheville City Council approved removal of the Vance Monument as a first step for a revisioning of the site, following a recommendation of the Vance Monument Task Force.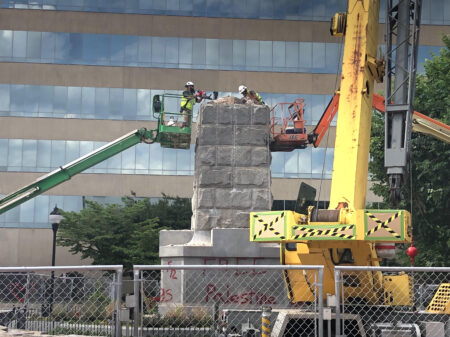 Removal began May 18 and was nearing completion when work was halted June 4 by an order from the N.C. Court of Appeals responding to a request by the Society for the Historical Preservation of the 26th North Carolina Troops to temporarily stop all work on the monument while a lawsuit is being appealed.
Despite successfully defending against the lawsuit in State Court, which challenged the City's right to remove the monument, the matter is now on appeal.  Both the City and the Plaintiffs are awaiting a decision from the Court of Appeals, which will likely come sometime in 2022.
Encampments in parks, homeless moved to hotels 
With the pandemic came an influx of unsheltered populations camping on public lands. This nationwide trend was also manifest in Asheville where encampments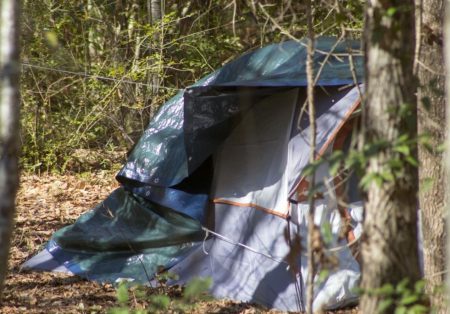 sprang up in several City parks this past spring. For a time, the City followed CDC guidance that urged governments when possible to allow the homeless to remain in encampments as a measure to help avoid the spread of COVID-19. Ultimately, however, City leaders decided to remove these unsheltered populations from the encampments on public lands, due to safety and sanitation issues within the camps. 
The people experiencing homelessness within these camps were offered shelter at area hotels that partnered with the City. Using funds anticipated from the federal American Rescue Plan Act, the City identified the Ramada at, 148 River Ford Parkway in East Asheville as a property to buy for the purpose of creating a high-access emergency shelter.
However,  the Ramada emergency shelter project did not proceed as initially envisioned. The City was able to identify a partner for permanent supportive housing, which is also greatly needed in our community. At their Dec. 14 meeting, City Council  voted to formalize that partnership by assigning the real estate contract to purchase the Ramada to Shangri-La Industries Inc. for the purpose of creating permanent supportive housing. City Council also authorized the City Manager to enter into an agreement with Step Up on Second Street Inc. for three years of supportive services for future residents of permanent supportive housing at that location.
The City is committed to moving forward to a planning process with its partners for an emergency shelter somewhere else — a need many in the community have acknowledged.
Completion of RADTIP
In August 2017, shovels turned dirt in a community kickoff for River Arts District Transportation Improvement Project (RADTIP),  a major roadway and greenway
construction project along the east side of the French Broad River in Asheville's River Arts District. In April, the City celebrated its completion with a COVID-safe outdoor celebration.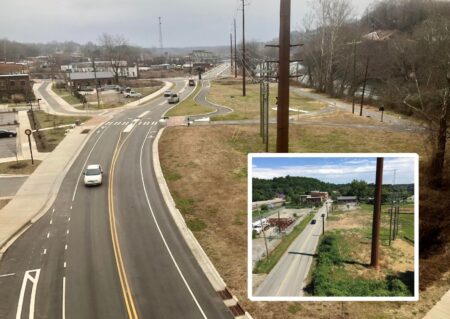 The 2.2-mile improvement includes a continuous multi-use path along the river, the Wilma Dykeman Greenway. It incorporates drainage systems for stormwater, wide sidewalks, bike lanes and additional parking. Intersections were also improved for better traffic flow, incorporating two new traffic circles in the River Arts District
Funding partners included a $14.6 million TIGER VI grant from the federal Transportation Department and grants from the Buncombe County Tourism Development Authority, and from the state of North Carolina.
North Fork Dam Improvement Project completed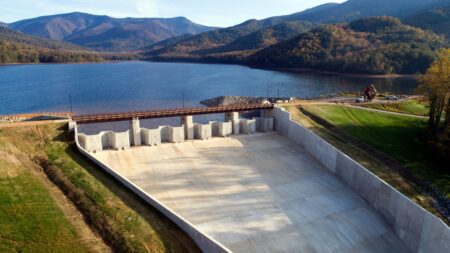 Water Resources marked a major milestone with the completion of the North Fork Spillway and Embankment improvement Project, a major multi-year undertaking. The project raised the dam by 4 feet, and added earth buttressing to reinforce seismic stability. The principal spillway was improved while a new auxiliary spillway was constructed. Asheville's major source of pristine water supply is more protected than ever before. The dam is now more resilient to climate change with its potential for larger storm events. And it earned the Rehabilitation Project of the Year Award given by the Association of State Dam Safety Officials.
Noise Ordinance update goes into effect
On September 15, updates to the City of Asheville Noise Ordinance went into effect. City staff completed a year-long engagement in addition to research and collecting sound measurement data. The end product is a noise ordinance that will be enforced and managed through engagement, education and community collaboration.
To view the newly revised ordinance, visit this link in the City's Municipal Code. Find more information in this FAQ document.
Launch of food scrap composting program
A pilot program for food scrap composting  launched in October in partnership with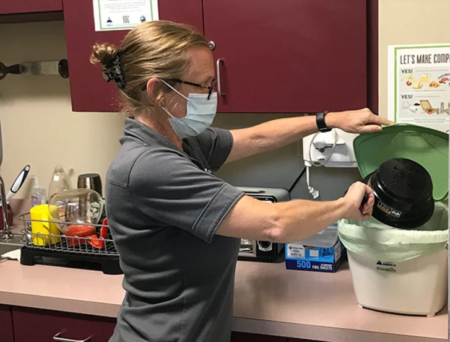 Buncombe County. Drop off locations included Stephens Lee Community Center in downtown Asheville and the Buncombe County Landfill Convenience Center in Alexander. Working together, the community has diverted more than 4.6 tons of food waste from the landfill! Look for neighborhood expansion in 2022.
Park improvements
Splasheville renovated and reopened:

Splasheville, the very popular interactive splashpad in Pack Square Park, was completely renovated to replace




Splasheville




plumbing, wiring, control systems, surface tiles and the supporting gridwork. The upgrades will decrease downtime for preventative maintenance.

Jake Rusher Park improvements completed:

Improvements to Jake Rusher Park in south Asheville near the Royal Pines neighborhood were completed this year. This bond-funded project guided by community input includes new parking, accessible sidewalks, new sport courts, a pavilion and restroom building, new landscaping, improved lighting and relocation of utilities. The final piece of the park renovations will happen in 2022 with the installation of a public art piece by artist Becky Borlan.

New park property in south Asheville:

In September, the City used

bond funding

to purchase a

10.88 acre tract of land

owned by Carolina Day School and adjacent to their athletic complex. This wooded and undeveloped site will add a park to south Asheville providing an open space for all residents of Asheville to enjoy. Future enhancements on the property may include walking trails, a parking area, and passive recreation amenities such as areas for picnicking, bird watching and connecting with nature. These decisions and park naming will be determined through a public engagement process expected to take place in 2022.
Installation of solar at fire stations
Photovoltaic arrays, or solar panels, have been installed at Fire Stations 10 and 11 as part of a larger initiative to install solar at 45 public facilities across the county. Fire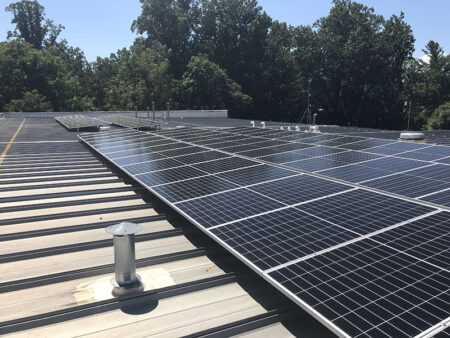 Station 10 flipped the switch in September and Fire Station 11 will go online this winter. This initiative supports Council's strategic goal of A Clean and Healthy Environment and the 100% Renewable Energy Initiative. Follow the energy production on this page.
Climate justice initiative
The Climate Justice Initiative explores and defines Climate Equity with the City's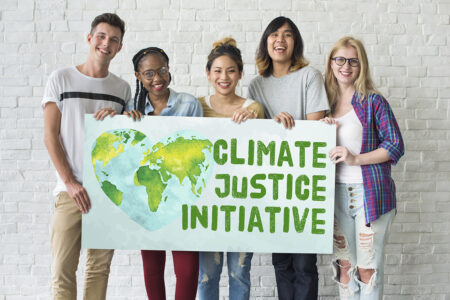 frontline community members; those most directly affected by climate change impacts identified in the City's Climate Resilience Assessment. In collaboration with these voices the Office is shaping a locally relevant understanding of Climate Equity. This framework will help the city incorporate community recommendations and perspectives through a newly developed Climate Justice Screening Tool to prioritize Climate Equity in city projects and initiatives.
In an effort to identify communities within the city that are exposed to climate risks the City developed the Climate Justice Data Map; layering different compounding social and climate threats. Following the listening and learning sessions Tepeyac expanded community engagement around climate justice and equity with story circles in selected neighborhoods through the use of the data map.
Launch of Office of Data and Performance
The Office of Data and Performance (ODAP) launched in January with money reallocated in the budget as part of Reimagining Public Safety. ODAP goals are to increase transparency in government and provide data-driven accountability to our community.
In the first 100 days worked closely with the City's Budget Division in the Fiscal Year 2022 budget process, provided summary analysis on the most recent National Community Survey, conducted staff training on Results Based Accountability and submitted documentation toward achieving What Works Cities certification.