In January 2020 Asheville City Council declared a Climate Emergency. The adopted Resolution 20-25 acknowledges the urgent need to combat climate change and the disproportionate impact of the climate crisis on low income communities and communities of color.
Asheville's Climate Justice Initiative explores and defines Climate Equity and Climate Justice with the City's frontline community members; those most directly affected by climate change impacts identified in the City's Climate Resilience Assessment. In collaboration with these voices the Office is shaping a locally relevant understanding how of Climate Equity and Climate Justice play a role in building resilience for Asheville's communities. 
Asheville's Climate Justice Plan will help ensure that frontline communities play a central role in the just transformation of the systems that have established, and continue to perpetuate, the unequal burden of climate impacts.
Asheville's Climate Justice Initiative:
Defined Climate Justice and Climate Equity with BIPOC community members,
Creation of the Climate Justice Data Map, and
Created a Climate Justice Screening Tool to complement the work of the GARE Racial Toolkit + Asheville's adopted plans.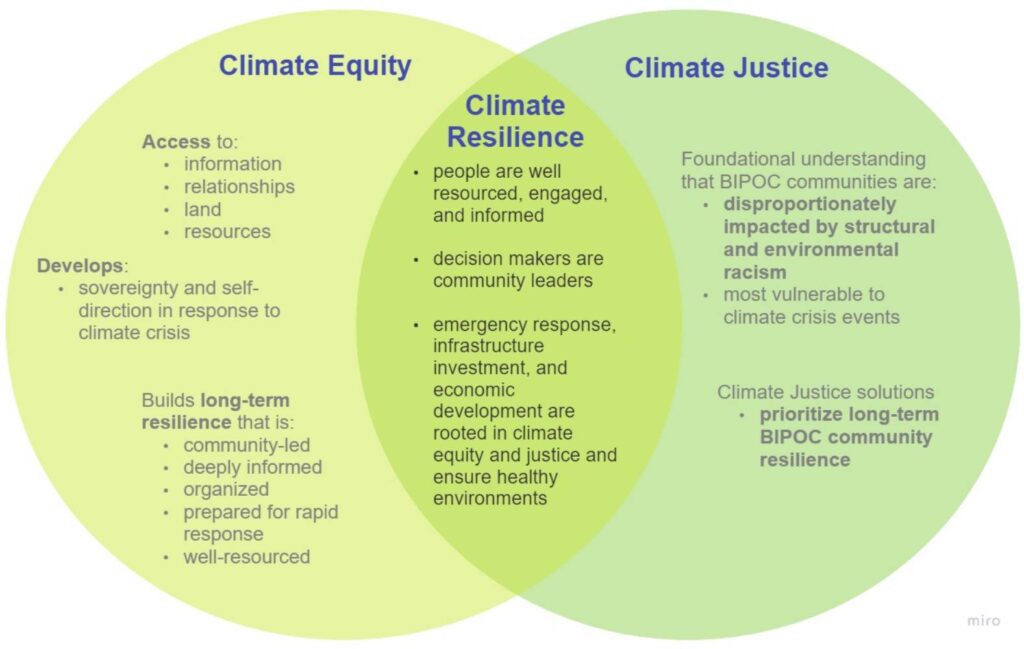 ---
Supporting Documents
Climate Justice Guide + Screening Tool
Climate Justice Data Map to understand and visualize 'hot spots' and intersecting stressors
Story Map – Asheville's Climate Justice Initiative
Analysis and draft summary report (English version and Spanish version) from individual community member Listening + Learning
Analysis and draft summary report (English version and Spanish version) from city staff Listening + Learning
Sustainable Advisory Committee on Energy and the Environment Climate Emergency Input Session
Final Report (English version and Spanish version)
---
Contact Information
Bridget Herring, Sustainability Director
828-259-5558
---