Happening Now
The Climate Justice Initiative explores and defines Climate Equity with the City's frontline community members; those most directly affected by climate change impacts identified in the City's Climate Resilience Assessment. In collaboration with these voices the Office is shaping a locally relevant understanding of Climate Equity. This framework will help the city incorporate community recommendations and perspectives through a newly developed Climate Justice Screening Tool to prioritize Climate Equity in city projects and initiatives.
In April 2020 The Office of Sustainability entered into a contract with Marisol Jiménez of Tepeyac Consulting. Tepeyac conducted listening and learning sessions with Black, Indigenous and People of Color (BIPOC) leaders and community members. Here is a summary of the listening and learning sessions in English and here is the summary in Spanish.
In an effort to identify communities within the city that are exposed to climate risks the City developed the Climate Justice Data Map; layering different compounding social and climate threats. Following the listening and learning sessions Tepeyac expanded community engagement around climate justice and equity with story circles in selected neighborhoods through the use of the data map.
Current work includes ongoing Story Circle conversations, individual City staff leadership interviews, Climate Justice Screening Tool development, and a youth engagement collaboration project in partnership with Tepeyac Consulting and Youth Artists Empowered. In this youth-centered work, local artists and climate educators are working with young artists of color to explore topics of climate change, justice, and equity and to document and record their observations through their art. A final collaborative installation will take place in January 2022.
---
Background
In January 2020 Asheville City Council declared a Climate Emergency. Resolution 20-25 states that a Climate Justice Plan be created to consolidate the various separate sustainability goals and department initiatives. The adopted resolution acknowledges the urgent need to combat climate change, the many existing relevant resolutions and goals, and the disproportionate impact of the climate crisis on low income communities and communities of color.
The effects of climate change burden those that contribute the least to climate change and yet are those most socially vulnerable to climate threats. Within the resolution the City committed to keeping the concerns of vulnerable communities central to all climate program planning processes and to invite and encourage such communities to actively participate in the development and implementation of the City's climate change mitigation and adaptation efforts.
The Climate Justice Initiative seeks to identify and support BIPOC  leadership and communities to define Climate Equity within the City of Asheville and inform the direction of climate resilience action.  Climate Justice Plan development will help ensure that frontline communities play a central role in the just transformation of the systems that have established, and continue to perpetuate, the unequal burden of climate impacts.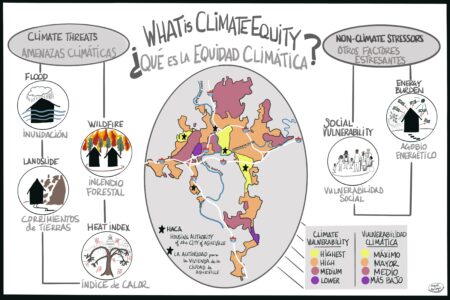 ---
Timeline
June- August 2020
Individual listening and learning sessions with frontline community members and stakeholders
September-October 2020
November-December 2020
Interpret and expand Climate Justice Data Map
Develop graphic illustration interpretation
Engage community members to plan community story circles
Explore Youth PhotoVoice project with potential community partners
January-June 2021
Engage designated Climate Justice story circle communities to plan and conduct story circle events

Research and draft Literature Review document
June – December 2021
Conduct final story circles

Finalize Literature Review Document

Conduct City Staff leadership Climate Justice orientation and 1:1 interviews

Synthesize City Staff input into a summary document to inform Climate Justice Screening Tool development

Create draft Climate Justice Screening Tool 

Engage Youth Artists Empowered youth and artist mentors in climate justice project development

Plan final Youth Artists Empowered collaborative art installation event for January 2022
January 2022
Present final report to City Council

Host Youth Artists Empowered Climate Justice collaborative art installation event

Community report out & next steps:

Determine next steps in partnership with frontline communities
Community report out & next steps:

Neighborhood PhotoVoice and project visual installation
Determine next steps in partnership with frontline communities

Develop Climate Justice story map
Convene community story circles in 4 Asheville neighborhoods
Neighborhood PhotoVoice finalization and project visual installation
Community report out & next steps:

Determine next steps in partnership with frontline communities
---
Supporting Documents
Resolution 20-25 Climate Emergency Declaration
Resolution 11-77 Establishing 4% CO2 Reduction Goal
Resolution 14-27 Waste Reduction Goal and Benchmarks
Resolution 18-279 100% Renewable Energy Goal for Municipal Operations by 2030
Resolution 17-257 Food Policy Action Plan
Neighborhood Graphic Climate Justice maps
---
Contact Information
Amber Weaver, Sustainability Officer
828-271-6141
---