Spring is here and the City of Asheville's largest piece of riverfront construction — the River Arts District Transportation Improvement Project (RADTIP) — is just about complete. It's time to celebrate the past 10+ years of work that our community's artists, businesses, nonprofit organizations and public institutions have done to transform this section of the French Broad Riverfront.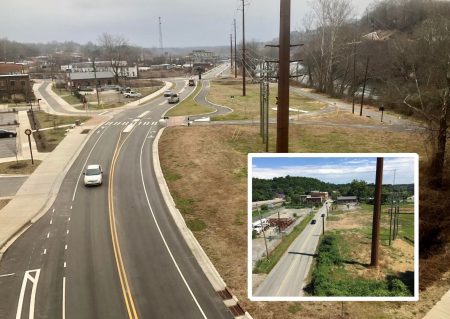 The City of Asheville will host a series of COVID-safe events to allow our community to celebrate the new Wilma Dykeman Greenway and adjacent RADTIP spaces for an entire month! The festivities begin on Earth Day, April 22 (some are already happening), and will wrap up a month later. You can find a full list of activities at www.ashevillenc.gov/river. The list will change weekly as new events are added. Partners that are sponsoring or producing events include the River Arts District Artists, UNC Asheville, River Arts District Business Association, RiverLink, Grind AVL and Black Wall Street, GreenWorks and AVL Bee City, Asheville on Bikes, Connect Buncombe, the Wilma Dykeman Legacy Foundation, West End Clingman Avenue Neighborhood, and the Asheville Area Arts Council, with more to come. 
Here are a couple of events to know about right now:
Happening now — A Call for Artists: Upload a photo of your French Broad-inspired art (including poetry) via

this link

to the

UNC Asheville website. Your name and work are displayed in a public art gallery and you get a chance to get one of 3 best-of-show $100 honorariums! Competition open until April 18. 

Save the date, April 23: Join an online get together at noon for the official grand opening celebration, where we will highlight some River Arts District area history, listen to some music, and thank the community

and our funders. Register in advance at

www.ashevillenc.gov/river

starting April 19 or via this Remo link.
The RADTIP project was made possible due to our visionary and diligent community members, staff and elected officials from the City of Asheville, and a host of other government agencies; and with the help of the following funders: United States Department of Transportation, Buncombe County Tourism Development Authority, North Carolina Stormwater Management Trust Fund, and the North Carolina Parks and Recreation Trust Fund. 
Organizations seeking to participate in the month-long celebration can contact Steph Monson Dahl at smonson@ashevillenc.gov.