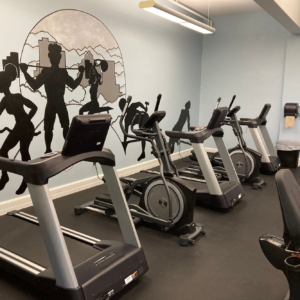 Biking and cycling can be more than a fun childhood pastime or eco-friendly hobby. May is National Bike Month, so celebrate the benefits of this versatile form of exercise that can be adjusted to different fitness levels and goals. There are many benefits of biking 30 minutes or more a day including the five below.
Whether you choose an indoor stationary bike in fitness rooms at Linwood Crump Shiloh and Stephens-Lee community centers (memberships are free for Asheville residents), hit the trails at Richmond Hill Park's skills course, perfect BMX tricks at Asheville Skatepark, or ride the buffered bike lanes along Wilma Dykeman Greenway, Asheville Parks & Recreation has many opportunities to safely enjoy biking in a variety of settings.
Improve Balance
Outdoor bikes can be a little wobbly when starting or stopping, but they're basically an extension of riders' bodies. Keeping a bike upright builds core muscles and can lead to improved posture. If using a stationary bike, riding out of the saddle helps train stabilizer muscles in legs, developing better everyday balance. Maintaining these balancing skills – especially in advanced age – can lessen the risk of falls and injuries.
Easy on the Joints
For community members with joints that can't take extended running, jumping, or high intensity interval training (HIIT) workouts, biking is a great alternative to getting their heart rate up with low impact. The pedals and resistance take pressure off knees and hips and focus on building muscular strength.
Relieve Stress
Like other cardiovascular exercises, biking releases feel-good chemicals called endorphins that generate positive feelings in the brain and body. The mood boost may be a great way to start, end, or break up work or daily routines and build brain power.
Get Where You Need to Go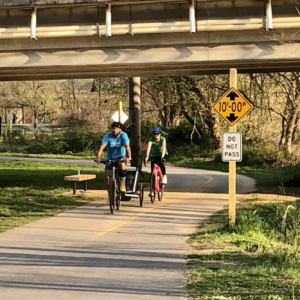 While bike lanes and safe road routes are more plentiful in certain parts of the city than others, getting around on two wheels is an environmentally-friendly way to run errands, meet friends, or simply travel from point A to point B. Replacing some vehicle commutes with a bike packs some extra wellness perks. For longer trips, ART bus service offers convenient bike storage.
Have Fun
Ultimately, the rider is in the driver's seat when it comes to biking and cycling. Whether picking up a bike for the first time in years or increasing daily frequency, go at your own pace, stay safe, and share the road. There are a number of biking clubs and organizations that offer a chance to make new friends with a common interest. Remember to wear a helmet and apply sunscreen before hitting the road or trail.
---