This entry is part of Park Views, an Asheville Parks & Recreation series that explores the history of the city's public parks and community centers – and the mountain spirit that helped make them the unique spaces they are today. Read more from the series.
West Asheville was incorporated as an independent town through much of the 1890s and again in the 1910s before its voters elected to become part of Asheville in 1917. Five years later, Malvern Hills Park began to take shape and eventually developed into a destination for racquet sports and summer fun.
Horney Heights
In 1827, sulfur springs were found on the plantation of Robert Henry, Buncombe County's first lawyer. He built a massive hotel near the springs, drawing people from far and wide seeking the water's medicinal properties. After it burned to the ground, Edwin Carrier replaced it with the Belmont, a hotel with the first electric elevators in the South.
While Carrier's hotel was also lost to fire, he transformed West Asheville in the late-19th century by providing reliable streetcar service, building the first hydroelectric dam in the North Carolina mountains, and created a horse racetrack and fairgrounds known as Carrier's Field (near today's Carrier Park).
Following West Asheville's annexation, J.T. Horney began developing several neighborhoods along Haywood Road and modern-day Patton Avenue including French Broad Terrace, Riverview, Horneyhurst, and Horney Hills. A native of High Point, Horney was an auctioneer who became interested in western North Carolina's livestock market. When he began subdividing lots in Horney Heights in 1921, he sold the land for Malvern Hills Park to the City of Asheville for $10 in order to create a grand park.
Horney Heights Park opened in 1922 as mostly a rolling lawn, though a bandstand was installed in the summer for performances by the Asheville municipal band. In his city plan from the same year, John Nolen describes the park as "approximately eight acres in West Asheville on Sulphur Springs Road and Rumbough Place. It is obvious that this acreage is entirely inadequate for the present population and makes no allowance whatever for the future." (Due to its long history, the preferred spelling of the road remains the older, "Sulphur Springs," not the now-preferred "sulfur.")
Over 25,000 residents were estimated to visit Horney Heights Park in 1930, the same number as Memorial Stadium and Montford Park. Aston Park and McCormick Field received around 125,000 and 75,000 visitors, respectively. By that time, a ballfield had been added and swings, slides, and seesaws were taken out of storage each year to build a summer playground in the park.
Malvern Hills Pool
Asheville's first public pool for white community members opened in Aston Park in 1914. In 1916, a public pool was built on the campus of Mountain Street School in East End to serve Black residents during the era of government-mandated segregation. A second municipal pool for the white population opened in Recreation Park in 1925. The closest public pools to Horney Heights Park were at Aston Park and Enka Lake, both about four miles away to the east and west.
As New Deal funding became available, the City of Asheville submitted requests for projects including a municipal airport, central heating plant, civic auditorium, and swimming pool for Horney Heights Park. Construction of the pool began in 1934 and employed 56 locals through the short-lived Civil Works Administration (CWA). The project also included constructing a new ballfield and changing the channel of a creek that flowed through the park.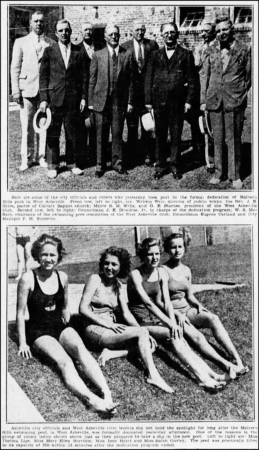 After five months of construction, CWA funding ended. Federal Emergency Relief Administration (FERA) money was secured and the pool was completed eight months later. WPA replaced FERA in 1935 and it was under that agency that the pool's bathhouse was completed. Following nearly identical plans from Recreation Park's bathhouse, it contained a snack bar and dressing rooms on the first floor. The second floor was a covered dance pavilion.
When the pool was formally dedicated on June 15, 1936, two tennis courts were under construction and the park also featured a playground, horseshoe pitching courts, ballfield, two picnic shelters, and two open air fireplaces. Admission was free three days a week; it was 10 cents for kids and 15 cents for adults on the other four.
Once the pool opened, the park became known as Malvern Hills Park. The Malvern Hills neighborhood was developed adjacent to Horney Heights and included Asheville's first golf course, a private course with nine holes. Malvern Springs Park, a well-known tourist camp, was also located nearby on the opposite side of the park.
Pools at Aston Park and Mountain Street School closed shortly after Malvern Hills Pool was built, leaving Asheville's 15,000 Black residents without a swimming pool for more than a decade. Walton Street Park opened in 1939 as the only public park for the city's Black community, but a pool would not be added until 1948. 
Following the U.S. Supreme Court's decision on Brown v. Board of Education in 1954 and subsequent public parks rulings, Asheville's parks, community centers, and pools were no longer officially associated with individual races. Asheville Parks & Recreation (APR) opened new pools at Bee Tree Lake in 1969 and Recreation Park in 1970.
Horney Bottoms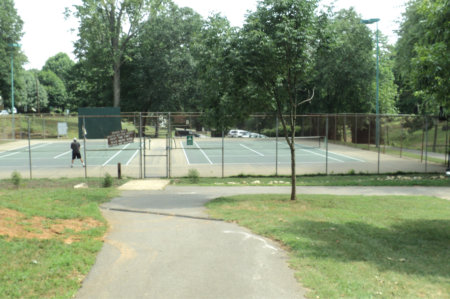 In 1970, new walls were placed in the pool which reduced its size by seven inches. The same year, a filtration system was installed. Prior to this, the pool was drained and refilled once a week to ensure clean water. The U.S. Department of Housing and Urban Development (HUD)'s Open Space program funded extensive improvements in 1973 including a complete remodel of the bathhouse, additional deck space around the pool, a new picnic shelter and equestrian-themed playground equipment, landscaping and a bridge across the creek, sidewalks, and conversion of the tennis courts from clay to asphaltic Laykold.
During the 1980s and 1990s, the location hosted Sundays in the Park performances, tennis lessons, teen only nights, and APR's Rec n Roll mobile recreation van, among other special events. A paved walking loop was installed in 1999. In 2002, a new playground was dedicated to Philip Snelson, a retired firefighter and longtime recreation leader at West Asheville Community Center.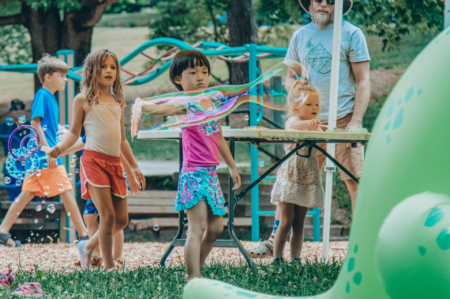 RiverLink approached APR in 2007 with a plan to restore the park's unnamed creek to its natural channel and prevent further erosion. As part of the project, the community was invited to name the stream, a tributary of Hominy Creek. The name collecting the most votes was Horney Bottoms, honoring the man who provided land for the park. However, a successful campaign by a neighborhood resident quickly renamed it Buttermilk Creek, a reference to the creek's headwaters under a former milk plant. The water used to run a grey-white tint when milk was dumped into it.
Today, Malvern Hills Park buzzes with activity all year as its sweeping hills provide momentum for sleds on snow days, lighted pickleball and tennis courts are full on nights and weekends, and the large picnic shelter serves as the site of birthday parties and reunions. Just a block away from Patton Avenue's hustle and bustle, its large shade trees and suburban-style setting make it a great escape to enjoy nature and neighbors.
Do you have photos or stories to share about Malvern Hills Park? Please send them to cbubenik@ashevillenc.gov so APR can be inspired by the past as we plan our future. Sign up for APR's monthly newsletter and follow APR on Facebook and Instagram for additional photos, upcoming events, and opportunities.
Photo and Image Credits
Since the beginning, Malvern Hills Park has included ample room for large groups to celebrate holidays, birthdays, reunions, and other important milestones.

Robert Henry and his son-in-law, Reuben Deaver, developed a hotel on the hill above springs that were discovered on his plantation. It became one of Asheville's best-known hotels at the time, attracting wealthy tourists until it burned in 1861. Edwin Carrier built a new hotel on the same site in 1887 that burned in 1892. When the Malvern Hills subdivision was developed in the 1920s, Malvern Hills Country Club's lodge (pictured) enclosed the head of Sulphur Springs in its open cellar. Malvern Hills Park is actually located just outside of the Malvern Hills neighborhood which lies between Bear Creek Road and Asheville School. Courtesy of Buncombe County Special Collections, Pack Memorial Public Library, Asheville, North Carolina.

Malvern Hills' bathhouse was designed by Lindsey Gudger and the exterior remains largely unchanged.

Around 400 people attended the official dedication of Malvern Hills Pool. The ceremony included music by the Lee Edwards High School band and remarks from city leaders according to an article from

The Asheville Citizen

.

Clay tennis courts opened to the public the same summer the pool was dedicated. In 1973, they were converted to asphalt. This picture from the 2000s shows the courts before they were resurfaced with a blue color scheme and pickleball lines added.

Asheville Parks & Recreation hosts a summer camp in the park each summer, as well as free community events throughout the year.