Asheville Parks & Recreation has been the trusted steward of the city's parks, community centers, playground, sports courts and fields, pools, and more for nearly 70 years. There's no better way to celebrate Parks & Recreation Month than by highlighting the professionals who faithfully serve the community all year to  build a strong, vibrant, and resilient community through high-quality recreation, leisure, and active living experiences – often behind the scenes. 
Each week, a different division of the department will take the spotlight. Program and Operations Manager John Shaw answers questions about the asset management team this week.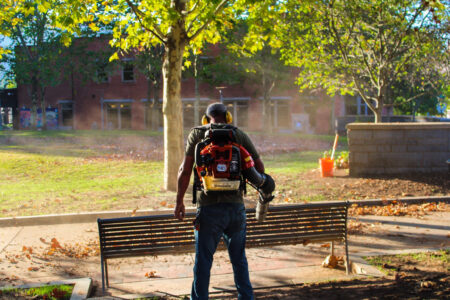 What does the asset management division do and how does it fit into the overall success of Asheville Parks & Recreation?
Asset management is essential in the day to day operations of our parks system. The maintenance and upkeep we provide helps to make an enjoyable experience for our park patrons and programs that are held at our parks, pools, and community centers.
What are some accomplishments made possible over the past year with your division serving in the lead role or providing significant support?
In the past year, we have completed and maintained about 2.5 miles of new greenway in the River Arts District, the Wilma Dykeman Greenway. Numerous new full time positions have been allocated to both expand and improve our level of service. We have also worked with other departments within the City of Asheville and divisions within our own department to improve relationships and to build better communication.
Are there any responsibilities your division oversees that might surprise community members?
Most people may not know that over and above the parks and centers we take care of, we are also responsible for several City properties that are not part of the Asheville Parks & Recreation system, such as parking lots and public plazas. Our staff is so skilled at groundskeeping and landscape management that we are often asked to tackle other properties. Currently, we have five that we maintain weekly.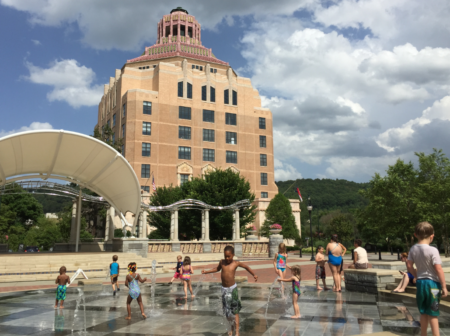 Are there stories that might help people have a better understanding of what asset management does?
On the first weekend we opened Splasheville this year, a young mother with small children approached Don Ramsey, our weekend supervisor. Weeping, she told him she wanted to thank us for having a free fun water activity that she could bring her children to enjoy. She went on to say that as a single mother in these tough financial times, she couldn't afford anything else. My point to this story is that in our division, we have days we really get frustrated – like everyone else – when things aren't going as planned. It's the moments like that when we realize what we are doing is making a huge difference for community members.
Anything else you'd like to include?
I would like to add I am very proud of how far we have come since I started working here and I can't wait to see what is to come.
Want to meet the rest of the team? Check out our previous posts highlighting the recreation management, resource management, and planning and development divisions.