Asheville Parks & Recreation has been the trusted steward of the city's parks, community centers, playground, sports courts and fields, pools, and more for nearly 70 years. There's no better way to celebrate Parks & Recreation Month than by highlighting the professionals who faithfully serve the community all year to  build a strong, vibrant, and resilient community through high-quality recreation, leisure, and active living experiences – often behind the scenes. 
Each Tuesday in July, a different division of the department will take the spotlight. Focus Area Manager Pete Wall answers questions about the planning and development team this week.
What does the planning and development division do and how does it fit into the overall success of Asheville Parks & Recreation?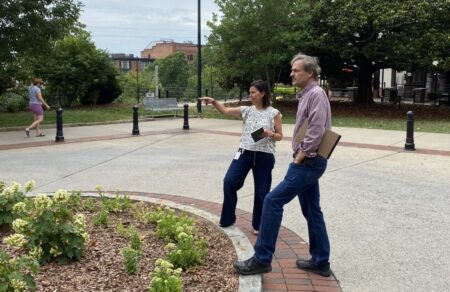 Asheville Parks & Recreation is the steward of more than 700 acres of land, including more than 50 individual park properties ranging from a variety of neighborhood parks, community parks, and recreation centers. We operate more than 25 athletic fields, 14 playgrounds, 20 basketball courts, 13 tennis/pickleball courts, two pools, 11 community centers, and miles of riverfront access. 
Planning and development is always working to improve and expand our city's open space park network. This planning work ranges from recommending major improvements to existing parks (beyond general maintenance and repairs) to acquiring and converting new land to open space to executing neighborhood-wide strategies for park and open space developments that better serve surrounding community members. This work would not be possible without our dedicated staff of two landscape architects, Al Kopf and Susannah Horton, and our Asset Coordinator, Kim Turner. 
What are some accomplishments made possible over the past year with your division serving in the lead role or providing significant support?
Jake Rusher's new public art and Pack Square Park renovations (Susannah)
Comprehensive asset inventory, picnic shelter renovations, and furniture replacement (Kim)
Azalea Park Pond improvements, Richmond Hill Park enhancements, and Linwood Crump Shiloh Community Center gym floor replacement (Al) 
Are there any responsibilities your division oversees that might surprise community members?
Community engagement is a large part of most planning and development projects. While many people think of surveys and public meetings, we strive to push what community engagement and involvement can be. 
For example, with the Jake Rusher public art project, we connected the artist with LEAF Global Arts to create a curriculum that allows school age students to use the art piece for learning. This connection also provided an opportunity for a future 'artist in residency' where the kids can interact with the artist and see how public art is created. Thinking of engaging and involving the community in different ways hopefully shows we're trying to get out and engage those who may not show up to meetings or take surveys!
We've also teamed up with the City's Office of Sustainability and Bountiful Cities to arrange workdays and workshops with a local vineyard manager to help prune some beloved muscadine vines in one of our neighborhood parks. By working with the North Carolina State University Horticulture Department, we were able to get a previous North Carolina Winegrower of the Year to trim and train vines – and talk with community members on best practices for muscadine production and care.
Are there stories that might help people have a better understanding of what planning and development does?
Working for the community in which you live comes with a pile of rewards. Seeing professional best practices put in place is always something to strive for, but Asheville also has an incredibly active and creative community. Our planning and development group gets suggestions and recommendations from the community on a very regular basis with thoughts on how to improve and expand upon our parks inventory and the recreational offerings. This is an exciting challenge to see if the ideas can fit within our existing capacity (budget, personnel, appropriate/available land) and to work with community members on how to make that happen when possible.
Anything else you'd like to include?
We work with a large variety of people in our field. Metal fabricators, public artists, and vineyard consultants are just a few – along with what you'd expect: engineers, architects and landscape contractors. We're always looking to grow professionally to provide the best level of service we can for our Asheville community.
Check back next week for a look at the department's resource development team.