Asheville Parks & Recreation has been the trusted steward of the city's parks, community centers, playground, sports courts and fields, pools, and more for nearly 70 years. There's no better way to celebrate Parks & Recreation Month than by highlighting the professionals who faithfully serve the community all year to  build a strong, vibrant, and resilient community through high-quality recreation, leisure, and active living experiences – often behind the scenes. 
Each Tuesday in July, a different division of the department will take the spotlight. Focus Area Manager Christy Bass answers questions about the resource management team this week.
What does the resource management division do and how does it fit into the overall success of Asheville Parks & Recreation?
The resource management division is the administrative Swiss Army knife of the department. This robust team of seven is responsible for providing human resources, financial planning, analytics, technology services, contracting and purchasing, communications and marketing, and a high level of customer service.
What are some accomplishments made possible over the past year with your division serving in the lead role or providing significant support?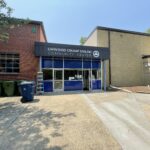 Some of the things this group has accomplished or helped get done are getting a department intranet designed, purchasing security cameras for Linwood Crump Shiloh Community Center, revamping our programs and activities guide, moving our strategic planning forward, and sharing all job descriptions.
Are there any responsibilities your division oversees that might surprise community members?
One thing that might surprise community members is how many people call or email the department with a non-parks related question or concern. Also, every call is returned and followed up on.
Anything else you'd like to include?
The resource management division provides both strong internal and external levels of support. We take ideas or suggestions that people have and turn them into something that will benefit the department and/or the customer experience.
Check back next week for a look at the department's asset maintenance and labor management team.