This entry is part of Homegrown Talent, an Asheville Parks & Recreation series that highlights team members who grew up in our community. Coming from the neighborhoods and areas where community centers and parks are located is a huge value to the city, bringing knowledge, connections, and insight that can only come from spending formative years right here at home. Read more from the series.
What area did you grow up in?
West Asheville
When did you join the Asheville Parks & Recreation (APR) team?
1997 – that's right, 25+ years all in one place! I started as a seasonal staff member one summer as Assistant to Program and Operations Manager. As a student at Western Carolina University, I was an intern. I've also been Program Leader, Center Director/Facility Manager, Aquatics Manager, Community Outreach Specialist, Program and Operations Manager, and Interim Focus Area Manager. 
I draw on experience from all of those positions in my current role as Recreation Division Manager. The Recreation division is the frontline that provides essential services to the community including athletics and sports, special events, teen and youth programs, adult and senior programs, afterschool programs, summer camps, outdoor experiences, and therapeutic recreation. We are a team of 48 full-time professionals (with more than 50 part-time and seasonal team members) and are essentially the most visible part of the department with daily interactions with community members. 
What inspired you to join the team?
I was in college at the time. My friend was working for APR and said it was a lot of fun. My interview went well and the Program and Operations Manager decided to use me as an assistant for the summer instead of being a camp counselor. This exposed me to recreation center operations and special events. From there I fell in love with parks and recreation – and knew exactly what I wanted my career path to be!
As someone who grew up in the area, what does it mean to work for APR?
Creating fun experiences for our community! The programs and events that we provide create lasting memories. 
How have you grown professionally by working with APR?
Progressing from a part-time seasonal summer staff member to Recreation Division Manager is something I am very proud of. To really know the staff and operations, you have to work in that environment and I did! When you've sat in the role of your staff it gives you common ground and helps you relate to the job they have day to day. 
I've been very fortunate to plan and implement programs, host events, manage multiple recreation centers, manage and operate our outdoor swimming pools, and now manage our Recreation division as a whole. I'm extremely lucky to work alongside some of the best recreation professionals in the field. Being able to serve as their manager is truly an honor.
Which accomplishments are you most proud of in terms of your work with the department?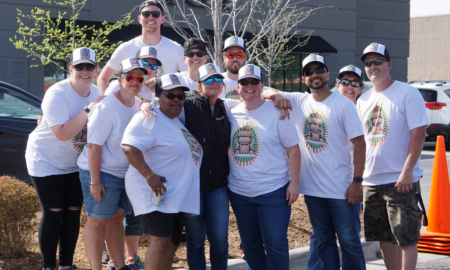 I am proudest of the creation of the marketing and outreach team. This new team formed when Bele Chere, Asheville's free downtown street festival, ended after 35 years. I pestered our former director, Roderick, for years about social media presence and a real need to advertise our programs. This new team focused on marketing for the department. We even wrapped our shuttle vans with the tag line created by our marketing team to make us recognizable all over town.
Creating new programs to meet the needs of our community has also been fulfilling. I love doing APR events! With tons of Easter events all over the city, I was given the green light to plan and implement Truck City AVL as a replacement for Easter Eggstravaganza. It was successful from the start and has become a can't-miss event for local families. As Aquatics Manager, I partnered with Asheville Humane Society for an annual Doggie Dip celebration. Attendance was always great; due to state laws, we are no longer able to host it, but it was fun while it lasted.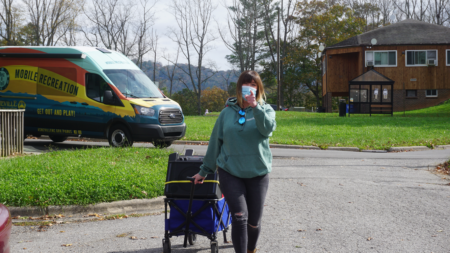 I am also really proud of our recreation staff who rolled with all the punches during the coronavirus pandemic. We missed our APR participants and wanted to connect with them. Staff hopped on the virtual train and provided a number of virtual programs for the community. Nothing stopped us!
Each week, we posted a new video with topics ranging from fitness to crafts. Staff continued to host the senior meals program with pick up meals available. We also held inflatable costume parades throughout town. Those parades were a hit! We had folks asking where the next one would be and media outlets even reached out so they could capture those moments in action. From ballerina hippos to Mr. Potato Head, we helped Asheville smile again!
Finally, the pandemic led to a partnership with Asheville City Schools, hosting PODS (Positive Opportunities Develop Success) in community centers. PODS provided safe, free, equitable work spaces where students could go to complete daily remote assignments. This program gave children the help they needed while schools were closed by having hands-on guidance with teachers and recreation fun with our team, many who also stepped in to help children with their work throughout the day. It was something that had never been done and there was no road map to accomplish it, but we did it!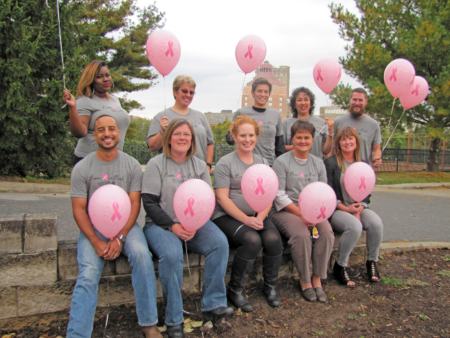 How would you complete this sentence? "I work for Asheville Parks & Recreation because…" 
I work for Asheville Parks & Recreation because it's not work when you're having fun!
Join Candy and other parks and recreation professionals making significant impact as they work to build a strong, healthy, and happy place to live. Current opportunities to work with Asheville Parks & Recreation can be found online.