---
Property Retrieval
If the police department has stored your property for safekeeping, you may retrieve it from the department's Evidence Section. Officers also submit lost or found items to the department's Evidence Unit for secure storage.
All found property eligible for release is held for 180 days (60 days for bicycles). Contact a representative of the Evidence Unit for more information and assistance if you have lost an item.
---
Release of Firearms
If the police department has stored a firearm, special procedures must be followed for its release.
Firearms will only be released by a pre-set appointment. Call the Evidence Unit at 828-232-4576 to make an appointment.
Appointments are required because of the additional time it takes for the release process. It also allows for Evidence Unit personnel to prepare needed documentation before your arrival to reduce the wait time.
Firearms can only be released on-site to North Carolina residents with a valid North Carolina ID. Out-of-state releases can only be completed by shipping the firearm to the listed owner's local law enforcement agency. The owner must provide our Evidence Unit with contact information for the local law enforcement agency to arrange shipment.
---
Frequently Asked Questions
When are you open to the public? Mondays, Wednesdays, and Fridays from 9:00 am to 4:30 pm (4:00 pm for firearm releases)
Can I have someone else pick up my found property on my behalf? Yes. The person picking up the property must have a notarized letter from you and a photo ID.
Can my property be mailed to me? Only for those who reside outside of the immediate City of Asheville area. For more information on this process, please contact the Evidence Unit at 828-232-4576.
What if my items are being held as evidence? You must get authority from the District Attorney's office or a court order to release evidence items. The District Attorney's office may be contacted at 828-259-3410.
How do I retrieve the items of a deceased person? You can arrange to pick up these items with the case agent or provide probate court paperwork to Evidence Unit personnel. If you're unsure where to start, the department's Victims Services Unit may also be able to help.
Other questions? Contact the Evidence Unit at 828-232-4576. Evidence Unit personnel are available by phone Monday-Friday, 9 a.m. – 5 p.m.
---
Location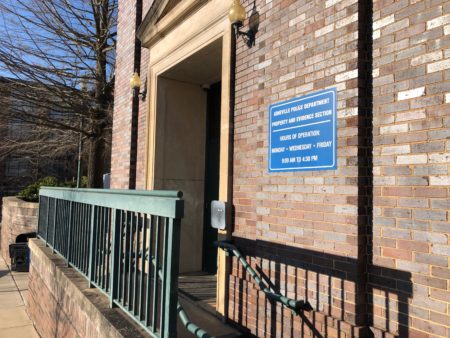 The Evidence Unit public entrance is located on the South-East corner of the Municipal Building (police headquarters), with the entrance facing S Spruce Street and an additional entrance on the south side of the building.
Public parking spaces for the Municipal Building are in front of the main entrance facing Roger McGuire Green. The entrance to the Property & Evidence Section is located towards the rear of the building facing the gated parking lot.
---
Contact
Asheville Police Department -Evidence Unit
828-232-4576
100 Court Plaza
Asheville NC 28801
Mailing Address
PO Box 7148
Asheville NC 28802