---
There are two ways to drop off prescription medication for proper disposal, the disposal drop-off box and directly to the Police Department Evidence Unit. In all cases, we ask that all medications be removed from their original containers and placed into a sealed bag.
---
Not Accepted
Please note that the department will not accept syringes of any type, but you can find more information on how to dispose of household hazardous waste here.
---
Prescription Medicine Disposal
Drop-off Box
A medication drop-off box is located in the front lobby of the Asheville Police Department (100 Court Plaza Asheville, NC 28801) and may be accessed during regular business hours.
---
Turn-in Directly
To the Police Department's Evidence Unit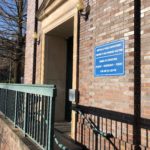 Prescription medicine may also be submitted directly to the Asheville Police Department's Property & Evidence Unit for destruction. The Property & Evidence public entrance is located on the South-East corner of the Municipal Building (towards the back), with the entrance facing S Spruce Street. An additional entrance is available around the corner on the South side of the building.
Public hours: 9 a.m. to 4:30 p.m., Monday, Wednesday, and Friday
---
Contact
Asheville Police Department -Evidence Unit
100 Court Plaza
Asheville, NC 28801
828-232-4576