June is Great Outdoors Month and kicks off with Global Running Day and National Trails Day. Asheville's growing network of greenways, natural surface trails, and scenic urban hikes act as a foundation of a vibrant hub for community members to connect with neighbors and explore the natural beauty of the city.
Greenways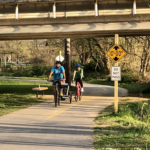 Asheville's varied topography makes the 8 miles of paved greenways an excellent, accessible way to enjoy parks and stream, creek, and river corridors inside city limits. Wilma Dykeman Greenway in the River Arts District (RAD) is the newest greenway and includes ample parking and buffered bike lanes. With a distance of around 2 miles of wide space, it's a flat and welcoming out-and-back adventure with views of the French Broad River on one side and historic RAD on the other. For a longer journey, use the Amboy Road bridge to go into French Broad River Park and connect to French Broad River Greenway and explore Amboy Road River Park, Carrier Park, and Hominy Creek River Park. (The connection between the two greenways includes several yards of unpaved, natural surface trail and the bridge shares traffic with vehicles.)
Riverside Cemetery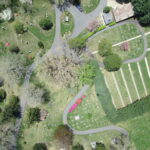 Riverside Cemetery is not just a place where residents visit loved ones. It's also a place of beauty where community members explore 3.5 miles of paved roads, take photographs and paint landscapes, and see the final resting places of prominent writers Thomas Wolfe and O. Henry. The cemetery is also a Buncombe County Treasure Tree Preserve with many valuable and irreplaceable trees that build Asheville's urban forest.
Urban Trail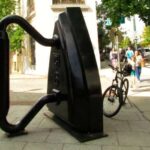 Whether you're a native, new to town, or moved to Asheville years ago, the Urban Trail is a casual, self-guided tour through downtown that tells the city's quirky past through 30 sculptural stations. These art pieces are so familiar, they're easy to overlook, but serve as reminders of the legends and lore that are part of the rich fabric of this little corner of the world. The complete 1.7-mile trail starts on Pack Square and takes around two hours; however, the trail can be broken into sections with a starting point at any of the stations.
Close the Gap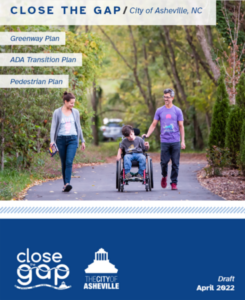 The City of Asheville is in the midst of a large project to update the City's Greenway (G), ADA Transition (A)*, and Pedestrian (P) plans. (*ADA transition specifically looks at accessibility improvements within the rights-of-way on the street network.) Known as the Close the GAP, the planning process aims to identify a network of pedestrian, greenway, and accessibility improvements for the community as well as programs and policies to support it. For information, go to the Close the GAP Page.

To learn more about Asheville's public outdoor spaces, visit Asheville Parks & Recreation's interactive Park Finder.