Asheville Parks & Recreation (APR) usually shares wellness tips geared towards homo sapiens, but this week's is for the dogs. Asheville has no shortage of community members who treat their dogs like family – celebrating accomplishments, feeding them well, and ensuring they have a valuable place in the pack. Pets can enrich an individual's quality of life by helping cope with anxieties, creating wonderful memories, and returning love and attention.
If your dog is one of your most reliable and consistent adventure partners, check out these opportunities to spend time together outdoors.
Dog Parks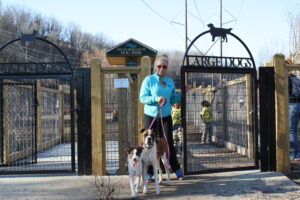 Asheville's public dog parks allow dogs to get ample off-leash exercise and social activity with other dogs, offering health and well-being benefits for both them and their human companions. Just remember that dogs must be on a leash until inside specific fenced areas. 
APR manages dog parks located in

Azalea Park

(395 Azalea Rd.) and

French Broad River Park

(508 Riverview Dr.). 

Buncombe County Recreation Services

' first

dog park

recently opened just inside city limits in

Buncombe County Sports Park

(58 Apac Cir.).
Greenways
Grab a leash and hit Asheville's eight miles (and growing) of dog-friendly paved greenways to enjoy shady walks, flowing creeks, and the chance to connect with nature close to home. Many greenways offer human and dog perks like connections to parks, river access, and public spaces to hang hammocks. 
While public greenways and parks often have pet waste bags, it's a good idea to bring plenty of your own biodegradable bags to cut down on poo-lution if doggie doo happens without a dispenser in sight. (It's also the law to "doo" the right thing. A dog who takes a grumpy dumpy in public without prompt pickup of solid waste can lead to a $50 citation in Buncombe County.)
Canine Costume Party
APR hosts some paws-itively amazing mixers for dogs and their companions. Next on the calendar is Burton Street Community Center's Puppy Costume Party from 11 a.m.-1 p.m on Saturday, September 17. Dress up, join the parade, and show off your four-legged companion's tricks for treats.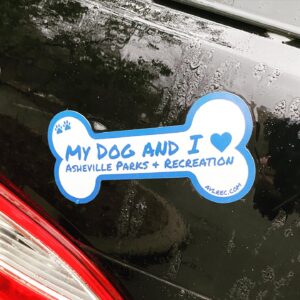 Are you and your dog APR superfans? Pick up your free bone-shaped magnet at any community center and show your support as you drive or bike around town.
Twice a month, Asheville Parks & Recreation shares a resource or tip that can help in the development of intellectual, emotional, occupational, environmental, financial, spiritual, physical, or social wellbeing. For previous Wellness Wednesday articles, check out the archive.