As the Asheville community reflects on the year that was 2021, many of us resolve to continue healthy habits, change some aspect of our behavior, accomplish a personal goal, or otherwise focus on self-improvement in the new year. Though the decision to make a life change can happen any time, studies have found a higher success rate among those who make the commitment as a New Year's resolution.
Common realistic resolutions include getting active, trying something new, and meeting new people or spending more time with family and friends. Asheville Parks & Recreation can help you reach your targets in 2022 with opportunities to set goals and track your progress along the way.
This week, we'll highlight ways to meet new people and opportunities to make new memories with family and friends. For more ways to connect with neighbors, explore your community, and discover experiences, download the new AVL Rec app for iPhone, search programs online, or browse our programming guide.
Older Adults and Retirees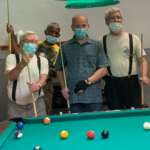 Harvest House and the Senior Opportunity Center offer fitness classes like line dancing, Zumba, hiking, and Tai Chi; games and clubs including billiards, cards, dominoes, and lunchtime socials; opportunities to hone a skill like woodworking, sculpting, weaving, knitting, and writing; and cultural events such as movies, music jams, book clubs, and day trips to museums and breweries.
For a full list of programs for older adults, click here.
For Harvest House's weekly schedule, click here.
Adults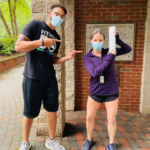 While registration has passed for the winter indoor volleyball league, upcoming drop-in sports include basketball, volleyball, pickleball, and blacklight glow dodgeball. Fitness center memberships at Stephens-Lee and Linwood Crump Shiloh Community Centers are a great value and wonderful way to meet other fitness-oriented community members. Tempie Avery Montford Community Center offers a climbing wall and classes throughout the year for beginner to intermediate climbers. Yoga and paddling classes, board games nights, club sports, and cooking classes are also low-commitment opportunities to connect with neighbors and make friends.
On warmer days, picnic shelters located throughout the city serve as excellent locations for birthdays, reunions, and any other special event that brings people together. Rentals start at just $40 per day.
For a full list of programs for adults, click here.
For picnic shelter rental info, click here.
Teens and Tweens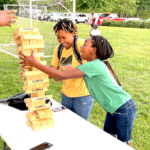 The Stephens-Lee Teen Leadership Program is made up of a variety of activities, rewarding projects, field trips, and more.
When school is out for teacher workdays, Teen Day Out offers games, special events, and field trips to bowl and volunteer locally or visit the science museum in Charlotte and an escape room in Greenville.
For more info on programs for teens and tweens click here or call 828-350-2058. 
Toddlers and Kids
Though they may not be old enough to start making their own resolutions, community centers throughout the city have after school programming, climbing and paddling camps, open gym times, and more. For more info on programs for toddlers and kids, click here.
Of course, an easy and fulfilling way to achieve either goal is to volunteer. With community garden workdays, neighborhood cleanups, youth sports league coaching, and animal meal prep, habitat care, and special events at the WNC Nature Center, there are plenty of ways to get involved as an individual, organization, or group of friends or family. Email parks@ashevillenc.gov for more info.
Check back on January 5 for ways to get and stay active in the new year. In the meantime, download the new AVL Rec app for iPhone.