Nature has a huge impact on health and wellness. Multiple studies point to cortisol, stress, and anxiety levels decreasing in a calm, green environment. If you're looking for an alternative to a party highlighted by brews on St. Patrick's Day, check out this volunteer opportunity from Asheville Parks & Recreation.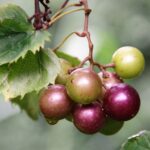 Community members are invited to join Bountiful Cities and neighbors on St. Patrick's Day to help grape vines at Magnolia Park stay green and healthy. The park is one of several in the Asheville Parks & Recreation system in which edible trees, shrubs, and vines act as creative, sustainable, and nutritious landscaping.
With the upcoming redevelopment of Magnolia Park starting soon, the City of Asheville worked with North Carolina State University's Horticulture Department to identify a qualified contractor to perform overdue pruning and retraining of the vines for structural stability and productivity. Proper training of grapevines is essential to maintain plant size, shape, and productivity. If left unattended, grapevines can become unruly and fruiting will be poor due to overproduction of vegetation.
The community workday on March 17 takes place from 11 a.m.-2 p.m. In addition to kick-starting the initial pruning, expert Eric Case will be on hand to demonstrate proper techniques and provide information about the importance of training of the existing vines.
Magnolia Park is located on 51 Magnolia Ave. Volunteers should wear work clothes that can get dirty and bring gloves if possible. For more information on muscadine pruning and renovation, visit the NC State Extension.
Planned renovations at Magnolia Park include playground replacement, fence updates, asphalt replacement, landscaping improvements, a new ADA-compliant entry, and replacement of benches, picnic tables, water fountain, and trash and recycling receptacles. Follow along on the project web page.
For more information, please email parks@ashevillenc.gov or call 828-259-5800.