This entry is part of Park Views, an Asheville Parks & Recreation series that explores the history of the city's public parks and community centers – and the mountain spirit that helped make them the unique spaces they are today. Read more from the series.
When Ray Kisiah became the director of Asheville Parks & Recreation (APR) in 1971, the city had 14 parks and seven community centers, which he described as an excellent park system that had become "unkempt and broken down." By the time he retired in 1993, the system had grown to over 60 parks and recreation facilities, creating lasting impact for the community still felt today.
Ray Kisiah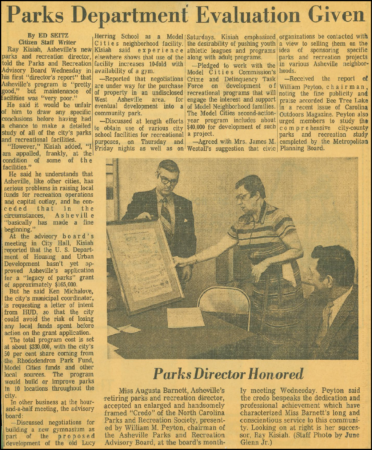 Following stints with Charlotte and High Point parks and recreation departments, Kisiah accepted his position in Asheville over several other offers because he and his wife felt a connection to the city. Three months after taking the job, he asked City Council to double APR's $400,000 annual budget, using the increase to match a $1 million federal grant the department received. This formed the basis of an ambitious program, investing $12 million during the next 10 years to build playgrounds, picnic shelters, athletic fields, and a number of other facilities that are still vital to APR's vision of delivering high-quality, innovative experiences to the people of Asheville.
In the 1970s, federal programs aimed at building infrastructure and reducing poverty transformed cities throughout the nation. As a city saddled with enormous Depression-era debt, the City of Asheville employed multiple full-time grant writers to capture as much of available money as possible. For many projects during Kisiah's tenure, APR leveraged federal rehabilitation money and matched it with other grants to shore up larger sums for ambitious projects. Some of the funds were used to purchase construction equipment that trained staff could use to build parks at a fraction of market cost.
Through these resources, Kisah led the development of Montford Recreation Complex (now Tempie Avery Montford Community Center) and Mountainside Park and expansion of W.T. Weaver Park with basketball and tennis courts, a larger picnic shelter, and addition of dugouts to the ballfield. This was soon followed by a collaboration with Asheville City Schools and Asheville Housing Authority to acquire Livingston Street School and convert it into Livingston Street Recreation Center, later to become W.C. Reid Center and now Arthur R. Eddington Education and Career Center.
Like Livingston Street School, other buildings that served Asheville's Black families had been left vacant following integration. APR purchased and renovated some of these schools that reopened as Burton Street, Linwood Crump Shiloh, and Stephens-Lee community centers. In the process, APR developed cultural arts and afterschool programs to complement sports leagues and summer playground programs. As the cultural arts focus gained traction, the City of Asheville's long run of festival operations began in 1979 with Bele Chere.
Kisiah also made the decision to divest some operations by closing the zoo at Recreation Park (which found new life years later as Western North Carolina Nature Center) and negotiate a management transfer of Lake Julian Park – located outside of city limits – to Buncombe County. As a result of the formation of Asheville/Buncombe Water Authority in the 1980s, Asheville Municipal Golf Course, McCormick Field, and Aston and Recreation parks were transferred to county government. They would eventually rejoin the APR system when the authority dissolved in 2005.
He retired in 1993. The next year, APR became the first nationally-accredited municipal recreation department in the United States. Kisiah served as president of American Parks and Recreation Society and has been recognized often for his contributions to the field including American Parks and Recreation Society Distinguished Fellow, North Carolina Recreation and Parks Society Fellow, United States Amateur Athletic Union National Recreation Man of the Year, and the NRPA Ralph Wilson Award.
Batter Up
Kisiah's arrival coincided with an upswing in youth baseball and softball leagues. With just two lighted diamonds at Walton Street and W.T. Weaver parks, APR entered into agreements with Asheville City and Buncombe County school systems to maintain and operate fields at campuses for use by city leagues while developing new fields at Deaverview (now Roger Farmer), Livingston Street, Murphy-Oakley, West Asheville, and other parks.
When the Asheville Tourists instituted a more family-friendly environment using special attractions and giveaway nights, season attendance doubled from 49,066 in 1980 to more than 100,000 in 1986, the first time that many fans showed up since 1959. When a new McCormick Field opened in 1992, 4,100 spectators packed the 3,500-capacity park and another 2,000 ticket holders were turned away on opening day.
Around the same time, kids and teens lost three ballfields at Biltmore School, site of South Asheville league games for over 40 years.
Dreams of Fields
Opened in 1927, Biltmore School served elementary, middle, and high school students and housed the first location of Buncombe County Junior College (which became UNC Asheville) in a three-story brick building with four large white columns on land donated by the Vanderbilt family. High school grades moved to T.C. Roberson in 1962 and elementary students relocated to Valley Springs in 1980. Buncombe County Schools moved its administrative offices into the building in 1982.
Two lighted regulation Little League fields and a t-ball field next to the building were renovated and maintained by APR for use by about 450 players between the ages of 4 and 18. When Buncombe County Schools moved its offices in 1989, it initially gave APR just 30 days to remove equipment and relocate leagues to other fields so Biltmore School could be sold.
Parents formed a committee to save the school and fields, ultimately filing a failed class action lawsuit against Biltmore Farms when the company purchased the property. However, Biltmore Farms sold the building and five acres of land to Buncombe County Government which moved the Sheriff's Office and 911 operations into the building. This also allowed leagues to use the ballfields until replacements could be built.
In 1993, the City of Asheville bought a 37-acre site off West Chapel Road from Buncombe County Schools which was annexed into city limits. Previously, the land was earmarked for a new Oakley Elementary School campus. Meanwhile, Buncombe County Sheriff's Office vacated Biltmore School in 1999. After efforts to raise enough money to turn the building into a regional history museum proved unsuccessful, it was purchased by investors and eventually renovated in 2012 to its current professional office space.
Ray L. Kisiah Park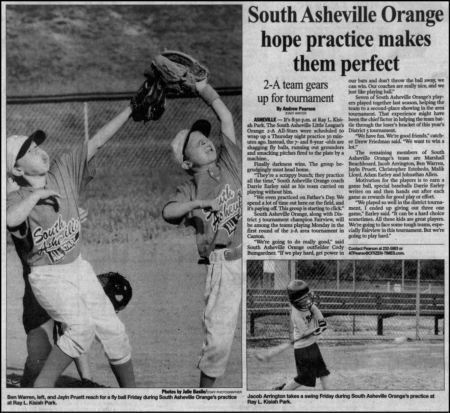 Construction on the new sports park began slowly thanks to challenging weather, relocation of a sewer line, and discovery of a 500-gallon oil tank that had leaked into the soil, adding an $45,000 to the project in order to incinerate soil and monitor the site for the next several years. Just before it opened for the 1995 fall season, City Council approved a request to name it Ray L. Kisiah Park.
The new park consisted of two lighted diamonds, a building with a concession stand and restrooms, and parking lot. In its earliest seasons, future Major League Baseball center fielder Cameron Maybin played on its fields as a Little Leaguer. The professional baseball player returned to those fields in 2010 for WNC Fall Baseball Field Day.
Asheville's love of ballplay continued and Ray L. Kisiah Park grew to include four lighted fields, an expanded and lighted parking lot, and memories for thousands of local families. As part of voter-approved bond-funded improvements at parks across the city, all four fields received energy-efficient lighting and new dugouts and backstop fencing. Bullpens and batting cages were added and concrete sidewalks replaced gravel paths to provide accessible connections between parking and the fields.
Do you have photos or stories to share about Ray L. Kisiah Park? Please send them to cbubenik@ashevillenc.gov so APR can be inspired by the past as we plan our future. Sign up for APR's monthly newsletter and follow APR on Facebook and Instagram for additional photos, upcoming events, and opportunities.
Photo and Image Credits
Asheville's love of baseball and softball predates the 1924 opening of McCormick Field. By 1993, its youth ball program was the largest in the state with 125 teams competing for space at 21 ballfields. On most evenings and weekends in spring and summer, practices and games across the city teach youngsters like these the importance of teamwork, sportsmanship, and community pride.

As APR's second director, Kisiah inherited a system largely built by

Augusta Barnett

. Though she was successful in establishing high-quality community programs, the department's anemic budget meant the new director had to get creative to improve parks and community centers.

Built quickly against the threat of losing fields used by around 40 softball and baseball teams, Ray L. Kisiah Park opened with two ballfields before expanding to four.

Asheville Citizen Times

profiled a local team in 2004.

Even APR's racoons like to spend time near the diamonds at Ray L. Kisiah Park.