This entry is part of Park Views, an Asheville Parks & Recreation series that explores the history of the city's public parks and community centers – and the mountain spirit that helped make them the unique spaces they are today. Read more from the series.
When Asheville Parks & Recreation (APR) named Augusta Barnett as its first director, she was the first woman to serve as a department head with the City of Asheville and one of the first in the nation to lead a parks and recreation department. A decade after Barnett's retirement, Ann Patton Joyce began work that included creation of APR Afterschool. Both have neighborhood parks named after them in recognition of their lasting impacts.
Augusta Barnett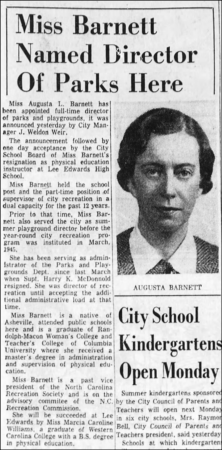 Born in Birmingham, Alabama, Augusta Barnett spent most of her life in Asheville. An alumna of Asheville's public schools, she graduated from Randolph College before earning a master's degree in administration and supervision of physical education from Teachers College of Columbia University.
She began her career as a physical education teacher at Lee H. Edwards High School (now Asheville High) in 1928. Barnett began her work with APR as a summer playground leader in 1937, supervising arts and crafts, games, and other activities for young Ashevillians. Though Aston and Montford parks date to the 1890s, the City of Asheville only began providing structured recreation services in 1933 as the parks and playground division under the direction of the Public Works department.
After serving in a seasonal capacity as pool manager and supervisor of summer playgrounds, she was promoted to the year-round, part-time position of recreation supervisor of the division in 1944 while still teaching high school physical education. When the parks and playgrounds superintendent left his position in 1956, Barnett assumed much of the department's administrative responsibilities in addition to supervising recreation and was named APR Director later that year.
Leading in the '50s and '60s
As director of the new department, Barnett initially oversaw the operations of thirteen parks, four community centers, two outdoor pools, City Auditorium (now Thomas Wolfe Auditorium), Recreation Amusement Park and Zoo (now Recreation Park and Western North Carolina Nature Center), Asheville Municipal Golf Course, Thomas Wolfe Memorial, McCormick Field, and Memorial Stadium, as well as programs and events at those locations, city-wide festivals, and a number of school playgrounds each summer. She also coordinated annual partnerships with Asheville Art Museum, Colburn Mineral Museum (now Asheville Museum of Science), and Thomas Wolfe Memorial.
Barnett was very successful in improving community recreation programs, even without the luxury of many quality facilities or much of an annual budget. Ever resourceful, she partnered with schools and other community organizations to house activities primarily focused on kids, teens, and older adults. As Congress made federal funding available for cities like Asheville to combat poverty, the foundation Barnett established was used to leverage a major expansion of local parks and recreation spaces in the 1970s.
When she retired in 1971, she said her hobbies, aside from reading and sports, were making it possible for others to enjoy theirs.
Augusta Barnett Park
In 1953, West Asheville Community Center opened on Haywood Road. A pioneering building, it included the recreation center, fire department, and public library. The concept was replicated for North Asheville, East Asheville, and Murphy-Oakley community centers over the following decade.
West Asheville Business Association purchased a lot behind the community center shortly after it opened with intentions to build a playground. In 1969, West Asheville Youth Commission organized a campaign to build the playground and the land was donated to APR with a request to name it Barnett Playground. The playground opened in 1973 with swings, slides, and a basketball court.
Barnett passed away in 1995 at the age of 89 and the park was rededicated in her honor in 1998. As part of the 2016 parks and recreation bond referendum, Augusta Barnett Park received an updated layout with modern playground equipment and a new basketball court.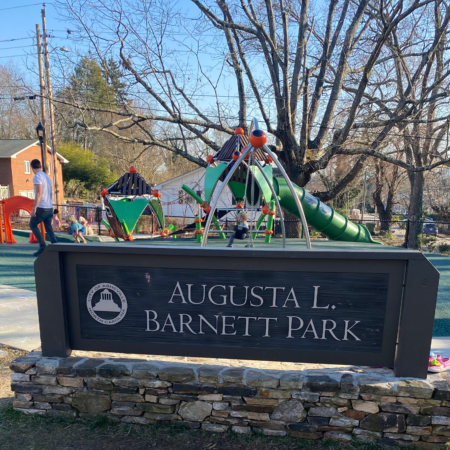 Ann Patton Joyce
Like Barnett, Ann Patton Joyce made a lasting community impact as an APR team member. She held several different positions with the department from 1980 to 1991, best known for her work in creation of APR Afterschool and formation of Asheville-Buncombe Senior Games.
A native of Morganton, she taught swimming lessons and was a lifeguard in high school. While pursuing her interest in recreation, she served as an intern with Morganton Parks & Recreation while earning her degree from UNC Chapel Hill. After graduation, she first worked for Durham Parks & Recreation helping to provide opportunities for community members with visual impairments and developmental disabilities. It was there that she met her husband, Jeff. Later, both worked as APR community center directors and she eventually supervised APR's 11 community centers.
After a fight with cancer, she passed away in 1991 at 35. Following a request from the Beverly Hills neighborhood, Ann Patton Joyce Park was dedicated in 1993 on Hawthorne Road. Two grassy patches at either end of the park flank a natural area in the center filled with  mountain laurel, wild flowers, a stream, and maple, oak, sourwood, and dogwood trees.
Do you have photos or stories to share about Augusta Barnett Park or Anne Patton Joyce Park? Please send them to cbubenik@ashevillenc.gov so APR can be inspired by the past as we plan our future. Sign up for APR's monthly newsletter and follow APR on Facebook and Instagram for additional photos, upcoming events, and opportunities.
Photo and Image Credits
Augusta Barnett Park and two other playgrounds received complete rebuilds when 77 percent of Asheville voters approved a parks and recreation bond referendum in 2016. In addition to new play structures to climb, slide, twirls, and spring, the rubberized surface provides greater accessibility and cushioning for falls.

Barnett was the first woman to serve as a department head with the City of Asheville and one of the first in the nation to lead a parks and recreation department. She served as director from 1956-1971.

Community investments in parks and recreation have always been topics of interest in Asheville and Barnett was frequently featured in local media stories.

In the 1990s, West Asheville Community Center received cosmetic improvements, Buncombe County Public Libraries' West Asheville branch relocated from the center to a building next door, and the small playground was expanded. 

On warm days, Augusta Barnett Park is filled with kids and families.

When Ann Patton Joyce Park first opened, it featured a toddler playground and other elements to recognize Joyce's devotion to child development, family, and community.

Today, Ann Patton Joyce Park is a great place to connect with neighbors and nature along a mountain stream.