This entry is part of Park Views, a weekly Asheville Parks & Recreation series that explores the history of the city's public parks and community centers – and the mountain spirit that helped make them the unique spaces they are today. Read more from the series and follow APR on Facebook and Instagram for additional photos, upcoming events, and opportunities.
Since its days as a hog wallow along Buncombe Turnpike, Pritchard Park has served as a rest area of one sort or another. As the location of Asheville's main post office, it acted as "the rendezvous for the town gossips who gathered in the old days," according to an old newspaper article. It later transformed into a simple green space, then downtown's main bus terminal before a renovation made it one of the most recognizable public spaces in the city.
Water Town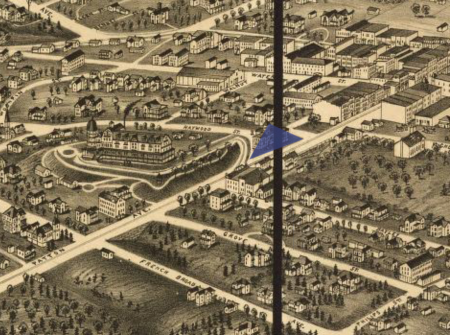 Rain posed a serious problem as Asheville's modern form began to take shape. The present site of Battery Park Hotel was known as River Hill, a mound dominating the valley below at more than 100 feet above the building's present height. The area of today's Pack Square Park was also considerably higher at the time. Its downhill slope toward Patton Avenue was so pronounced that early town dwellers referred to the junction of Patton and Lexington as The Dip with a natural spring located at the current site of the Drhumor Building.
Lexington Avenue was named Water Street because it was actually a drainage ditch. Large rocks were used as stepping stones to climb up to Patton and logs were stockpiled on Water Street to help wagons reach the courthouse that dominated Public Square (present day Pack Square Plaza). Actually a rounded hilltop, Pack Square then fell away in all directions. A ridge descended toward Lexington, reaching its lowest point at The Dip, rising gradually to Haywood Street, and then shooting up abruptly to the commanding prominence of River Hill.

Water from River Hill found its way down to a low-lying marshy bog overgrown with water lilies and swarming with ducks and bullfrogs, the current location of Pritchard Park. In 1817, James Smith established a 350-acre farm in the valley that became a stop on Buncombe Turnpike where hog drovers stabled horses and let swine roll around the muddy pond. This land grant from the State of North Carolina was payment for Smith's services in the Revolutionary War.
Around 1851, the Pritchard Park area was incorporated into the city. A wooden culvert was installed under the low-lying marsh to drain water into a deep ravine known today as Coxe Avenue. William Johnston acquired Smith's land in 1877 during Asheville's first population boom, coinciding with the railroad's arrival.
Post Office
Johnston donated land to the U.S. government to establish a post office on the site of Pritchard Park in 1889, the same year the city's electric streetcar system was installed. The following year, The Grand Opera House opened a few yards away and became Asheville's first major house of entertainment. The post office opened in 1892.
Asheville's first post office was established in 1801; the new post office reflected the city's growing stature as the region's center of commerce and industry. The three-story brick building became a social center as stores, offices, banks, and saloons opened around it. Crowds congregated inside and outside the building as they ran into each other during "mail time." An extension was added in 1909.
E.W. Grove reshaped downtown when he leveled Battery Hill/River Hill to build a new Battery Park Hotel in 1923. Previously, gates to the hotel were near today's Miles Building across from Pritchard Park. The project extended the business district north to the hotel, as well as south as the dirt and debris was used to fill in Coxe Avenue. The base of the hill (at present-day Wall Street) formed the curve that determined the triangular shape of the park.
A new modernistic post office with Art Deco influences opened on Post and Otis streets in 1930. Today, that building houses federal court proceedings as part of the Veach-Baley Federal Complex.
Pritchard Park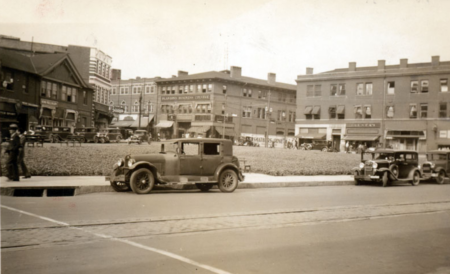 In 1931, U.S. Representative George Pritchard secured passage of a congressional act dedicating the former post office lot to the City of Asheville in order to develop a permanent public park. Asheville's city park commission resolved to name the park for Pritchard's father, Jeter Pritchard. The elder Pritchard was a newspaper publisher, member of the North Carolina House of Representatives, U.S. senator, and federal judge who was instrumental in bringing the 1892 post office to the city. In Congress, he introduced the first bill for a National Forest Reservation in the Appalachians which eventually resulted in Great Smoky Mountains National Park. He passed away in 1921 and is buried in Riverside Cemetery.
The brick post office building was razed, bounding streets were widened, and a sidewalk was built on Government Street (now College Street). During Pritchard Park's development, City of Asheville employees transformed the lot utilizing a design by C.D. Beadle, a landscape architect responsible for E.W. Grove Park and gardens at Biltmore. The park's opening in 1932 marked a milestone for Asheville's public park system and Asheville Parks & Recreation (APR) began providing recreation services the following year as the parks and playgrounds division of Public Works.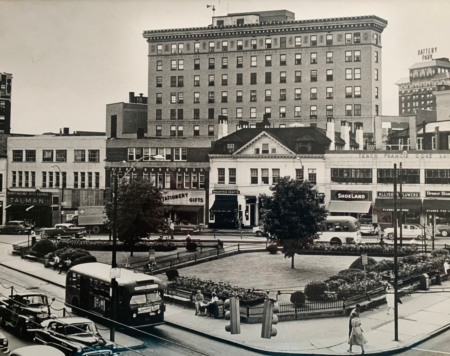 Landscapers used cowpea crops to enrich soil and planted Kentucky bluegrass, shrubs, three sugar maples, and a Norway spruce to serve as a community Christmas tree. Within a few months, 10-foot long benches and a water fountain were installed.
More than 500 passengers boarded streetcars making a ceremonial run from Pritchard Park to West Asheville as they were retired on September 6, 1934, highlighting the rise of automobiles and passenger buses – and ending an era in the city.
Carolina Power & Light in 1937 proposed relocating the downtown transfer station for its buses from Pack Square to the small park. It became the city's main terminal for the next 60 years. Until school buses began neighborhood routes in the late 1950s, many students boarded buses in Pritchard Park each school day.
Town Square (or Town Triangle)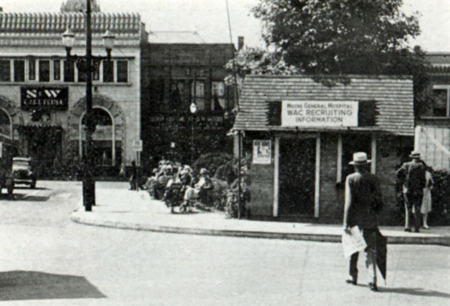 As City of Asheville planners added more parking spaces and widened streets to accommodate automobiles, City-County Plaza and Pack Square became further dissected and Pritchard Park became an important town square in its own right, hosting events for March of Dimes, Community Chest, and American Cancer Society. During several holiday seasons, Asheville Merchants' Association constructed a temporary bell tower and "Santa's log cabin" in the park. The hewn log cabin served as headquarters for the women's division of war savings to sell bonds and later became a recruitment site for Women's Army Corps during World War II.
In 1946, sidewalks surrounding the park doubled in size to 16 feet, relocating some maples and boxwoods to City-County Plaza and Aston Park in favor of azaleas and small evergreens. A low iron fence was installed to protect the lawns. Pritchard Park started serving as less of a park and more of a bus terminal – accentuated by a proposal to cover all benches with umbrella sheds to protect riders from rain and sun. To celebrate the park's fifteenth anniversary, Bank of Asheville issued a 12-page history of the triangular plot entitled The Little Smith Barn, mailed
to customers and handed out for free at its branch across from the park.
The rise of Asheville's suburbs led to a decline in its downtown, but Pritchard Park remained active as the primary transit station, adjacent to S&W Cafeteria, major department stores, and the city's banking district. TVA (Tennessee Valley Authority) presented a plan for a bermed knoll and elevated walkway from the park to Wall Street and using the alley below Wall Street for shops inspired by Underground Atlanta in 1974. Instead, Asheville Revitalization Commission recommended dividing downtown into a network of urban villages with the Pritchard Park village specializing in entertainment, dining, and specialty shops.
During the first Bele Chere festival in 1979, Dutch Cover String Band was accompanied by cloggers and square dancers as the first stage act in Pritchard Park. Most of the park was converted to a bus shelter the next year with a large stone fountain serving as its centerpiece.
Park Renaissance
Following Wall Street's redevelopment as an Old World-inspired avenue with wide sidewalks and outdoor dining, Asheville Downtown Commission and Asheville Downtown Association called for more streetscape lamps, benches, trash cans, sidewalk patterns, and green spaces to better connect the central business district.
The community successfully advocated for a more efficient bus center on Aston Street and APR's Pritchard Park Task Force began planning for a revitalized park. In addition to expanding the park's usable space, initial plans called for wider sidewalks to support patio dining across College Street, crosswalk gateways and bike routes, and design elements to compliment the historic architecture of downtown Asheville.
Pritchard Park reopened on July 6, 2001 featuring classic brick and stone work in a nod to the post office that once occupied the site. With amphitheater-style seating, a water feature, granite chess boards, and 17 benches, APR was able to fit many public amenities into a small space. Asheville GreenWorks designated the park a Treasure Tree Preserve in 1995 and landscape architects preserved many of the mature trees that survived the triangle's changes over the years. National League of Cities named the renovation the 2003 Special Achievement in Public Space award winner.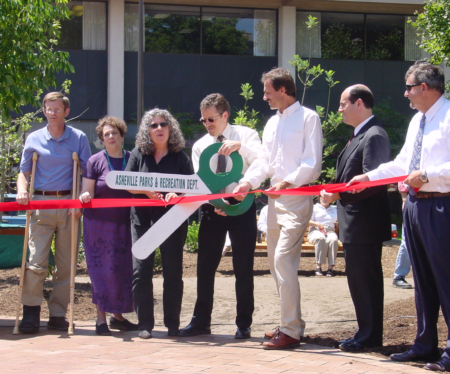 Within a short time, crowds packed the park daily for events including silent cinema presentations soundtracked by local musicians, weekly hoop jams, and drum circles. The Chaddick Foundation funded Harry McDaniel's Deco Gecko public art installation on the west end of the park in 2008.
Cameron Morrison, who served as North Carolina governor and both U.S. senator and congressional representative for the state, called Pritchard Park "the most valuable property, foot-for-foot, in the State of North Carolina." As a public place to meet neighbors, listen to music, or sit to enjoy lunch, it's still a valuable space to be treasured by all Ashevillians.
Do you have photos or stories to share about Pritchard Park? Please send them to cbubenik@ashevillenc.gov so APR can be inspired by the past as we plan our future.
Photo and Image Credits
A 1957 color photo-offset shows Patton Avenue from the west end of Pritchard Park taken before the buildings on Haywood Street were demolished for the Wells Fargo Bank building. The white building in the left background is Langren Hotel which was later demolished for a parking deck. Courtesy of Buncombe County Special Collections, Pack Memorial Public Library, Asheville, North Carolina.

An 1891 map of Asheville shows the post office that would open in 1892. The black bar through the location of Pritchard Park places it in the middle of the map (and therefore the middle of the city). Lexington Avenue is labeled as Water Street. Ruger & Stoner & Burleigh Litho. (1891)

bird's-eye view of the city of Asheville, North Carolina

. [Madison, Wis] [Map] Retrieved from the Library of Congress,

https://www.loc.gov/item/75694894

.

Postcard of the 1892 post office shows streetcar tracks converging at the point where Patton now meets College. Buildings identified in the photo-offset include the Medical Building, the Paragon Building, and Dreamland Theater. Postmarked 1963 when found in an antique store in West Virginia. Courtesy of Buncombe County Special Collections, Pack Memorial Public Library, Asheville, North Carolina.

A view northeast over Pritchard Park from Patton Avenue shows a simple green space behind pedestrians, cars, and streetcar tracks shortly after the park opened. Haywood Street includes the Paragon Building, Brener's, and Blanton's Business College. College Street includes Young's in the Miles Building and Reno Millinery. Courtesy of Buncombe County Special Collections, Pack Memorial Public Library, Asheville, North Carolina.

Streetcars gave way to passenger buses as seen in this view from the corner of Patton Avenue and Haywood Street from around 1960.

Businesses along College Street  include Karr Jewelers in the Miles Building, Wells Beauty Parlor, Eleanor Elizabeth Candy Shop, Allison's Flower Shop, and Shoeland in the Coxe (Tench Francis) Building, Allanstand Mountain Crafts in the Blue Ridge Building, and Talman's Book Center with Battery Park Hotel and the Flatiron Building behind them. Courtesy of Buncombe County Special Collections, Pack Memorial Public Library, Asheville, North Carolina.

Looking down Haywood Street toward S&W Cafeteria, a small log cabin sitting at the edge of Pritchard Park served as a recruitment center for

Women's Army Corps during World War II.

Courtesy of Buncombe County Special Collections, Pack Memorial Public Library, Asheville, North Carolina.

A 1972 photo by Anthony Lord shows people waiting for buses under mature shade trees at Pritchard Park.

Courtesy of Buncombe County Special Collections, Pack Memorial Public Library, Asheville, North Carolina.

A new bus terminal covering was added to the park in 1980. Its efficiency was questioned over the years as there were no walls or heaters. Eventually, the downtown public transit transfer terminal relocated to Aston Street.

Courtesy of Buncombe County Special Collections, Pack Memorial Public Library, Asheville, North Carolina.

Mayor Leni

Sitnick and APR Director Irby Brinson cut the ribbon following Pritchard Park's 2001 renovation with others involved in the project.