This entry is part of Park Views, a weekly Asheville Parks & Recreation series that explores the history of the city's public parks and community centers – and the mountain spirit that helped make them the unique spaces they are today. Read more from the series and follow APR on Facebook and Instagram for additional photos, upcoming events, and opportunities.
Grove Park Inn serves as one of Asheville's most recognizable landmarks more than a century since it opened. The man from whom it takes its name also developed the Grove Park neighborhood around the resort noted for its interesting architecture, historical homes, and trio of public parks. At the intersection of Macon Avenue and Charlotte Street, E.W. Grove Park is an open greenspace with flowers and trees unmistakably tied to the city's gilded age, but bursting with modern energy.
Edwin Wiley Grove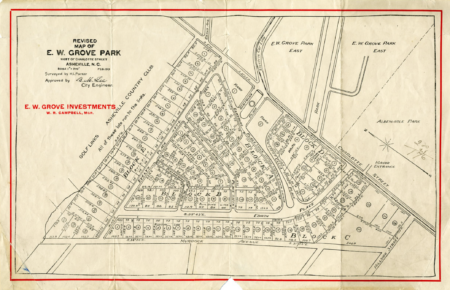 Edwin Wiley Grove first visited Asheville in 1897 when the mountain air and relaxing climate was recommended for a bronchial disorder. Immediately taken with the town, he built a summer home and established a branch lab of his pharmaceutical company, maker of Grove's Tasteless Chill Tonic. The tonic was created as a relief of malaria and its resulting chills, issuing a claim to "make children and adults as fat as pigs" in its advertisements. It was so popular, it outsold Coca-Cola and made him a millionaire.
Grove recognized the potential to develop an area then-north of Asheville and purchased a large tract of land with views northward over the Kimberly farm in 1908. Combined with two smaller lots, this property comprised the original Grove Park subdivision and surrounded a 3.16 acre lot purchased earlier, upon which Grove developed a park and built his office. Though Grove used the office for his various business interests until 1917, its primary function was as the sales headquarters for residential lots.
Chauncey Delos Beadle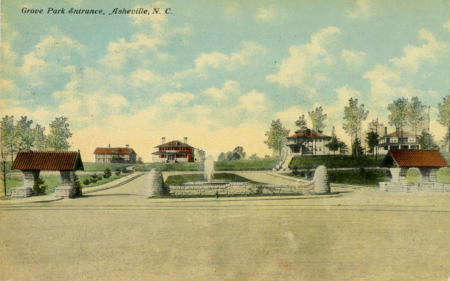 Chauncey Delos Beadle arrived in Asheville in 1890 to work with Frederick Law Olmstead designing the gardens and nurseries of George Vanderbilt's Biltmore where he remained for 60 more years. In 1908, he began creating parks and resting areas for Grove Park. In designs specifically intended to welcome automobile travelers, large patches of grass and trees flanked wide streets named for members of Grove's family.
Beadle designed E.W. Grove Park with covered trolley stops, a stone wall announcing the park's name, and a twenty-five foot diameter cast concrete fountain. Flowering and canopy trees, azaleas, and rolling greens helped the park serve as the entrance to the neighborhood.
Richard Sharp Smith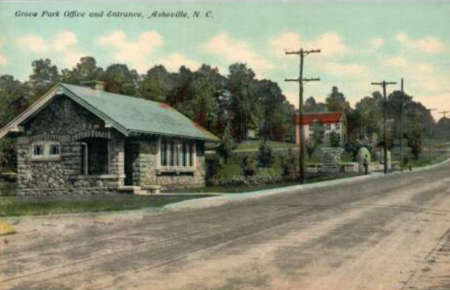 Also in 1890, Richard Morris Hunt sent Richard Sharp Smith to Asheville to supervise the construction of Biltmore, which Hunt designed. Following completion of the mansion in 1895, Vanderbilt persuaded Smith to remain in Asheville and open his own firm. He spent the next 29 years defining Asheville's urban landscape with iconic buildings including YMI Cultural Center, Asheville Masonic Temple, and many of the structures in downtown, Montford, Grove Park, and Biltmore Village.
In a city of brick and wood, Smith's design for Grove's office used fieldstone with beaded mortar joints and a tin shingled roof. Smith's signature design style features elements of Craftsman, Colonial Revival, English cottage, Shingle, and Tudor Revival architecture, but the office in E.W. Grove Park is the only building he designed in its fashion.
A Public Park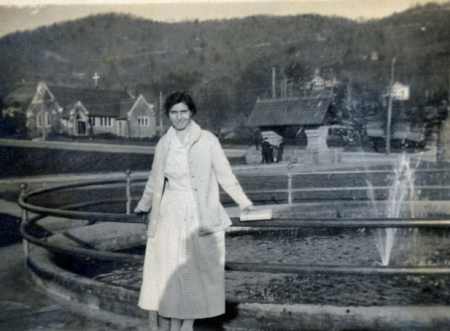 The real estate boom of the 1920s saw construction of impressive homes in Grove Park and the subdivision was expanded to fill many more lots with revised street plans. Grove passed away in 1927. While his office building remained vacant for the next 22 years, the adjacent park was privately maintained for enjoyment by Grove Park residents.
In 1949, the trustees of Grove's will transferred ownership of the park and office to the public, along with Sunset Park, Griffing Boulevard Rose Garden, and neighborhood parkways. The abandoned office was completely renovated and Asheville Art Museum opened in the building. Exhibitions by local painters and sculptors were staged from May through October when warm weather allowed use of the unheated building. Sunday afternoon receptions gave the community an opportunity to view original art and hear artists talk about their work. The building also served as a precinct polling location during elections.
As the art museum outgrew the cottage, it relocated in 1966 and the building again fell vacant for nine years. The Arts Journal, a monthly magazine, moved into the building in 1975. Around that time, Asheville Parks & Recreation (APR) removed two wide drives that bisected the park to connect Charlotte Street and Gertrude Place and replaced sidewalks. The fountain that served as the park's centerpiece had been decommissioned in the 1960s and replaced with a circular flowerbed, a feature that remains today.
Preserving Early 20th Century Charm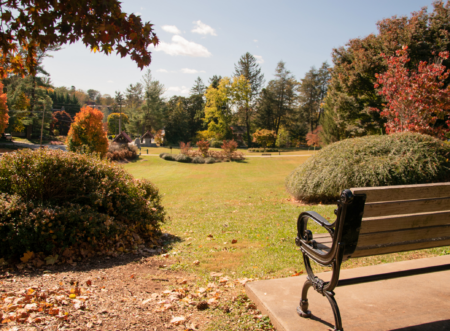 By the beginning of the 21st century, Grove's office building had sat empty for over 15 years and was in need of major improvements to preserve its historical integrity. The bathroom and heating system no longer worked, roof tiles had rusted and deteriorated, and layers of paint, linoleum, and shag carpet covered much of its original appearance. The Preservation Society of Asheville and Buncombe County entered into a lease agreement in which the organization would fund renovations and the building became the nonprofit's headquarters.
In 2012, Grove Park-Sunset Mountain Neighborhood Association embarked on a partnership with APR to restore the neighborhood's three historic parks to better reflect Beadle's original vision. Biltmore's horticulturalists helped adapt E.W. Grove Park's early plans to include modern-day equivalent plants while preserving mature pines, cedars, and dogwoods. The historic trolley houses and stone sitting wall were cleared of algae and vegetation, cleaned, and resecured with meticulous attention to conserve their original appearance. 
While E.W. Grove Park may appear much the same as it did in the early 1900s, this storied space has survived both Asheville's lean times and years of prosperity. With wide, tree-shaded sidewalks connecting it to the surrounding neighborhood, it's not uncommon to see visitors of all ages enjoying a sunny picnic with friends, tossing a ball on a warm day, or reading a book on a park bench.
Do you have photos or stories to share about E.W. Grove Park? Please send them to cbubenik@ashevillenc.gov so APR can be inspired by the past as we plan our future.
---
Photo and Image Credits
The park's stone wall is dated 1904. Covered shelters were added later to provide comfort for park visitors.

The property Grove purchased to develop Grove Park was called the Murdock tract. Murdock Avenue is shown along the lower part of the map. Other streets were named for Grove's family members. A thin "lower" section of the park is still bound by Celia Place, Edwin Place, and Gertrude Place, but the drives separating two sections of the park on this map were removed around 1975. An electric car line ran on Charlotte Street and up Macon Avenue.

Courtesy of Buncombe County Special Collections, Pack Memorial Public Library, Asheville, North Carolina.

The electric car line is visible in this postcard featuring E.W. Grove Park postmarked from Asheville in 1911 and mailed to Jefferson, Georgia. Published by Hackney & Moale, Co. Asheville, N.C. Courtesy of Buncombe County Special Collections, Pack Memorial Public Library, Asheville, North Carolina.

Though his contributions to Asheville have been somewhat overshadowed by massive icons such Vanderbilt's Biltmore, Grove's Grove Park Inn, and Douglas Ellington's City Hall, more than any one individual, Smith is recognized as defining the look and architectural feel of Asheville in the early 20th century with his imprint still visible today. His use of cobweb-coursed rubble stone granite for Grove's office (sometimes called "the rock house" or "the stone cottage") compliments Grove Park Inn, but differs in size of stone used and method of bonding. It is listed on the National Register of Historic Places as part of the Grove Park Historic District.

Photograph of an unidentified woman leaning against a circular rail of the fountain at E.W. Grove Park with one of the trolley houses in the background. St. Mary's Episcopal Church can also be seen. Photograph is from Special Collections MS001.002, the Ruth E.K. McDowell Photograph Album, p.99. Copy neg. made 12/2000. Courtesy of Buncombe County Special Collections, Pack Memorial Public Library, Asheville, North Carolina.

Though it's not always been the case, E.W. Grove Park today maintains much of its original charm as the community has worked to preserve its character and historical fabric.