This entry is part of Park Views, an Asheville Parks & Recreation series that explores the history of the city's public parks and community centers – and the mountain spirit that helped make them the unique spaces they are today. Read more from the series.
Prior to the East Riverside Redevelopment urban renewal project, Asheville's Southside neighborhood stood as one of the city's primary Black commerce centers surrounded by an expansive residential district. Home to historic Walton Street Park and Dr. Wesley Grant Sr. Southside Community Center, three other parks contribute to its rich legacy of recreation spaces.
Herb Watts Park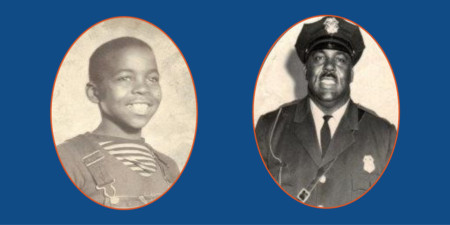 Well known as "Watt Daddy," Herbert J. Watts was an Asheville native born in 1937. A member of the Stephens-Lee Class of 1955, he was a gifted athlete and member of the school's sports hall of fame. After high school, he attended Fayetteville State University before returning to Asheville and beginning a long career with Asheville Police Department (APD).
During his tenure with the department, Watts advocated for kids and teens through initiatives including Santa Pal, Man to Man, Asheville-Buncombe Youth Council, and Drug Abuse Prevention Education (D.A.R.E.), and as founder and director of Asheville Police Camp for At-Risk Youth. He also had a soft spot for the elderly, delivering holiday food boxes for many years. Upon retirement from APD, Watts served on Asheville City Council and as a board member of Housing Authority of the City of Asheville (HACA), finding an opportunity to convert a small lot into a neighborhood park on the corner of Erskine and Livingston streets.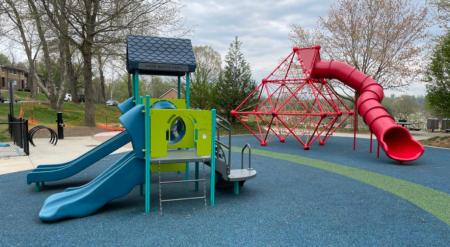 "Through much of my 26 years with the police department, I wanted to find a way to help these kids," he said. "I wanted that piece of ground turned into something useful for them."
HACA purchased playground equipment using a Community Development Block Grant and Asheville Parks & Recreation (APR) handled installation and landscaping. When Erskine Street Playground opened in 1995, it became the first park in the city built using ADA accessibility guidelines. Three years later, it was renamed Herb Watts Park for the man who took such an interest in its creation.
"I didn't do this by myself," Watts remarked of the honor. "I had the support of others. This goes back to my childhood. If people hadn't cared about me, I wouldn't be where I am today."
APR officially took over operations of the park in 2004 when HACA conveyed the property to the City of Asheville. As part of voter-approved bond-funded improvements at parks across the city, the playground was completely replaced with modern play structures, rubberized smooth surface installed, and additional grills and seating added in 2019 and 2022.
Choctaw Park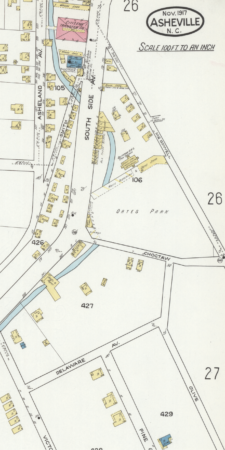 Before McCormick Field, there was Oates Park. Located on the corner of Southside Avenue and Choctaw Street, it was named for J. Rush Oates, a businessman and sports enthusiast who helped form Asheville Baseball Club.
During its 1913 inaugural season, Detroit's Ty Cobb played at Oates Park against Asheville's Mountaineers. The Mountaineers became the first team to use the Asheville Tourists moniker in 1915 and brought the city its first professional sports championship the same year. In 1916, businessman and real estate developer E.W. Pearson established Asheville's first Black baseball team, the Royal Giants. The team played at Southside's Oates Park and Burton Street's Pearson's Park.
As Southside became the site of Asheville's second large-scale urban renewal project (ultimately the largest such project in the southeast), many streets were widened, extended, shortened, or eliminated with the stated goal to transform the neighborhood into a more suburban and residential area. In 1973, the neighborhood's "Six Points" intersection was eliminated and Choctaw Street mostly extended along Southside Avenue's former route.
APR purchased land along the "new" Choctaw Street that same year to develop as a natural park, south of Congress Street and about a block away from the site of Oates Park. Asheville City Schools offered the lot to the highest bidder, so it was not included as part of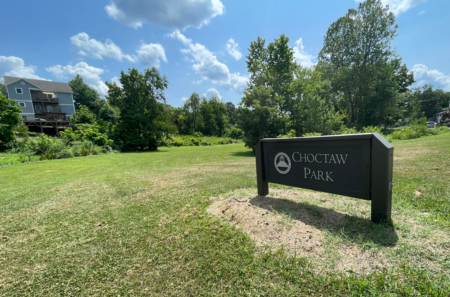 HACA's urban renewal project. 
HACA did hold a small piece of land across Congress Street with tennis courts that the authority planned to use as a park. Unhappy with lack of progress, Dr. Wesley Grant Sr. organized a successful campaign for HACA to deed the land to APR and it became part of the larger park. As the flattest area, it tends to be the most active part of the park.
A long rolling green along the banks of Nasty Branch creek, Choctaw Park is ideal for a game of catch or grass volleyball.
Murray Hill Park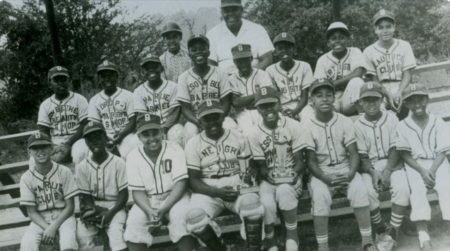 Decades before Watts helped transform a vacant lot into a park, another law enforcement officer took space next to a public playground a few blocks away where Murray Hill Park is now located and established a baseball league for Black youth. Deputy George Bishop founded Asheville Varsity Club in 1957 and teams like the Blue Birds and Green Hornets played in the park until the league disbanded around 1969 with integration of Asheville City Schools and other local institutions.
Discussions to develop Murray Hill Park into a neighborhood gathering space with a larger playground, seating areas, and picnic shelters came in starts and stops over the years. In 1979, Bartlett Arms Apartments opened on the site of the old baseball diamond and much of the remaining land was paved to create parking.
Through a series of transactions, part of the undeveloped property was sold to create Overview Apartments for independent older adults in 1998. APR used proceeds from the sale to develop the modern Murray Hill Park.
Most of the current park area was a parking lot that was converted to green space. The 5.5 acre park includes a gazebo, seating areas, paved walking loop, grills, community garden, expansive views of French Broad River, and green space for recreational activities.
But why is it called Murray Hill? One of Asheville City Schools' earliest campuses was Tiernan School, named for a street that used to run through the area where the park is now located. It was renamed Murray School in 1908 honoring J.L. Murray, the City of Asheville's superintendent of water and streets whose estate established an endowment for city schools. Later, it was known as Murray Hill School before being demolished in 1938.
For more on Southside and Black roots in Asheville, read the Asheville African American Heritage Resource Survey.
Do you have photos or stories to share about Herb Watts Park, Choctaw Park, or Murray Hill Park? Please send them to cbubenik@ashevillenc.gov so APR can be inspired by the past as we plan our future. Sign up for APR's monthly newsletter and follow APR on Facebook and Instagram for additional photos, upcoming events, and opportunities.
Photo and Image Credits
Asheville's first Black baseball team, the Royal Giants, was established in 1916 by E.W. Pearson, developer of West Asheville's Burton Street Community. In addition to playing ball, players held regular jobs. Though little coverage appeared in local papers, an article from I

The Asheville Citizen

in 1920 highlighted the team's success with a record of 71 wins, 18 losses, and 5 ties. This photo of the 1918 team in Oates Park is a gift from Iola Byers, Pearson's daughter and first director of

Burton Street Community Center

. Courtesy of Buncombe County Special Collections, Pack Memorial Public Library, Asheville, North Carolina.

When he found out Erskine Street Playground would be renamed Herb Watts Park, "Watt Daddy" wrote, "All my life I have had an interest in the youth of our city and believe they truly are our future."

Built as the first ADA-accessible playground in Asheville, recent renovations have modernized the space with smooth surfacing, new play structures, and an expanded footprint.

Prior to the East Riverside Redevelopment project, the street layout in Southside looked very different. (1917) Sanborn Fire Insurance Map from Asheville, Buncombe County, North Carolina. Sanborn Map Company, Nov. [Map] Retrieved from the Library of Congress,

https://www.loc.gov/item/sanborn06372_008

.

Choctaw Park acts as a welcoming gateway into Southside from McDowell Street. Nearly the entire southern side of Choctaw Street consists of the park's lawns, trees, and Nasty Branch creek.

The Blue Birds, pictured circa 1961, were one of eight Black baseball teams in the boys' Asheville Varsity Club. The club's founder, George Bishop, is pictured on the back row. Courtesy of Buncombe County Special Collections, Pack Memorial Public Library, Asheville, North Carolina.

Located at the convergence of the Southside, South French Broad, and River Arts District neighborhoods, Murray Hill Park features a paved loop walking trail, as well as a gazebo with benches, grills, and picnic tables.