This entry is part of Park Views, an Asheville Parks & Recreation series that explores the history of the city's public parks and community centers – and the mountain spirit that helped make them the unique spaces they are today. Read more from the series.
When North Asheville's neighborhoods were developed in the early 20th century, they were builts as suburbs with large lawns and tree-lined streets, making nature a part of everyday life. Along with E.W. Grove Park, three other public spaces retain much of the historic charm from the time period.
Griffing Boulevard Rose Garden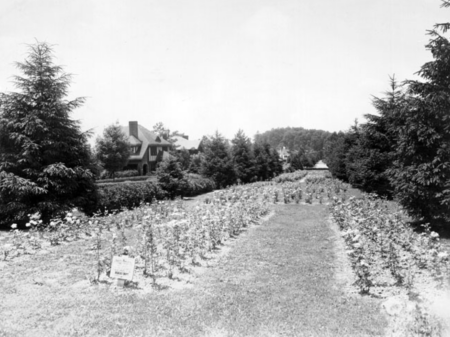 In 1941, 860 rose bushes were planted in a median at the center of Griffing Boulevard. The nearly 1-acre space had been designed as a natural park with hemlocks and other trees surrounding a flat lawn. The project included several community garden clubs and city leaders who embarked on a city-wide beautification campaign. Similar partnerships would lead the task of revitalizing Griffing Boulevard Rose Garden again and again over the years.
Griffing Boulevard is named for Arthur Griffing, an entrepreneur who came to Asheville from New York by way of Florida. After managing a nursery, he turned to real estate development, creating Griffing Biscayne Park Estates near Miami featuring grounds filled with citrus trees and landscape design that resembled tropical gardens. In 1926, he developed Kimberly Heights in Asheville with a similar thought to bring the North Carolina mountains to residents' front yards.
An immediate hit with locals and visitors, the rose garden was often featured in newspapers and travel publications listing "peak bloom" dates for those planning to spend time in the park. By the end of the decade, Asheville Parks & Recreation (APR) set up displays at local flower shows featuring the famous roses from Griffing Boulevard Rose Garden.
The City of Asheville in 1949 removed 30 trees from the garden at the request of Griffing Boulevard neighbors to increase visibility of kids playing in the park. The overgrown rose garden was also replanted and renovated at the same time.
By the late 1950s, APR replanted 100 rose bushes each year in a search for the best bush variety to flourish in western North Carolina's weather. A women's run club (then a new trend) began in 1982 utilizing a route from the downtown YMCA up Charlotte Street to Griffing Boulevard Rose Garden and back. The same year, a community New Years Eve run took place at 11:30 p.m. along the same route.
Griffing Boulevard homes started an annual Fourth of July block party in the park in 1983 that grew to include a kids' bike parade and games. Around the same time, houses began placing luminaries along their curbs and in the park at Christmas with a different household in charge of planning each year. In partnership with APR and Asheville GreenWorks (then known as Quality Forward), the neighborhood established a rose garden fund. Another restoration of the rose garden was unveiled in 2002 during GreenWorks' Father Day Garden Tour.
Using a photograph from 1941, a neighborhood resident discovered the original rose bushes came from Conard-Pyle. The company introduced the Peace rose to America from Europe in the 1940s and is still in business. After reaching out to the president of the company in 2013, they sent 60 bare-root rose plants to fill in bare spaces in the garden where other rose bushes died.
Shortly after, Grove Park-Sunset Mountain Neighborhood Association entered into an agreement with APR to develop a long term plan for the park's maintenance, irrigation, and sentimental attachment to poor performing roses. The plan restored the rose garden's center walkway and added a statement magnolia tree. Hardy roses and boxwoods were planted at the sides of the walkway and an expandable irrigation system added. 20 new native trees were also planted throughout the park.
The Circle Park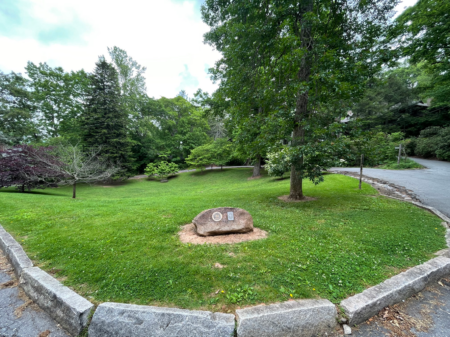 The Circle Park was designed as an important part of an innovative stormwater system of brick, stone swales, and natural stream beds within the aesthetic design of Albemarle Park, another historic neighborhood in North Asheville. Reading a book on its lone bench or enjoying a picnic within its wooded slope can take one back in time to the late 1800s.
Sunset Park
Like Griffing Boulevard Rose Garden, Sunset Park also lies in a large median. Like The Circle Park, it was also designed to prevent flooding and runoff as part of a sophisticated stormwater system for the Grove Park neighborhood by capturing runoff in a ravine and channeling it through E.W. Grove Park and into Reed Creek.
Edwin Wiley Grove envisioned the original Grove Park subdivision with rolling greens, large canopy trees, and azaleas throughout. The Asheville real estate boom of the 1920s saw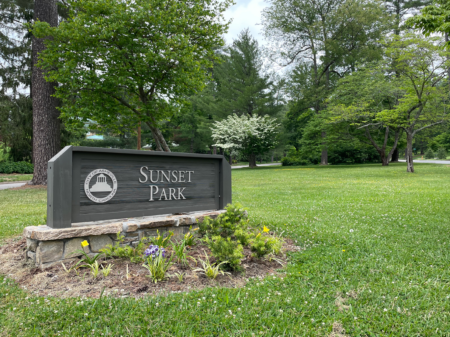 construction of impressive homes in Grove Park and the subdivision was expanded. Until 1949, the neighborhood's parks and open spaces were privately maintained for enjoyment by Grove Park residents. That year, trustees of Grove's will transferred ownership of Sunset Park, E.W. Grove Park, and all other medians and traffic islands to the City of Asheville for public enjoyment.
Sunset Park is a linear nature park surrounded by Sunset Parkway and features woodland areas, lawns with flowering and canopy trees, and a ravine habitat.
Do you have photos or stories to share about Griffing Boulevard Rose Garden, Sunset Park, or The Circle Park? Please send them to cbubenik@ashevillenc.gov so APR can be inspired by the past as we plan our future. Sign up for APR's monthly newsletter and follow APR on Facebook and Instagram for additional photos, upcoming events, and opportunities.
Photo and Image Credits
Postcard featuring colored and textured photo-offset of roses in bloom in Griffing Boulevard Rose Garden in the 1940s. Courtesy of Buncombe County Special Collections, Pack Memorial Public Library, Asheville, North Carolina.

View of Griffing Boulevard Rose Garden. The sign in the foreground reads, "Plants supplied by Conard-Pyle Co, West Grove IL. Do not cut flowers under penalty of law. Parks Dept." In 2013, the same company sent 60 new bushes to fill in empty spots in the garden left by dead bushes. Courtesy of Buncombe County Special Collections, Pack Memorial Public Library, Asheville, North Carolina.

Today, the garden features a variety of roses and other shrubs, trees, and plants. A sidewalk has been added for accessibility, creating a dramatic center circle.

A rock at the entrance of The Circle Park includes plaques identifying Albemarle Park as a local historic district and its designation as a national Medallion Award site by the American Society of Landscape Architects.

Sunset Park is a perfect spot to connect with nature steps from Charlotte Street.