This entry is part of Homegrown Talent, an Asheville Parks & Recreation series that highlights team members who grew up in our community. Coming from the neighborhoods and areas where community centers and parks are located is a huge value to the city, bringing knowledge, connections, and insight that can only come from spending formative years right here at home. Read more from the series.
I'm from Canton in Haywood County. Save for two years in Knoxville, I've lived in the greater Asheville area my whole life.
When did you join the Asheville Parks & Recreation (APR) team?
I started in February 2011. My position has developed over the years as new challenges and opportunities were taken on. I began as a Recreation Specialist, which shifted to Recreation Therapist, then Therapeutic Recreation Coordinator, and now have the title of Therapeutic Recreation Manager.  
All 12 years have been with the Therapeutic Recreation (TR) program. Regardless of title, my overall objective has always stayed the same: to provide fun, safe, and innovative recreation opportunities to people with disabilities in a compassionate and accepting environment.
What inspired you to join the team?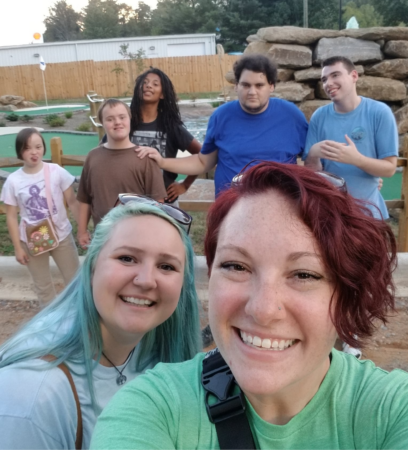 Joining the family in 2011 has been one of my biggest blessings. At the time, I had been working in long term care, and the emotional demands of being a caretaker for the elderly became increasingly difficult. Careers in recreational therapy are few and far between, so I jumped at the opportunity. Having a career path driven by FUN was a much needed spark in my life – and I will always be grateful!
Which accomplishments are you most proud of in terms of your work with the department?
I measure success with a different ruler, honestly. With the community the TR program serves, having hundreds of attendees or massive events aren't necessarily what I strive for.  I am MOST proud of our longest running programs, Ted E. Tourist's TR Baseball League and summer camps for kids and teens.
As someone who grew up in the area, what does it mean to work for APR?
It means the world to me to be able to provide services to community members and WNC as a whole on a larger scale. I'm proud to tell folks where I work.
How have you grown professionally by working with APR?
My education and experience prior to coming on board with APR, was very clinical in nature and heavily slanted towards providing care within a medical setting. My years with APR have expanded my knowledge and experience exponentially, particularly in event and program planning and implementation.  
How would you complete this sentence? "I work for Asheville Parks & Recreation because…" 
I work for Asheville Parks & Recreation because every day is different! Who else gets to play kickball, paint birdhouses, teach a cooking class, and sing Disney karaoke – maybe all in the same day?!? It's AWESOME!
Join Lori and other parks and recreation professionals making significant impact as they work to build a strong, healthy, and happy place to live. Current opportunities to work with Asheville Parks & Recreation can be found online.