The City strives to create affordable parking for everyone that utilizes the downtown area.  There are several parking options at various price points available through the City of Asheville in the downtown area. 
Check out our parking options, along with pricing, locations and availability.
Free Parking Lots: 
130 North Lexington Avenue
55 Valley Street
50 Cherry St. N.
88 Cherry St. N.
Monthly parking garage, lots and street options:
Business Parking discounts are available in some locations for businesses choosing to purchase multiple permits for employee use. If you are interested in business parking discounts please reach out to Garrett Male at gmale@ashevillenc.gov.
You can always find more information about parking in Asheville by visiting the City of Asheville parking services page.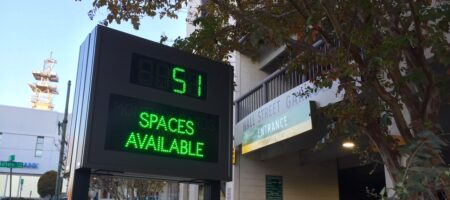 FAQs
Why can't all lots in the City be free?
The City currently has 4 free parking lots. Free parking lots do not have the same cost-related amenities paid parking garages/lots do, such as routine sanitation pick-up and on-site security. Currently, all parking expenses are paid by user-fees. Safe and affordable parking and public transportation is a priority. In order to continue offering safe and affordable parking downtown and to expand public transportation fee-based lots are necessary at this time. 
Does the city provide affordable parking to residents and local employees of Downtown?
The city strives to create affordable parking for everyone that utilizes the downtown area. The further the parking space is located from downtown, the less expensive the parking costs will be. City parking rates range from $30.00 to $130.00 a month. At the highest rate of $130.00/month, the cost averages to under$4.50/ day. City of Asheville and parking services continue to assess areas for monthly parking availability as well as analyzing the parking rates around Asheville. 
Is the city working to create any changes/ improvements on the parking situation downtown? 
Within the last two years the City has adopted new rates and created additional monthly permit options in an attempt to provide more affordable parking for downtown workers, as well as to respond to shifting demand due to COVID. These recent changes consisted of lowering the price of some of the on-street monthly permits to $30 and creating a "sunset" monthly permit rate and a 12-hour monthly permit rate for the garages. The "sunset" permit and 12-hour permit were created and targeted to better accommodate the shift schedules of many downtown workers that are working in the late afternoon and evening hours. Additionally, within the last month, the City made Lot 15, which is located on Lexington Avenue under I-240, free of charge. The City is always looking for ways to improve parking services and while some ideas are not feasible through current funding, the City continues to seek alternate ways to improve the parking experience for downtown employees. 
Would it be realistic for the City to provide an Employees only lot? 
While the City cannot, at present, create an employee only parking area, there are several options meant to appeal to employees in downtown Asheville. All four City garages offer rates designed to  make short term parking more accessible to workers. 
A 12 hour rate (7:00 a.m. – 7:00 p.m.) 

an overnight rate that starts at 3:00 p.m.

Each of these rates are 20% – 40% less expensive than a 24 hour account. 

a discount for employers choosing to rent parking for staff beginning at 5  or more spaces.   
Does the money that comes from parking garages and meters help to support the City?
We know public transportation is an invaluable resource to our community and the City is continually looking for ways to improve parking and public transportation. The City operates all of its parking under an Enterprise Fund. The Enterprise Fund generally consists of the revenue and expenses associated with the parking garages, on-street metered parking, off-street surface lots, and on-street monthly permits.  Expenses include the operation and maintenance of parking garages, lots, and meters.