---
Use the Waste Wizard Tool on AVL Collects to see what you can recycle!
---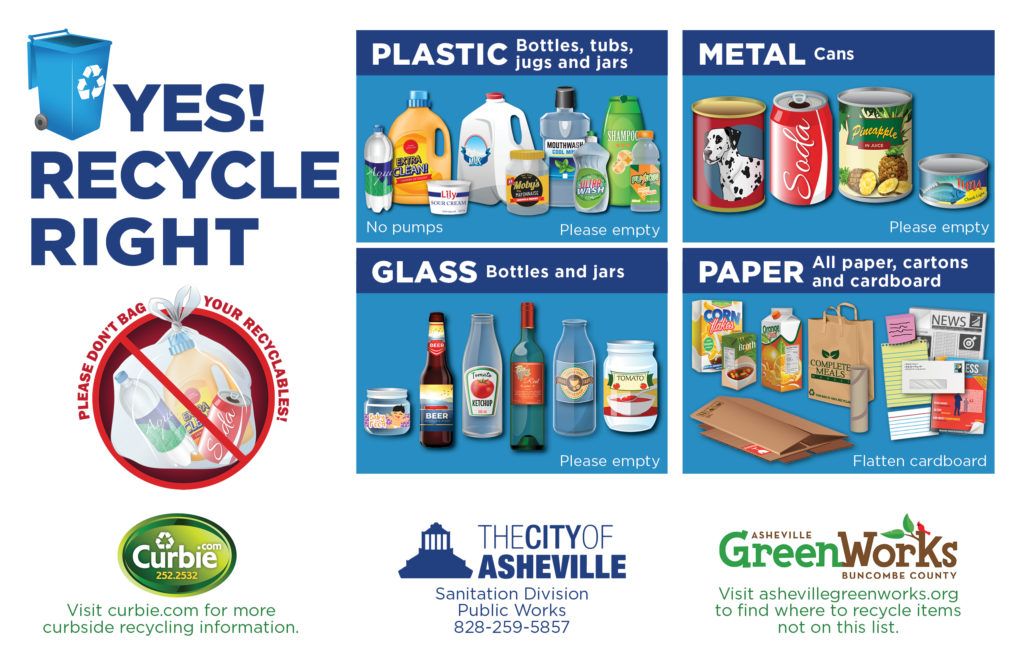 ---
---
What is Recyclable
Guidelines below explain what items may be placed in your blue recycling carts. For information about bulky items, hazardous household waste, or other hard to recycle items, see how to dispose of large, seasonal, or unusual items.
Yes! Recycle Right
Plastic – including bottles, tubs, jugs, and jars (please empty)
Metal – including metal cans (please empty)
Glass – including glass bottles and jars (please empty)
Paper – paper including all paper, cartons, and cardboard (please flatten boxes)
Please Don't Bag Your Recyclables.
Know Your No's
no styrofoam or peanuts
no plastic wrap, pillows, or bags
no tanglers like cords, hoses, wires
no scrap metal
no clothing or textiles
no food waste
no hazardous or medical waste
no receipts, shredded paper, paper towels, or napkins
Keep these items out
all batteries
aluminum foil
ceramic items
diapers
disposable cups or lids (plastic and coffee)
electronics
household glass or mirrors
scrap metal and wood
straws
tires
toys
---
Resource Documents
Recycling Informative Postcard in Spanish – Recicla Mas
Recycle Right Postcard – PDF
What Not to Recycle Postcard – PDF
Recycle Right Postcard – Accessible PDF
What Not to Recycle Postcard – Accessible PDF
---
Contact Information
For more curbside recycling information visit curbie.com

To find where to recycle items not on this list visit ashevillegreenworks.org
The City of Asheville Sanitation Division Public Works can be reached at 828-259-5857
---
Updated 11/21/2019
---