Recently Completed
Project construction began in the fall of 2021 with substantial completion this winter 2021.
The Forest Hill Drive section of the project is funded by the Stormwater Capital Fund, and makes a critical connection between the Kenilworth Road stormwater system and the Caledonia Road stormwater system. Several new inlets were added and new pipes installed inside the right-of-way of Forest Hill Drive (from Caledonia to Kenilworth Road) and the upper portion of Caledonia Road to improve drainage and reduce stormwater on the roadway. Concrete curb was also installed to allow stormwater to be intercepted without causing erosion along the road edge.
Road safety improvements include a modification of the intersection of Caledonia Road and Caledonia Road just before Forest Hill Drive, speed humps to slow traffic on either side of the stop sign, and resurfacing the remaining Caledonia Road and Forest Hill Drive (from Caledonia to Kenilworth Road).
---
Background
The lack of an existing drainage system along with aging infrastructure causes flooding in the roadway of Forest Hill Road and Caledonia Road.  A new stormwater drainage system will be installed within the right-of-way while adding additional structures along the road to intercept water and direct it into the new system. The new stormwater system will improve roadway drainage and provide stormwater conveyance inside the right-of-way.  
The Public Works Stormwater Division is coordinating this installation with the City Water Resources Department and the Metropolitan Sewerage District who are replacing aging water and sewer lines in the roadway.  This cooperation is providing new utilities under the new asphalt and concrete curb from Kenilworth Road all the way down to Caledonia Road.   
This project is a partnership funded by City Bond money (along Caledonia Road), Stormwater funds (along Forest Hill Road), and a continuation of the previous Caledonia Road resurfacing.  Two new speed humps are paid for by the City's Transportation Division.
---
Timeline
2019
Spring: Preliminary design
2020
2021
Summer: Advertising project for construction
Fall: Contract Awarded – Start of construction
Winter: Project Completed – Paving Complete
Click here for construction area map.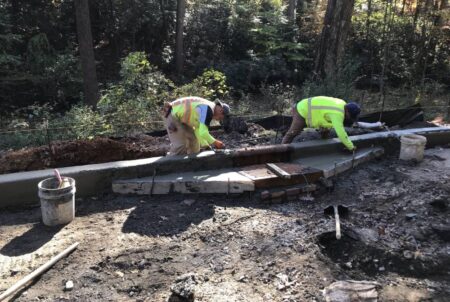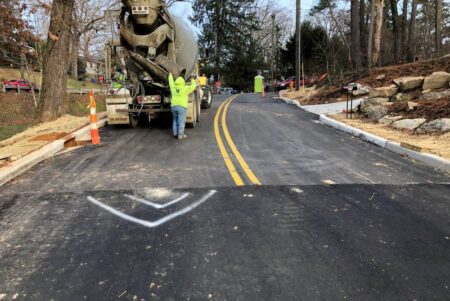 ---
Contact Information
Valerie Welbourn, Project Manager
828-259-5407
Stormwater Services
828-232-4567
---