Just in time for Mother's Day, the WNC Nature Center announced the birth of nine red wolf pups last week. The critically endangered pups were born on April 28, 2023, and are the offspring of four-year-old Gloria and three-year-old Oak, both first-time parents.
The nine pups – eight females and one male – are all healthy and doing well. The Nature Center's veterinary care team carefully monitors the newborns during these critical first weeks. At just two weeks old, these pups are still wholly dependent on their parents, but Gloria and Oak have been seen moving them around the habitat, so guests may sporadically see them. The pups may begin venturing out of the den box around the end of May, and guests may begin to see the pups in the red wolf habitat in June. The WNC Nature Center's social media channels will share updates on the progress of the pups.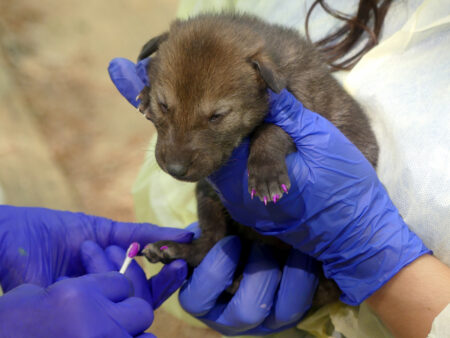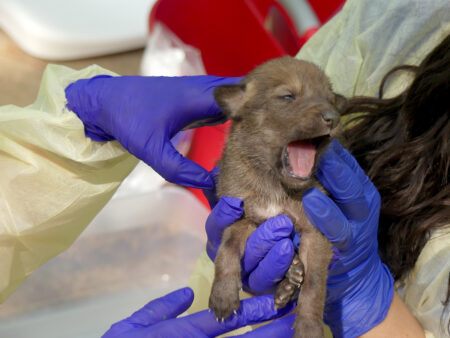 Background:
Parents Gloria and Oak were paired in January 2023 based on a breeding recommendation from the Red Wolf SAFE (Saving Animals From Extinction) program of the Association of Zoos & Aquariums. SAFE is a collaborative effort between zoos and other conservation organizations to protect and recover the red wolf population through habitat restoration, genetically diverse breeding, and reintroducing red wolves into their natural habitat. Gloria was born in April 2019 at the Endangered Wolf Center in Missouri and Oak was born at the NC Zoo in Asheboro in April 2020.
By participating in this program, the WNC Nature Center is making a significant contribution to the conservation of this critically endangered species. "The WNC Nature Center is honored to be a part of the American red wolf conservation effort," said WNC Nature Center Director Chris Gentile, "and we are so proud of Gloria and Oak for playing such an essential role in helping their species recover."
American red wolves are native to North America and are one of the most endangered canine species in the world. In April 2023, the US Fish &  Wildlife Service estimated that there are only 15 to 17 red wolves living in the wild in Eastern North Carolina. Red wolves in the SAFE program under human care numbered 235. The WNC Nature Center has been part of the American Red Wolf Recovery Program since 1990. Between 1996 and 2014, 13 pups were born at the Nature Center. This year's litter brings that total to 22.
Community support:
Community members and supporters of red wolf conservation also have a role to play. With a pack of 11 red wolves at the WNC Nature Center, the community can help support a local effort to save these critically endangered animals. Donations can be made online at www.wildwnc.org/donate or mailed to Friends of the WNC Nature Center, PO Box 19151, Asheville, NC, 28815.
The WNC Nature Center connects people of all ages with the plants and animals of the Southern Appalachian Mountains. Asheville's wildlife park is located on 42 acres at 75 Gashes Creek Road and is home to more than 60 species of animals, including red pandas, river otters, black bears, and red and gray wolves. For more information, please visit www.wildwnc.org.