Parents, grandparents, and caregivers looking for a unique outdoor wellness activity to enjoy with children in their lives can visit Asheville Parks & Recreation's StoryWalk® trails at parks throughout spring. A StoryWalk® is a fun, educational activity that displays pages of an illustrated children's book along a walking route. Conceived as a way to inspire young children to go outside for physical activity and to learn, the trails help build kids' interest in reading while encouraging healthy activity for both them and adults.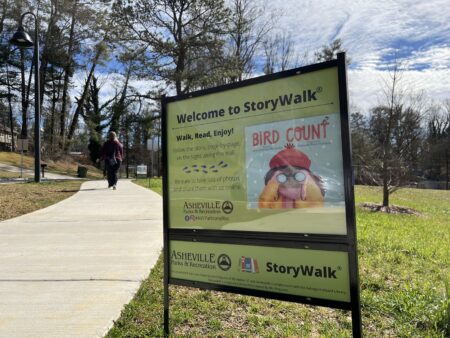 "StoryWalk® trails are a great way to engage families in literacy together," said Christine Elyseev, Asheville Parks & Recreation Outdoor Programs Coordinator. "With a simple goal to continue walking to find the next page of the book, it combines movement, literacy development, and nature – which aligns with the trifecta to explore, connect, and discover. Plus, it's fun, which is really important."
The current StoryWalk® features Bird Walk by Susan Edwards Richmond, up through March 14 at Jake Rusher Park (132 Peachtree Street in Arden). In the book, a young girl and her mother participate as citizen scientists in the National Audubon Society's annual Christmas Bird Count. In addition to a new way to experience the park, the author introduces young readers to bird watching with simple explanations of common techniques, clear descriptions of bird habits, and information about each type of bird the characters identify.
Future StoryWalk® trails will feature Nilah Magruder's Wutaryoo along Linwood Crump Shiloh Community Center's walking track from March 21-April 18 and Marianne Berkes' Over in the Forest: Come and Take a Peak along Glenn's Creek Greenway in Weaver Park from April 25-May 23. Summer book selections and locations will be announced in May. Asheville Parks & Recreation has partnered with Buncombe County Public Libraries to try to make sure StoryWalk® books are available to check out, too.
The StoryWalk® Project was created by Anne Ferguson of Montpelier, VT and developed in collaboration with the Kellogg-Hubbard Library. Storywalk® is a registered service mark owned by Ms. Ferguson.