Asheville Water Resources' final water transmission line tie-in was completed the weekend of Nov. 22-24 with no impacts to our customers.
Thank you for your patience during this massive 7-month installation to better protect our community from water loss during extreme weather events.  
We are more sustainable and resilient as a community, with the completion of this project.
About the project
The North Fork Transmission Line Bypass Project included the installation of 1,700 feet of 36-inch transmission waterline with tie-ins to the existing 36-inch and 24 inch-transmission lines to the north and south of the bridge crossing of the Swannanoa River. This project enhances the City of Asheville's ability to provide water service to our customers under normal conditions and during extreme weather events.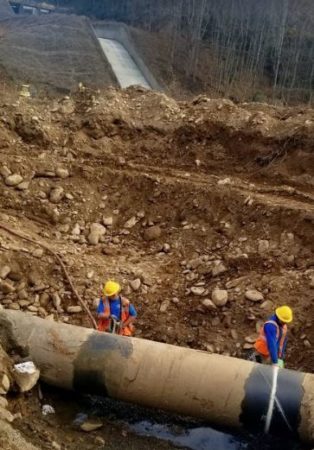 Asheville Water Maintenance crews worked in cold and wet weather this month — during early morning hours, and sometime around the clock to minimize customer impact — to get this project to the finish line.
Approved by City Council Feb. 12, this $2.1 million project was funded at no additional taxpayer cost. Water Resources is an enterprise fund, and all fees collected for service are reinvested into maintenance and improvements to our water system.
This project adds a redundant water transmission line in an area where the existing transmission lines are at high risk of failure due to flooding. "By adding the redundant transmission line, our ability to continue to provide water service to our customers during flooding events along the North Fork of the Swannanoa River are greatly enhanced," said Water Resources Director David Melton.
"Again, we would like the thank the community for their patience during several key installations," Melton added. 
Now we can look forward to an added layer of stability when it comes to delivering water to your tap every time you turn it on.
Related:
City of Asheville water transmission line project beginning, April 2019