This entry is part of Park Views, as Asheville Parks & Recreation series that explores the history of the city's public parks and community centers – and the mountain spirit that helped make them the unique spaces they are today. Read more from the series and follow APR on Facebook and Instagram for additional photos, upcoming events, and opportunities.
Though they eventually became part of Asheville's public parks system, Roger Farmer and Charlie Bullman parks were initially developed by community organizations that envisioned inspiring stronger young people through safe, fun, and competitive sports.
Deaver's View and West Asheville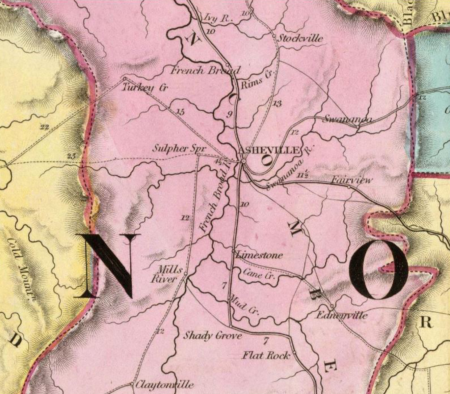 While Asheville's neighborhoods today connect through a complex network of streets and a growing network of sidewalks, paved greenways, and natural surface trails, travel between different parts of the city was more difficult in its early years. Far before electric streetcars, personal automobiles, and public transit, the modern day Deaverview, Lucerne Park, and Sulphur Springs neighborhoods were somewhat removed from daily life in Asheville.
In 1827, a natural spring was discovered near present-day Asheville School on Robert Henry's expansive estate. Henry offered land around the spring to develop as a tourist attraction to son-in-law Reuben Deaver when he married his daughter Polly in 1830. Using labor provided by people Henry had enslaved, Deaver opened a boarding house and general store. Eventually, a hotel, cabins near the spring, and other enterprises transformed the area into the city's earliest resort with a ballroom, bowling alley, restaurant, meeting house, and more.
As the complex expanded, its rich tourists began traveling to a nearby vista for views of Asheville and Hominy Valley. It became known as Deaver's View. A fire destroyed the hotel in 1861 and disputes between Henry, Deaver, and other family members stalled redevelopment at the same level. Edwin Carrier built another hotel near the spring in 1887.
West Asheville incorporated as an independent town from 1889 to 1897 and again in 1913. Faced with growing municipal debt and residents' demand for improvements, voters in Asheville and West Asheville chose to consolidate the two towns in 1917. As new buildings and businesses opened along Haywood Road, planned neighborhoods like Lucerne Park, Wilshire Park, and Horney Heights became popular for those seeking a suburban lifestyle near city amenities. 
At that time, Haywood Road continued westward beyond today's intersection with Patton Avenue and Johnston Boulevard along the modern-day route of Patton. By the early 1900s, the West Asheville branch of The Young Men's Christian Association (YMCA) was established to provide healthy recreational activities for young men in that part of the city.
Deaverview Park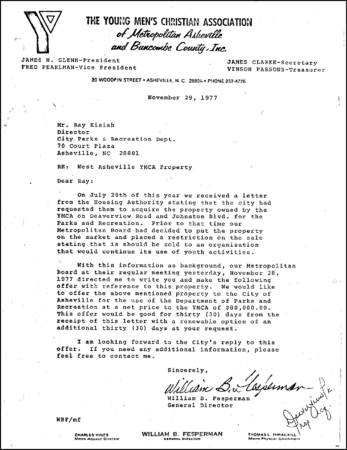 Local YMCA organizations merged to become YMCA of Metropolitan Asheville and Buncombe County (and eventually, YMCA of Western North Carolina). With Asheville Tourists season attendance topping more than 100,000 fans in 1959, youth baseball and softball leagues experienced an upswing and YMCA set out to develop a park on Deaverview Road to meet the growing demand for ballfields.
The organization hosted summer day camps in Malvern Hills Park for many years and saw the new park as a natural extension of its mission. Known as West Asheville YMCA Branch Park when it opened in the 1960s, the fully-developed site featured two tennis courts, two ballfields, picnic areas, archery and riflery range, and a building with offices and restrooms. By that time, YMCA also incorporated programs for girls and young women.
Asheville Parks & Recreation (APR) entered into a partnership with the organization soon after the park opened to manage the ballfields and establish a summer playground program. Tasked with expanded programming responsibilities when the downtown Asheville branch moved to a new building in 1970, YMCA leased the entire park to APR before approaching the City of Asheville to purchase the property outright in 1976.
Initially, the sale was to be financed by federal funds that had been earmarked for improvements to the park under the terms of the lease. However, changes to the funding program affected plans for community centers in Montford and Shiloh, Kenilworth and Deaverview parks, and YMI Cultural Center, delaying the sale until 1978. Asheville Housing Authority recently opened its first rental assistance communities on the outskirts of city limits, Deaverview and Kirkwood, near the park and APR estimated 90% of park visitors came from those neighborhoods.
Immediate improvements included installing backstops and fences on ballfields, rebuilding tennis and basketball courts, and repairing the concession stand and restroom pavilion. Between 1989 and 1993, ballfield lights were installed, one field was reoriented, another ballfield added, and the pavilion was completely rebuilt.
Roger Farmer Park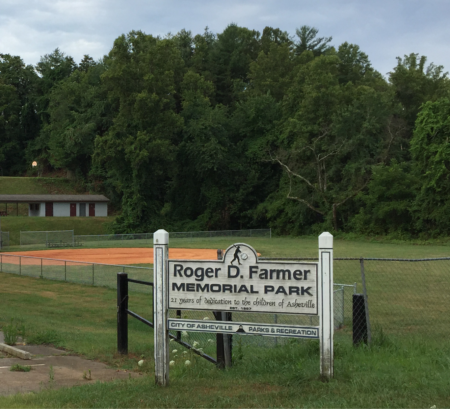 In 1997, Asheville City Council voted to rename the park in honor of Roger Farmer,  a coach of youth baseball, football, and basketball for 21 years. According to the dedication, Farmer "stressed that sports are for fun, but school is for real." Kids playing for Farmer had to keep their grades up or they were not allowed to play. He passed away shortly after the 1996 ball season finished.
As times changed, the park's user base shifted from baseball and softball to football, Ultimate Frisbee, lacrosse, field hockey, and other open field sports. In 2022, the middle ballfield was converted to a multi-sport field. That update sparked a deeper look at what residents of nearby neighborhoods would like to see in their local park.
A new multi-sport court with lines for basketball and futsal, as well as access for other activities such as roller skating, is scheduled for installation in 2024. In addition to improvements within the park, the City of Asheville is working with the North Carolina Department of Transportation (NCDOT) to better connect Roger Farmer Park with surrounding neighborhoods through a new sidewalk along Johnston Boulevard between Patton Avenue and Johnston Elementary School at Iona Circle.
Charlie Bullman Park
Like Deaverview, Haw Creek remained relatively separate from the rest of Asheville until Beaucatcher Tunnel opened in 1929. While the tunnel made travel to and from the east side of Asheville much easier, construction of I-240 in the 1970s via an open cut through the mountain accelerated growth in Haw Creek.
Born in the Haw Creek valley in 1931, Charlie Bullman grew up on an apple orchard off Bull Mountain Road. When he married his wife Elsa, they built their first house across the street from his childhood home. According to an interview, his first job off the orchard was managing the roller skating rink at Recreation Park. Later, he managed all of the park's amusement rides.
To provide sports opportunities for children in the neighborhood, he approached Haw Creek School to use their field. The principal agreed, but required boys and girls to have equal treatment in use of the field and uniforms, number of teams, and equipment. This same value extended to East Asheville Youth Activities, a sports league and booster organization he helped establish in 1951 that built a ballfield off New Haw Creek Road with the help of volunteers and Buncombe County Parks & Recreation. In the early years, Bullman did everything from mowing and dragging the fields to working in the concession stand.
In the 1970s, APR started leasing the park to expand city leagues. After years of handshake agreements, a new lease formalized the department's long-term use and management of Charlie Bullman Park in 1991. Around the same time, the adjacent-but-unaffiliated East Asheville Recreation Club approached APR with a similar plan to lease tennis courts for public use, but the agreement never panned out.
Today, Charlie Bullman Park is known as one of the best spots around to catch youth baseball and softball games as the sun sets. The City of Asheville is also working to create safe connections between the park and Haw Creek Park, Haw Creek Elementary School, and several residential streets through a sidewalk along New Haw Creek Road.
Do you have photos or stories to share about Roger Farmer Park or Charlie Bullman Park? Please send them to cbubenik@ashevillenc.gov so APR can be inspired by the past as we plan our future.
Photo and Image Credits
Haw Creek runs through Charlie Bullman Park in this photo from the mid-2010s.

A mail route shows a road directly from Asheville to Deaver's Sulphur Springs resort, as well as a road connecting the resort to Mills River and South Carolina. (1839) Map of North and South Carolina. John Arrowsmith, London. [Map] Retrieved from

https://www.davidrumsey.com/luna/servlet/s/6055k1

. 

A variety of federal grant programs aimed at alleviating the effects of poverty helped expand Asheville's parks and community centers during the 1960s and 1970s. Changes to U.S. Department of Housing and Urban Development (HUD) Community Development guidelines provided a challenge for the City of Asheville's purchase of  Deaverview Park (now known as Roger Farmer Park). After two years, a deal was struck in which YMCA transferred the property and the City of Asheville paid for it over three fiscal years' budgets.

The original Roger Farmer sign at the entrance off Johnston Boulevard in the mid-2010s welcomed visitors. As the park transitions from a sports complex to a general use park with multiple sports areas, new park signs no longer emphasize its connection to baseball and softball.

Charlie Bullman was recognized for his many contributions to youth sports when he was inducted into the North Carolina Amatuer Softball Association Hall of Honor in 2005.