This entry is part of Park Views, a weekly Asheville Parks & Recreation series that explores the history of the city's public parks and community centers – and the mountain spirit that helped make them the unique spaces they are today. Read more from the series and follow APR on Facebook and Instagram for additional photos, upcoming events, and opportunities.
Asheville's many small neighborhood parks serve important roles in establishing connections among neighbors and act as critical public resources to improve quality of life. Located a few blocks from each other, Magnolia Park houses a popular neighborhood playground and Hummingbird Park provides a community lawn to enjoy nature beneath large shade trees.
A Park Named Magnolia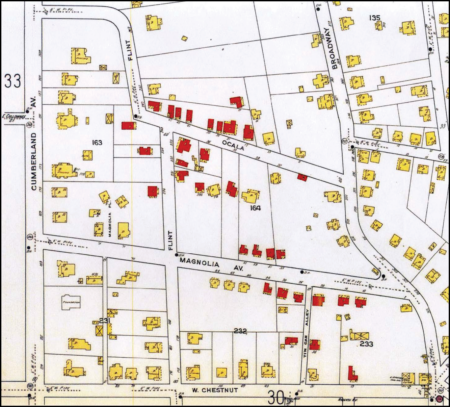 Asheville Loan, Construction, and Improvement Company purchased around 1,000 acres of land to develop Montford as a residential neighborhood for the city's businessmen, lawyers, doctors, and other professionals in 1890. The company went bankrupt in 1893 and George Willis Pack purchased its assets on the courthouse steps.
Pack had found success in the Michigan lumber industry and moved to Asheville in 1884 for health reasons. One of Asheville's most prominent philanthropists, he provided a building for the city's first permanent library, donated land for the 1903 courthouse, and helped develop the area's first public parks. After his Montford investment became profitable, he deeded lots for Montford and Magnolia parks to the people of Asheville, as he had done previously with Aston Park. Pack suggested the name for Magnolia Park.
The area around the park was already fairly integrated at the time. According to newspaper articles, it was filled with small family farms and residents who worked at Riverside Cemetery, in construction, and as domestic staff for larger homes located along Montford Avenue. Following announced improvements to Aston and Montford parks in 1920, Magnolia Park neighbors asked the City of Asheville to construct a playground and fence the property. 
20th Century Magnolia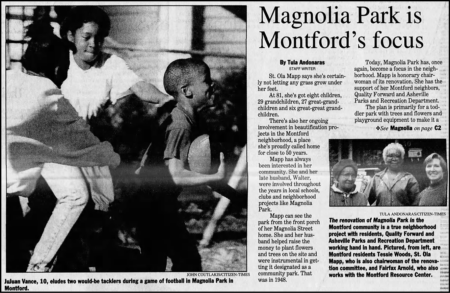 A Sanborn map shows the area around the park had become a predominantly Black middle class neighborhood by 1917. Since the park was established, there had not been rules segregating different portions for use by Black or white children. In 1922, 185 white residents petitioned to designate the park for white use only. Attorney Henry Austin argued against the request, noting 45 Black families lived near the park and more than 200 Black children had been playing there without incident since it opened.
By 1933, Magnolia Park was formally set aside for African American use by city officials and set to be redeveloped as a large playground in 1936. However, the area around Magnolia Park was redlined, a banking practice that denied access to financing to purchase property or make home improvements. The stated reason was not because of the neighborhood's Black residents, but rather due to the large number of boarding houses used for tourists.
A newspaper article from 1948 refers to the park as "hardly more than an overgrown lot," but by the 1960s, it was used by Asheville Parks & Recreation (APR) as a supervised summer playground with a wading pool and picnic shelter. To keep pace with Asheville's growth, a 1966 report recommended selling Valley Street Community Center and Magnolia, Murray Hill, Park Avenue, and E.W. Grove parks to finance 20 new neighborhood parks throughout the city. 
Magnolia Park Today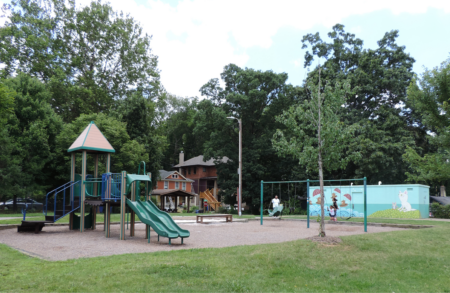 APR never acted on the recommendation and by the end of the 1970s, a basketball court and restrooms were added. A 1999 renovation removed the wading pool, relocated the basketball court to the northeast corner, and added a corner entrance, paved loop for walking and triking, new playground, accessibility improvements, and iron fence. 
As Magnolia Park prepares for its quasquicentennial, it has received a new playground with rubberized safety surface, resurfaced basketball court, and expanded greenspace through removal of a small picnic shelter and restroom/storage building. The park is also a popular spot for urban foraging with muscadine vines and other edible landscaping.
Hummingbird Park
In 1996, 127 Montford neighbors presented a petition to dedicate a vacant lot with a sinkhole and downed trees as a natural park. Located on the corner of Cumberland and Starnes avenues, the lot had been acquired by the City of Asheville as part of the Head of Montford urban redevelopment project. Asheville City Council officially designated the land for a park that summer.
Montford's familiar hummingbird logo was developed by Hull and Hogan in the late 1970s as a way to unite the neighborhood that had recently been added to the National Register of Historic Places. It can still be seen hanging on many Montford homes. Residents considered Starnes Park and Starland, but ultimately chose Hummingbird Park as the name in honor of their longtime mascot.
The park is a well-maintained greenspace with a rolling lawn, large trees, stone walls, and picnic tables. Neighbors have maintained a community garden off and on over the years. With its wide open space, it's not uncommon to see community members of all ages enjoying a picnic with friends, tossing a frisbee, or practicing yoga.
Do you have photos or stories to share about Magnolia Park or Hummingbird Park? Please send them to cbubenik@ashevillenc.gov so APR can be inspired by the past as we plan our future.
Photo and Image Credits
A recent renovation expanded the playground area, added greenspace and imagination play areas, enhanced accessibility, and included stop signs around the trike trail to teach transportation safety.

Red houses denote African American occupancy on this

Sanborn Fire Insurance map

. (1917) Sanborn Fire Insurance Map from Asheville, Buncombe County, North Carolina. Sanborn Map Company, Nov. [Map] Retrieved from the Library of Congress,

https://www.loc.gov/item/sanborn06372_008

. 

Magnolia Park's first significant renovation in the late 1990s took place with APR leading the project with assistance from Quality Forward/

Asheville GreenWorks

and significant funding from Janivre Foundation, Hanes Family Foundation, Asheville Bicentennial Committee, and Montford Neighborhood Association. The renovation was dedicated to St. Ola Mapp.

A view of the park from the 2010s shows a mural by Julia Armbruster added to the restroom/storage building.

Hummingbird Park is mostly open space with a shaded picnic area.

Montford's hummingbird logo can be seen throughout the neighborhood and on official communications from Montford Neighborhood Association.